Patagonia Stretch Nano Storm Jacket Review
I've been using a now 10 year old Arc'teryx Alpha AR since 2008. While I love the jacket, it outlived its lifespan and it was time to get a new one.
I'm picky about jackets. I love great jackets (and backpacks) and probably have too many puffy jackets for my own good, and definitely for my closet's good.
I considered changing jackets for a few seasons, to the point where my wife finally said "Just go buy one already!" Of course it's never that simple. I both wanted to get the right jacket and a great deal.
After looking around for a few months and watching gear deals, I found the Patagonia Stretch Nano Storm Jacket for sale 50% off and promptly bought it.
Photo: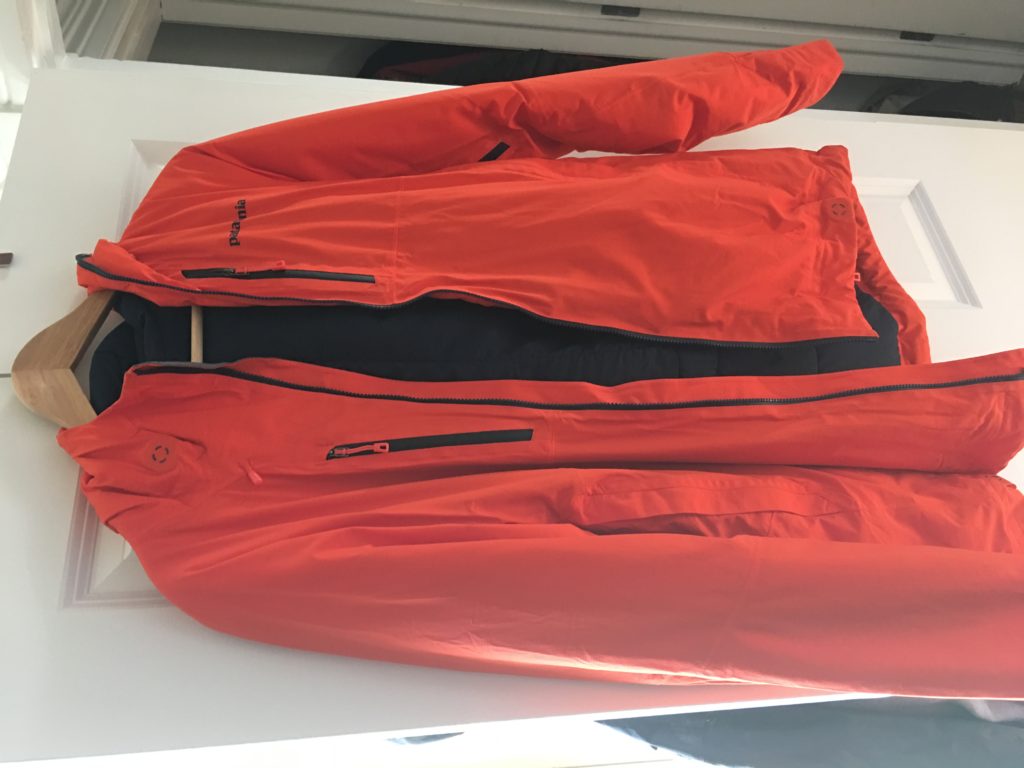 As you can tell I bought the jacket in bright orange.
I am not a bright orange kind of person, but it seemed right for this jacket. This is my dedicated skiing jacket, and because it is mildly insulated with 60-g FullRange® insulation it is my resort skiing jacket. It is too warm for a day out skinning and a bit too bulky to fit well into my Kamber 32, so I'll be looking for a shell for this coming winter for those missions.
I have my eye on a few that I hope to review here.
But back to the Stretch Nano Storm.
Buy directly from Patagonia here: Mens | Womens
Why I bought the Stretch Nano Storm
I bought this jacket for a few specific reasons:
I get cold easily while skiing at the resort. It is not uncommon for me to wear a base layer, a midweight running/athletic top, a puffy jacket (like my Ghost Whisperer), and a shell. I also usually wear a Buff and I always wear a jacket.
My Alpha AR has a huge storm hood, but I wanted something that was a bit more fitted across my helmet. The Stretch Nano storm has a hood that does fit over my helmet when it needs too, but when I don't have it up it doesn't fly like a sale like the Alpha AR did.
Under arm pit zips and chest pockets. When we do ski at the resort I need to store my pass somewhere, and in Colorado we mostly have automated ticket checking machines so my pass needs to be in my jacket. The pit zips of course are super useful on the days that warm up.
I wore the Nano Storm skiing a few days this past winter, and I have to say that it performed better than I thought.
One particular day before my season ended because of a herniated disc in my back, my wife and I went to Winter Park with a friend. This was mid-to-late February, and even though winter 2017/2018 was quite bad in most of the state Winter Park had great snow even if coverage was a little light.
I'm used to being cold while skiing. I'll bundle up with a ton of layers underneath, then freeze still while on the lift. And I dislike being cold (really, I dislike extremes). One of my favorite things about winter is that you can always put on more clothes, but when skiing this isn't always true.
But on the one day I got to wear this last winter, I was toasty warm. I had my Ghost Whisperer underneath, and I ended up plenty warm. I was maybe even too warm on some descents, even though the temperatures were solidly in the 20s at the base (and of course MUCH colder at the top where the winds blow).
Insulation
One of my biggest reasons for getting the Stretch Nano Storm was because of its insulation. While I love a light technical shell as much as the next active outdoors person, I also tend to get very cold on resort days. This winter has been especially frigid on mornings, and I was not looking to repeat mistakes of the past where I had to wear 4-6 layers on top just to keep my body warm.
With 60g of polyester insulation, I can legitimately tell you that this jacket is WARM. There have been two specific days I can remember that I wore a mid-weight puffy jacket (hooded) underneath and when I coupled sunny and mid-20s with hard skiing, I was definitely too hot. One day I even took off my Ghost Whisperer puffy and stored it in the breast pocket. While this worked pretty well, it also felt ridiculous.
Other days where I've worn a regular hoodie or a vest underneath, I have been very comfortable.
So yes, this jacket is WARM.
Fit
I've mentioned in previous reviews of other jackets that I am an athletic build, about 5'9″ and 155lb with broader-than-average shoulders and longer-than-average ape index (aka, my arms are long). I have always had trouble finding jackets that don't pull up on me if I raise my arms.
I bought the Stretch Nano Storm in a medium, and I am happy to say that it fits wonderfully. It ends a few inches below my waist, and the arms are actually the perfect length (I am a +3 ape index). While it is a bit snugger than I like through the shoulders when layered with a Ghost Whisperer (review) or Patagonia Micro Puff (review coming soon), it still fits fine and is not uncomfortable for me.
Hood
I may be a bit biased because of my decade in the Arc'teryx Alpha AR and its enormous storm hood, but I find the Stretch Nano Storm's hood to be a bit too small to really fit my helmet well. The hood is fine when walking around town (without a helmet!), but if you want to wear your hood along with your helmet you first need to unzip the jacket about halfway, bring up the hood, and then zip up the jacket while hoping that wearing a buff or similar underneath doesn't make you claustrophobic.
I love this jacket, but the hood is simply non-functional for me over my helmet. Definitely check this before buying if having a hood to pull up over your helmet is important to you!
Specs
You're probably wondering about the specs on this jacket. Here they are directly from the Patagonia site:
Materials
H2No® Performance Standard shell: 2-layer, 2.2-oz 30-denier 100% nylon stretch ripstop with a waterproof/breathable barrier and a DWR (durable water repellent) finish.
Lining: 1.3-oz 20-denier 100% nylon stretch ripstop.
Insulation: 60-g FullRange® 100% polyester stretch
And the specs from Backcountry:
Insulation: 60g FullRange synthetic
Fit: regular
Length: hip
Hood: yes, two-way adjustable, helmet compatible
Pockets: 2 zippered chest, 2 high hand, 1 internal, 1 zippered internal security
Pros and Cons
Pros – warm for resort days, looks great, fits well for athletic build with long arms and torso, lots of pockets to store things (4 zipping pockets on the front, 1 internal goggle pocket, 1 internal zip), extremely water resistant.
Cons – can be too warm on sunny resort days with midweight puffy layer, hood is difficult with a helmet, doesn't pack down as small as a technical shell if going backcountry and hiking.
Do we recommend?
I definitely recommend this jacket (even with the above hood caveat).
I bought it on a Christmas 2017 sale from Patagonia directly, so I was able to get it about 40% off. Even so, I'd gladly pay full price for it now knowing how great it is.
One final thing I would say is that I do not know if I'd get it in orange again. It's bright on the slopes to be sure, but I definitely do not wear it around town (Denver) as regularly as I might otherwise. I tend to use my Ventrix for those times.
Single Geared is an advertising supported website and includes affiliate links. If you click on a product and purchase something from that website, we may be compensated. Learn about our advertising policies here.