Best Down Puffy Jackets for 2019
If you're looking for a new puffy down jacket for the upcoming winter, you're probably confused about which one to get. There is also no easy answer, because the best puffy jacket for you is not going to be the best puffy jacket for someone else with different needs!
These are the puffy jackets we're hot on this year.
| | | | | | | |
| --- | --- | --- | --- | --- | --- | --- |
| Model | Brand | Fill | Warmth | Fit | Weight (oz) | Price |
| Ghost Whisperer | Mountain Hardwear | 800 down | 7 | Athletic | 7.7 | $350 |
| Nano Puff | Patagonia | 60g | 7 | Average | 12.8 | $299 |
| Avant Featherless | Marmot | 600-equal (synthetic) | 6 | Average | 16.8 | $225 |
| Cerium LT | Acr'teryx | 850 down | 9 | Athletic | 10.8 | $379 |
| Access | Black Diamond | 60gsm synthetic | 7 | Average | 11.6 | $199 |
| Morph | The North Face | 800 down | 9 | Slim | 12.3 | $279 |
Mountain Hardwear Ghost Whisperer (Hooded)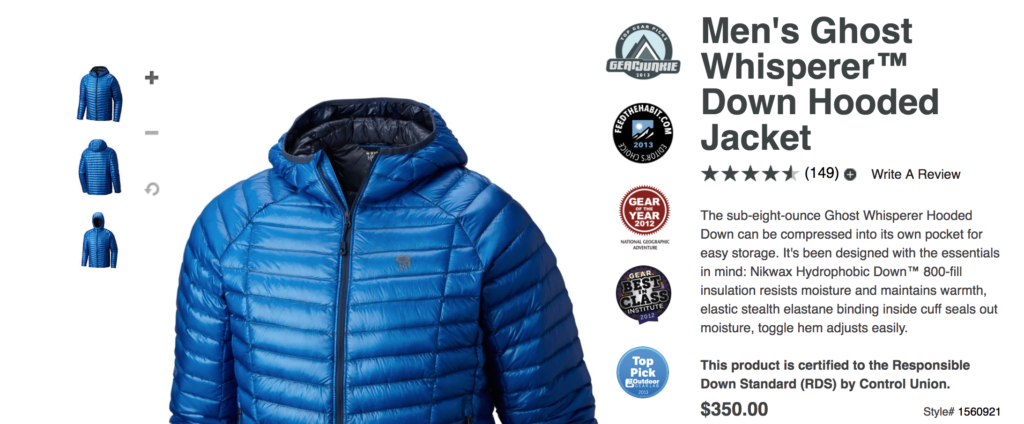 The Mountain Hardwear Ghost Whisperer is my favorite jacket I have ever owned. It is an 800 fill jacket, though cut for an athletic fit and athletic activities. And it only weighs 7.7oz.
The Ghost Whisperer is definitely not the cheapest puffy jacket on this list, but that's for a reason. At sub 8oz of weight, and certified to the Responsible Down Standard (RDS) by Control Union, the Ghost Whisperer tucks into its own pocket to the size of a large eggplant. Cut to an athletic fit (especially for those with broader shoulders), this jacket is comfortable to keep on outside when active or sitting in your car warming up after a tour.
I've used this jacket throughout the Sierras, Chugach (in Alaska), Rockies, and the Alps (Switzerland and France), and it kept me both warm and comfortable the whole time.
While it's not the jacket you want to sit in during apres-ski outside in single digits for a long time, it is amazing with some decent layers underneath and as a midlayer underneath a solid technical shell.
Read our Review Buy on Backcountry
Price: $350
Patagonia Nano Puff Hoody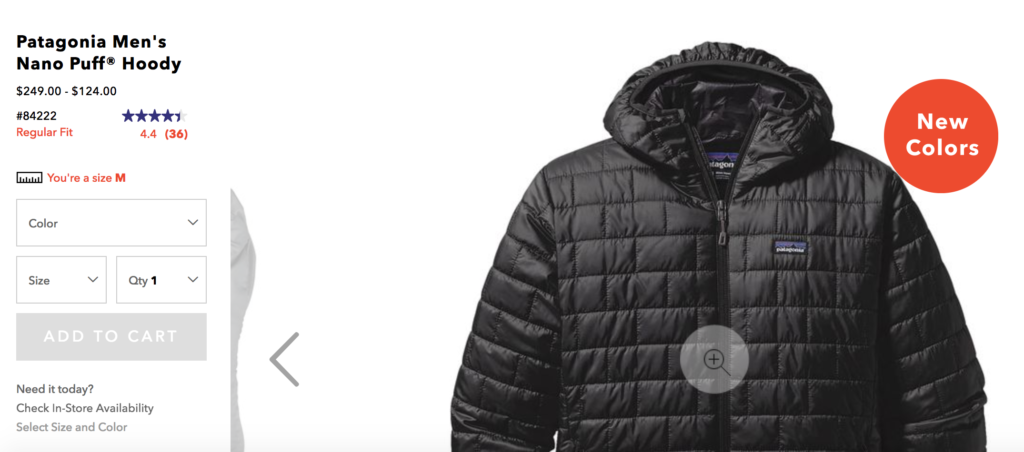 Patagonia's Nano Puff hoodie is a new entrant to the world of light yet warm puffy jackets that can be worn out and about the ski village but really shine when out in the elements. It's a 60g fill jacket that feels like a feather.
Patagonia has become a leader in sustainable outerwear that also functions well outdoors. Coming in at 12.8oz, this jacket is a bit heavier than the above mentioned Ghost Whisperer. This jacket is meant to serve in medium-cold temperatures as an outer layer and as a mid-layer under a technical shell. It's not cut quite as athletic as the Ghost Whisperer, but fits well for an average-build man like myself.
Price: $299
Marmot Avant Featherless Hooded Puffy

The Marmot Avant is marketed as a "featherless" hooded puffy jacket, which has the 3M™ Thinsulate™ Featherless synthetic insulation. PETA-friendly, this jacket keeps you warm to the same level as a 700-fill down jacket, which is quite impressive.
The Marmot Avant weighs in at 16.8 ounces, making it heavier than both the Ghost Whisperer and the Patagonia Nano Puff even though it has less fill to it. One has to presume that the additional weight is because of the Thinsulate Featherless synthetic insulation, which depending on your morals/preferences may either be a good thing or a bad thing.
The Avant is made for the average male body. It has all of the features the others compared in this article have, such as zippered pockets and stretchy hand cuffs. It is also cut just a bit shorter than the other jackets in this article, so depending on your body that may be preferable or a detractor.
All in all, a solid jacket from Marmot that you should try on and compare against the others mentioned here.
Price: $225
Arc'teryx Cerium LT Hoody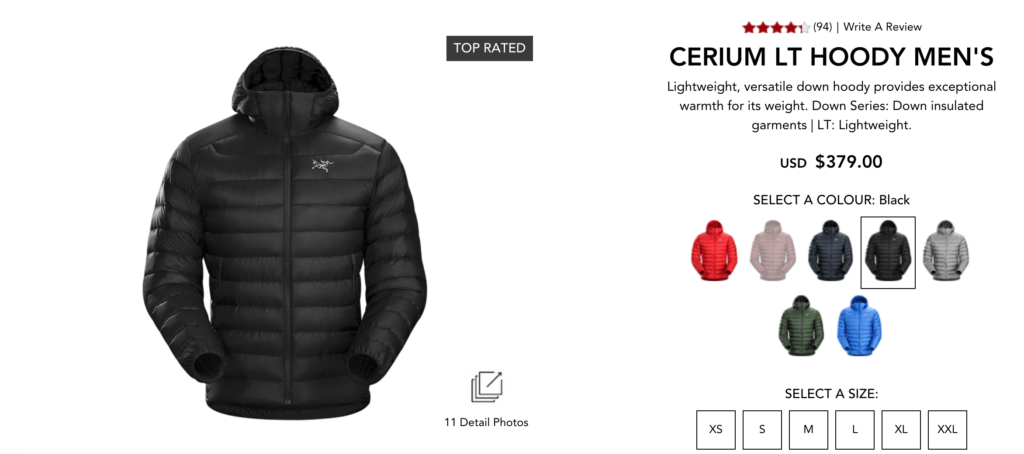 The Cerium LT is an 850 fill jacket from the crew over at Arc'teryx. Given this, it is also the most expensive jacket on our list as Arc'teryx is well known as a premium brand that you can spend upwards of $600 on a shell.
That said, the reputation is well-deserved. The Cerium LT is an extremely warm jacket with a beck that comes up around the bottom half of your face just like The North Face's Morph. While it's 850 fill, it's also cut athletically and will still let you move. You won't feel like the Michelin man in this jacket, but you'll be just as warm as the actor who was wearing that suit.
This jacket has all the usual bells and whistles you'd expect – drawstring at the bottom, zippered pockets, stretchy cuffs. And in the Cerium LT, you get it all for 10.8 oz of weight.
This jacket is amazing if you can afford it.
Price: $379
Black Diamond Access Hoodie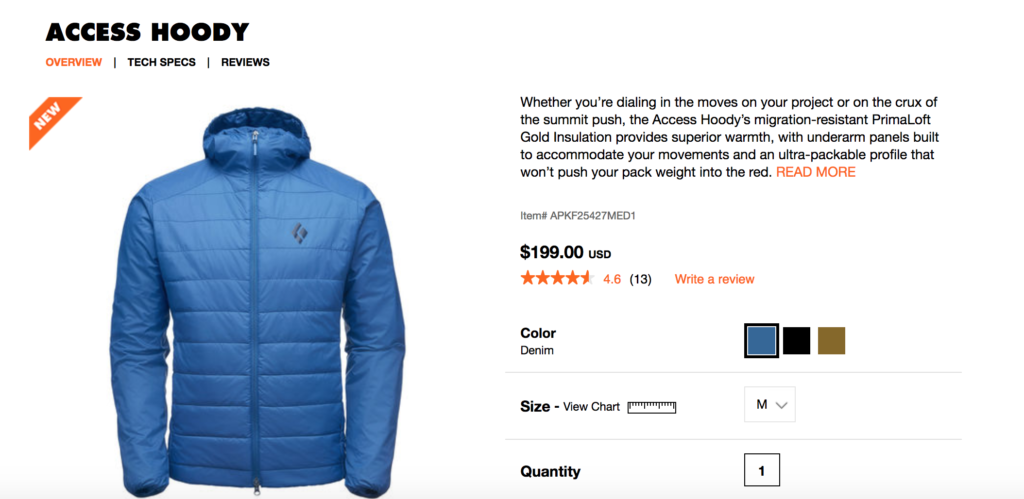 The Black Diamond Access hoody is a PrimaLoft® Gold Insulation (60 gsm, 100% polyester) jacket from the good folks at Black Diamond who are known for their fantastic technical equipment. Black Diamond was, of course, founded by Patagonia founder Yvon Chouinard back in the mid to late 1970s in Yosemite while making climbing gear like pitons.
The Access hoody weighs 11.6oz, putting it squarely in the middle of the pack for the jackets listed here. Like all the others, it has the standard zip pockets, helmet-friendly hood, and stretch cuffs.
This is a solid jacket if the cut fits your body well. It's a very realistic weight and different insulation than a classic puffy, so it is worth a look for a solid mid-layer.
Price: $199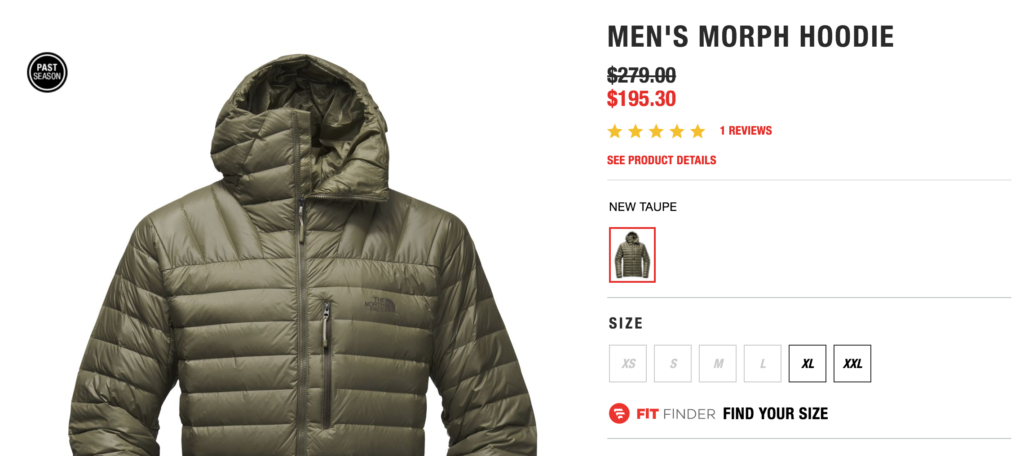 The Morph is an 800 fill goose down jacket that will keep you warm when the temperature drops and you need to hunker down. I actually got this jacket for 2 reasons. The first to wear as an alternative to my Ghost Whisperer when out and about in ski towns in the evenings (when the temperature drops substantially) and second to wear at the climbing crag when trying to keep warm while belaying.
You may read that the Morph fits a bit strange, which some some body types would be totally true. I am fortunate that it fits mine well (as do most jackets) because I'm a relatively average size and build (with broader shoulders and longer arms than usual). But the Morph fits my chest well, has long enough arms, and the only gripe I have is that it is a bit short on my torso, down to about my belt.
But this jacket is everything I wanted in an 800 fill jacket, and at just . While the hood does not fit a helmet, I wouldn't wear the Morph while wearing a helmet anyways (other than maybe belaying) simply because it is too bulky for backcountry skiing or wearing under a shell while at the resort.
I love this jacket.
Price: $279
Single Geared is an advertising supported website and includes affiliate links. If you click on a product and purchase something from that website, we may be compensated. Learn about our advertising policies here.