Best bouldering shoes for beginners in 2019
If you're a beginner just getting into rock climbing and bouldering, you're probably a bit overwhelmed by the options.
I know I was when I was first starting.
We wrote this post about the best rock climbing shoes out there right now, but if you're a beginner just getting into bouldering (and #lovingit) you probably need a bit more direction.
So here are our recommendations for the best bouldering shoes for you intrepid beginner boulderers. May your tendons get strong, your arms stay straight, and your calluses not tear.
Best bouldering shoes for beginner men climbers
I'm a guy, and when I started climbing in earnest in 2008 I did not know which climbing shoes to get. I didn't know whether I wanted to do more sport climbing (routes) or more bouldering (problems), so I just went with what my gym at the time, in Sterling VA, had in stock. So I ended up with the Evolv Defy, which are still a great shoe.
But now that I have been climbing for almost 11 years, with a few breaks in there for travel and living abroad, and climb 5.11c/V4, I've had the chance to try a lot of different shoes.
So like any recommendation, this is my personal recommendation on the bouldering shoes that beginner boulderer men should test out to see what is right for them.
These are what you should try on (and out) before making your decision:
Each of these shoes has its plusses and minuses, but all four are relatively flat-soled, which means you can practice your footwork and stay comfortable, and don't cost an arm and a leg (though some are more expensive than others).
Oxygym
The Oxygym is currently the shoe of choice for rock climbing gyms to rent out, and for good reason:
It's affordable at approximately $49/pair
It has a velcro enclosure, which means you can adjust it to your own feet;
It is ever-so-slightly curved in the sole to allow you a bit more control with your feet;
It's La Sportiva, so it has good rubber and a precise toe for a beginner shoe.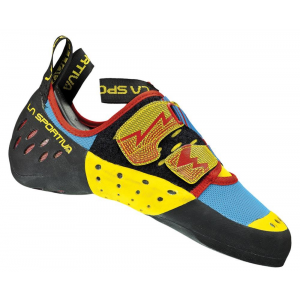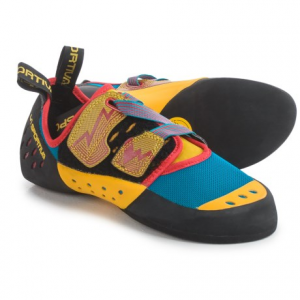 This is actually a great shoe for someone just getting started who doesn't want to invest a ton of money but wants their own shoes.
5.10 Anasazi Mocassym
The 5.10 Anasazi Mocassym is a classic shoe that has been around for YEARS, and it still scores super high for good reason:
It's a mocassin (no laces/velcro) which some people prefer (I love mocassins for climbing);
It has a deep heel cup which lets you learn heel hooks and is guaranteed to stay on;
Has a flat sole that is flexible as well;
A bit more expensive at $125.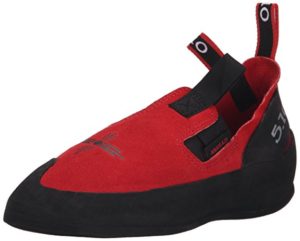 Overall this is a great beginner bouldering shoe that is light, lasts for a long time (5.10 is a long trusted brand), and lets you figure out if you prefer a mocassin.
Defy
Finally, no list of beginner shoes is complete without the Evolv Defy. As I have said before, this was my first pair of shoes and they served me well. They got me through the initial stages of "will I commit to this?" and let me move up and climb up to V2/5.10a before moving on to my next pair of dedicated bouldering shoes (the Scarpa Instinct S).
You are probably no stranger to the Defy. It has:
The usual Evolv rubber, which is tough and durable;
A flat sole;
A roomy toe box, to save your toes until you enjoy the sport;
An affordable price tag around $79
The Defy is a solid, classic beginner shoe.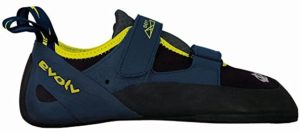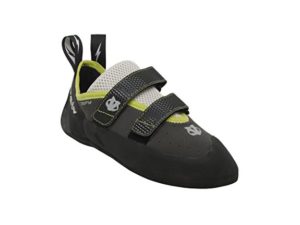 Scarpa Origin
One shoe that I do not see talked about much but I think deserves your consideration is the Scarpa Origin. It deserves your consideration because:
It has a soft upper and well-placed straps to fit your foot well;
A very slightly pointed toe, to let you start on those small foot holds as you progress;
It's Scarpa, and if your foot fits it well (usually a bit thinner) then they'll feel like magic;
The price is very competitive at $89.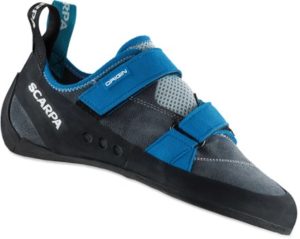 Best bouldering shoes for beginner women climbers
Over the last few years, I have seen the number of women at climbing gyms skyrocket. At my gym here in Denver, Movement Denver, there are frequently more women than men in both the sport climbing and bouldering areas. Many of these women are crushers, climbing harder than a lot of the men.
If you're a woman just starting out bouldering, here are the three shoes you should consider:
La Sportiva Katana
The women's La Sportiva Katana comes highly rated because it:
Has a pointed toe, which helps with smaller foot holds;
Has a dual strap closure and the roomy toe box that La Sportiva shoes are known for;
Has the La Sportiva Vibram XS Grip 2, which is known for being extremely sticky.
Is priced around $100, which is a pretty good deal.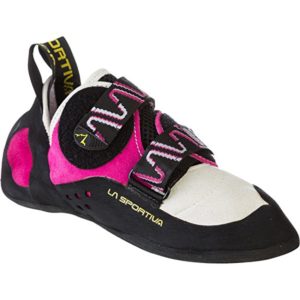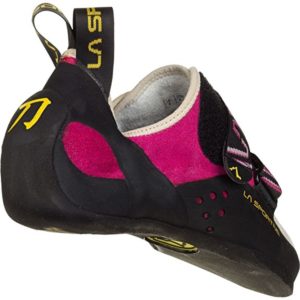 All in all, a great shoe for the beginner woman boulderer who is progressing quickly.
La Sportiva Mythos
The La Sportiva Mythos is an extremely popular climbing shoe for the beginner to intermediate woman who wants a lace-up shoe that is not super aggressive that lets them go out and have a great session at the gym or out at the crag with their crew.
The Mythos:
Has an extremely flat sole, which lets you either climb sport or boulder;
Is supposed to be supremely comfortable, which is important in an all-day shoe;
Fits all types of feet;
Is a bit more spendy at $145, but apparently lasts forever.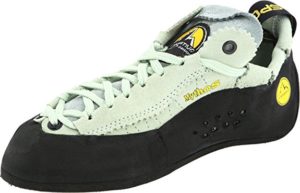 Evolv Elektra
Finally, the Evolv Elektra. This is the women's version of the men's Defy, which we already established is a classic all around shoe made for the beginner to intermediate. The Elektra:
Has a flat sole just like the Defy, for easy wearing;
Dual opposing strap velcro enclosure, for better fit that same-direction velcro;
Dual pull strap on the heel with a shallow heel cup.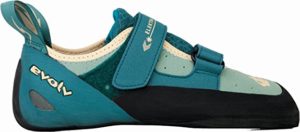 All in all, a super solid women's shoe for $89.
---
I should note after these recommendations that I did not create them taking into account price. Of course, price matters because none of us are on an unlimited budget. So, get what you can afford. But, I must say that I am definitely a fan of investing in the right gear because it will make your experience that much more enjoyable, especially as you are just starting out.
Is there a shoe you expected to see here but did not, or have you climbed in some of these and want to give your input? Leave it in the comments!
John 
Single Geared is an advertising supported website and includes affiliate links. If you click on a product and purchase something from that website, we may be compensated. Learn about our advertising policies here.