Best rock climbing shoes of 2019
Every year, new rock climbing shoes hit the shelves for climbers across the world to try, review, and either grow to love or count the days until they wear out so they can buy their next pair.
"Best", of course, is subjective depending on the type of climbing that you are doing. There are four main categories of climbing shoes, and we will rate our favorite in each category for both men and women below.
Gym climbing
Gym climbing shoes have to be multi-use (bouldering or sport), durable, and fit comfortably. They're either velcro or lace-ups, though we at Single Geared prefer velcro for easy on/off.
Bouldering
Bouldering shoes, which are also used in the gym from time to time, are aggressive and fit very tight. They're made for precision and keeping your feet on tiny holds. You wear them for your climb, then take them off when you're down.
Sport/steep
Sport shoes are less aggressive than true bouldering shoes but still turned a bit downwards. They're meant for roped climbs where you have the occasional small toe hold and heel hook, but the climbing is more varied. Most prefer velcro here, though the more traditional climbers who do not climb overhung as much like laces for comfort.
Traditional (trad)
Trad shoes are meant to be comfortable all day on long multi-pitch climbs. You're optimizing for comfort, not tough technical climbing. These are usually made out of leather and involve laces.
Our choices
You can read the full justification below for each shoe, but our choices are:
Gym shoes for beginners – Evolv Defy (men) and Elektra (women)
Gym shoes for intermediates- La Sportiva Turantulace (men) and Katana (women)
Gym shoes for advanced – La Sportiva Otaki (men) and Solution (women)
Bouldering (men) – La Sportiva Otaki, Scarpa Instinct S, Evolv Shaman
Bouldering (women) – La Sportiva Solution, Evolv Shaman women's, La Sportiva Katana
Sport climbing (men) – La Sportiva Katana Lace
Sport climbing (women) – La Sportiva Miura Women's
Trad (men) – La Sportiva TC Pro
Trad (women) – Evolv Astroman (unisex)
I know it seems that we only recommend La Sportiva or have a special agreement with them, but we don't! Their shoes are just amazing these days.
Table of Contents
Use these links to navigate to your desired specific section.
Best Gym Shoes
Gym shoes are best picked out for all-around use, from bouldering to sport routes, so that you can more easily move between the disciplines depending on your mood and how crowded your gym is. Because let's be honest, gyms have become WAY more packed in the last 6-7 years.
Men's
We have three picks for the best gym shoes for men.
Best beginner men's gym shoes
The best men's beginner gym shoe is still the Evolv Defy. This is actually the first rock climbing shoe that I ever purchased when I really started climbing back in 2008. It fits like you would expect an entry-level shoe to fit – not super aggressive, not tailored to your foot, but it gets you started getting used to used your toes, placing your feet, and is easy to put on and take off.
The main downside is the smell. These shoes do smell quite bad, so we do not recommend putting them in your gym bag directly after using them. Remember, you don't wear socks with rock climbing shoes so your feet will also smell quite bad. The best remedy is to keep baby powder around and put that in your shoes after each climb, and allow you shoes to air out.
Price: ~$70, with frequent sales to clear out inventory
Image:
Best intermediate men's gym shoes
The best intermediate men's gym climbing shoe is the La Sportiva Men's Turantulace. When you're ready for a step up from the Defy but don't want to break your bank account yet, this shoe is a bit more aggressive, fits your foot tighter, and allows you to stand on smaller footholds.
I have many friends who use this shoe as their all-around gym shoe. It holds quite well on sport climbs up to mid 5.11's (usually a couple of years into your climbing journey) yet is still aggressive enough to allow you to do some bouldering, often up to V3 or so.
Price: ~$80
Images: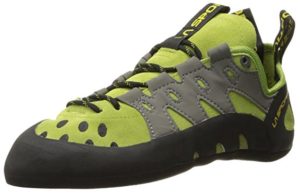 Best advanced men's gym shoes
The best advanced men's gym shoe that we have tried is the La Sportiva Otaki. In a nutshell, this shoe is awesome.
We love it because it is a velcro shoe, but the heel fits great and it has a downturned aggressive stance which is fantastic for harder sport and bouldering problems. It's also light and doesn't have the ankle-swallowing attributes of the La Sportiva Solution (also a fantastic shoe, but heavier).
The only downside is that they take a bit to break in, but once they do they are incredibly comfortable. I actually wear them a half size bigger than I had the Solutions, and they still fit great and allow my feet some relief.
Price: ~$175
Images: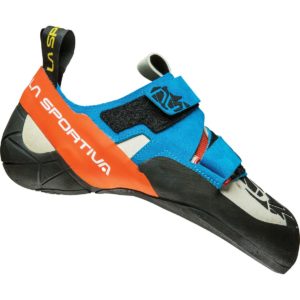 Women's
Let's not forget about the women. After all, women are a huge growing portion of rock climbers these days. I routinely see women at my gym, Movement Denver, who are climbing much harder problems than I climb. Much respect to the women of climbing!
Best beginner women's gym shoes
If you are looking for an entry-level women's gym shoe, look no further than the Evolv Elektra. The Elektra is the women's version of the Defy, which we rated #1 above for men's entry level gym shoes.
Evolv says that the Elektra is their all-time best selling shoe (for good reason, as it is entry level and affordable) and has received an upgrade for 2017. These shoes are durable, offer a generous toe so that your toes are not too smashed into the end, and have a relatively flat sole which allows you to get used to using your feet in smart ways.
Overall, an affordable price (and you can often find them on sale as well, especially at the end of the year) and a great shoe to start with.
Price: $89 MSRP
Images:




Best intermediate women's gym shoes
This category is always difficult to rate because intermediate can mean so many different things.
So for this category, we have a tie this time around between the Scarpa Force X and La Sportiva Katana.
Why a tie? Because they're both great shoes but are perfect for different uses.
The Scarpa Force X is a step up from the Elektra. It is still a relatively flat soled shoe that is great for all-around climbing when you need something a bit stiffer and more precise than the Elektra. It's great for longer and low angle climbs.
If you've taken more to bouldering, then the La Sportiva Katana is the shoe for you. It is also not super aggressive, but it is stiffer with a performance toe that will hold on small holds on overhanging problems. It also has opposing toe and hook velcro straps, which help customize the fit even more.
Scarpa Force X images: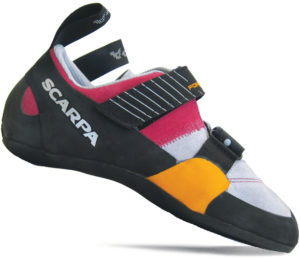 La Sportiva Katana images:
Buy Scarpa Force X Women's on Amazon
Buy La Sportiva Katana Women's on Amazon
Best advanced women's gym shoes
Our choice for the best advanced women's gym shoes are the trusty La Sportiva Solution. I used to climb in the men's, for about 2 years, as a V4/V5 and 5.11b/c climber. I loved them.
The Solution is an aggressive shoe that still has a wide toe box. There's only one strap, which you can adjust up or down depending on your foot. The rubber is Vibram, which wears evenly and holds when you need it to.
The one thing to know about the Solution is that it's not a minimal shoe. It comes up to your ankle and is more substantial than a lot of the other shoes.
Price: ~$180
La Sportiva Solution images:




Best Bouldering Shoes
Bouldering shoes are super personal to the climber. When you do a lot of bouldering and are regularly V6 and above, you need something that feels right to you. Everyone's foot is different, so make sure you're trying on as many different brands as you can before making a decision. And remember, you can always go with a different brand next time (unless you're sponsored, which if you're reading this I doubt you are).
Best bouldering shoes for men
Most other review roundups you read will tell you that the Solution is the best bouldering shoe out there. I am going to disagree based off my own experience. As I said above, I used the Solution for a couple of years and while it is a good shoe, it's not the best.
I have three bouldering shoes that you should consider:
We'll look at all 3.
La Sportiva Otaki
The Otaki is my current shoe, so I might be a bit biased. We wrote a full review here, where you can see that the Otaki is a pleasurable shoe to wear that holds on anything and is comfortable to wear, yet has a downturned toe that will let you hang on overhanging problems.
Price: ~$180
Image: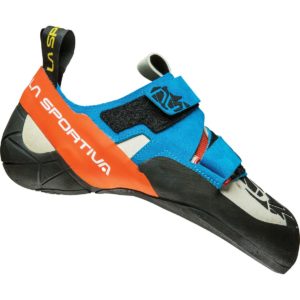 Scarpa Instinct S
The Instinct S was my shoe of choice for two years from 2012-2014. The Instinct is the first slip-on shoe I've mentioned so far in this article.
This shoe is a super aggressive downturned hardcore bouldering shoe. It has a deep heel cup which holds strong on heel hooks and will let you hold your feet on any tiny hold on any overhanging problem you can imagine. I never had a problem with this shoe not holding. It also has a generous toe box, so my toes never felt destroyed after wearing them.
Plus, I like the bright orange.
Price: ~$160
Image: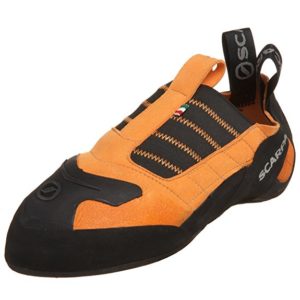 Evolv Shaman
The Evolv Shaman has been the gold standard in bouldering shoes for a long time, coming from the line created specifically for Chris Sharma. If you've ever seen King Lines, you'll know the type of stuff he designed these shoes for.
Now, I'll admit that Evolv shoes have never fit my feet incredibly well. But, so many people seem to love them that they're worth a strong mention here, if not an endorsement. They're worth trying on to see if they fit your feet.
Price: ~$160
Images: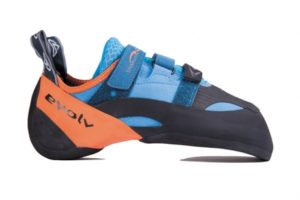 Best bouldering shoes for women
We have three shoes that you women should consider when finding a bouldering shoe, and they look fairly similar to the men's picks.
La Sportiva Solution
I've mentioned above that the La Sportiva Solution is a bit heavy, but I'll also be honest that women's bouldering shoes do not have the options that men do. That sucks, so I have to mention the Solution here.
It's a heavy shoe, but the Solution has a fantastic aggressive profile, a Vibram sole, and a pointed aggressive toe that will let you stand on those tiny holds.
Price: ~$180
Image: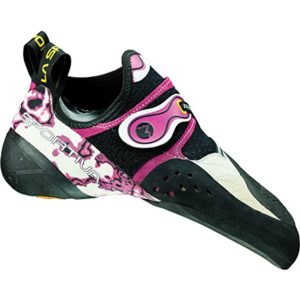 Evolv Shaman LV
The Evolv Shaman LV also comes from Chris Sharma's line of bouldering specific shoes. Let me get one thing out of the way first – this thing is ugly and looks cheap. It really does.
BUT.
The Shaman LV is a low-profile shoe with a pointed toe that apparently fits amazingly. Evolv doesn't use Vibram soles like La Sportiva does, but their rubber is quite sticky in and of itself so it's not a point of concern.
If you have the right feet for it, this shoe can be great.
Price: ~$130
Image: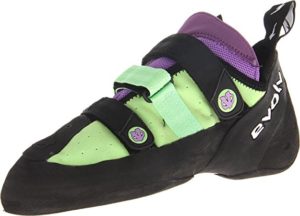 La Sportiva Katana
The La Sportiva Katana was mentioned above as a great all around gym shoe, but it is also one of the best bouldering shoes out there for women.
The Katana does not have a super aggressive sole, but its generous toe box lets you stand on slopier foot holds without destroying your toes like some shoes.
Price: ~$150
Image: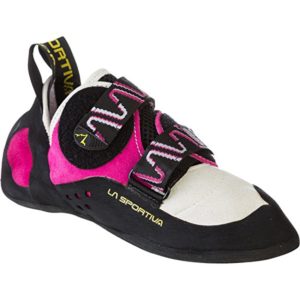 Best Sport Climbing Shoes
I love sport climbing. Even though I'm scared of heights and get a bit sweaty and weak-kneed when I'm about 60 feet, sport climbing gets me going. I'm obviously a male, so I'm speaking from first-person experience here on the men's shoes and relying on some women I know for the women's shoes.
Best for men
Our pick for the best sport climbing shoe for men is the La Sportiva Katana Lace. I have many friends who climb in this shoe and swear by it for a few reasons:
It's low profile. It won't get in your way as you climb like the Solution.
Lace it tight or loose.
Semi-aggressive downturn, but it's flat enough to be useful on slabbier routes too.
Price: ~$165
Image: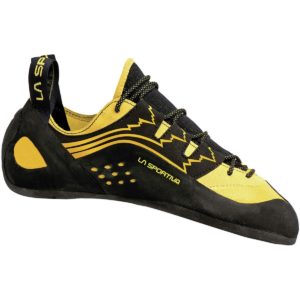 Best for women
Our pick for the best sport climbing shoe for women is the La Sportiva Miura Women's (similar to the Katana Lace).
The Miura is a velcro strap shoe that is similarly super low-profile to the above mentioned men's Katana. The Miura is our pick because it:
Has an aggressive toe, but isn't so aggressive it's not comfortable on slabby routes;
Easy on/off with the velcro, which is a minus to the Katana;
Great heel, but it's not super deep like most bouldering shoes. Perfect for long routes.
Price: ~$165
Image: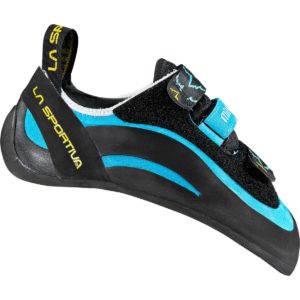 Best Trad Shoes
Trad climbing is such a different world from sport or bouldering that we need to go a completely different direction. When you're trying on a trad shoe, you're looking for comfort comfort comfort.
Here are our picks.
Best trad climbing shoe for men
Tommy Caldwell knows trad climbing and long days on the wall. If you've ever watched videos of El Capitan being climbed, you have definitely seen footage of Tommy.
Thus, there is no one else on earth that we would trust more than Tommy to create a shoe that is dialed in for trad climbing, and thus our pick is the La Sportiva TC Pro.
The TC Pro was made for the big walls and long days. It's made from leather, unlike almost all of the sport shoes we've talked about. It has high ankles to protect those while you're high up, and the Vibram soles mean your feet will stay where you put them.
All in all, the perfect trad shoe. Well done, Tommy.
Price: ~$185
Image: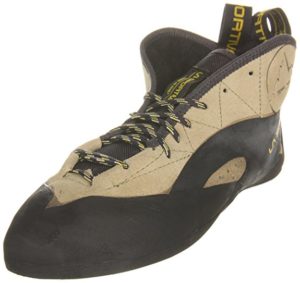 Best trad climbing shoe for women
Remember how climbing has long been a male-dominated sport and so women's shoes lag way behind? Unfortunately that's still true on the trad front, and maybe especially on the trad front.
That said, there is a unisex shoe that women seem to love and that is the Evolv Astroman.
The Astroman is a lace-up shoe like the TC Pro, high top, and made out of leather that once broken in will probably be your most comfortable pair of shoes, on or off the wall.
Because it's made by Evolv, the Astroman doesn't have a Vibram sole, but as we've said above Evolv makes great rubber and that shouldn't be a worry at all.
Price: $144.95
Image: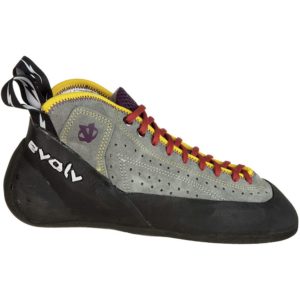 ---
What do you think? Do you agree with our recommendations? Disagree? Let us know in the comments!
Single Geared is an advertising supported website and includes affiliate links. If you click on a product and purchase something from that website, we may be compensated. Learn about our advertising policies here.