The best rock climbing harnesses for 2019 (Reviews)
Are you just getting into rock climbing and are ready to invest in your first harness? Then congratulations! That along with a great pair of rock climbing shoes meant for beginners will have you ready to show up at your local gym and training hard in no time.
Now it's time to talk about rock climbing harnesses.
Obviously, harnesses keep you safe while up on the ropes or while belaying. While price is definitely a consideration, you also want to consider:
Durability
Features
Comfort for your body type
Weight
Harness prices
Every rock climbing equipment brand makes numerous harnesses, from Arc'teryx to Black Diamond and Mammut. Rock climbing harnesses range in price from $55 on the low end to well over $150+ on the high end.
Of course, if you are just starting as a climber you do not need a $150 harness! If you are an experienced climber and weight really matters to you, and you have the money to buy one of the fancier brands, then we have that info for you as well.
Harness features – what to look for
Every rock climbing harness worth its salt will have:
Double loops on the front through which to run the rope when tying in. Always have two points of contact!
Gear loops on the sides for carabiners/ATCs/GriGri
Adjustable waist strap that doubles back
It has become more fashionable and accepted in 2017 to not have separate adjustments for leg loops. This has the advantage of two fewer straps to remember to double back, though some (especially men) may find it uncomfortable.
Get what works for you. I'm very happy in my harness with adjustable leg straps!
Top rock climbing harnesses for 2019
In this post, we review the following 7 harnesses. You can find the grid comparing all with links to buy from Amazon at the bottom:
Arc'teryx AR 395a
Black Diamond Chaos
Mammut Ophir Slide
Black Diamond Momentum
Mad Rock Mars Deluxe
Petzl Sama
The Arc'teryx AR 395a harness is a top-of-the-line harness from the Vancouver BC-based company.
While it is not the cheapest by any stretch of the imagination, it does contain some feature that make it lighter, stronger, and improve its comfort over some of the others mentioned here.
Features include:
Warp Strength Technology for exceptional pressure dispersal and comfort, superior strength to weight ratio and compactness

Burly Double Weave material for strength and comfort

Waist belt updated with softer edge, less pressure on the edges improves the overall comfort

Adjustable leg loops adjust for a precision fit

Four reversible polyurethane gear loops, rear haul loop
What we like most about this harness is that it has not given in to the modern day trend of removing adjustable leg loops. I personally prefer my harness to fit some snugly around my thighs with minimal movement while I am climbing, so this harness speaks to my desires as a climber.
Official images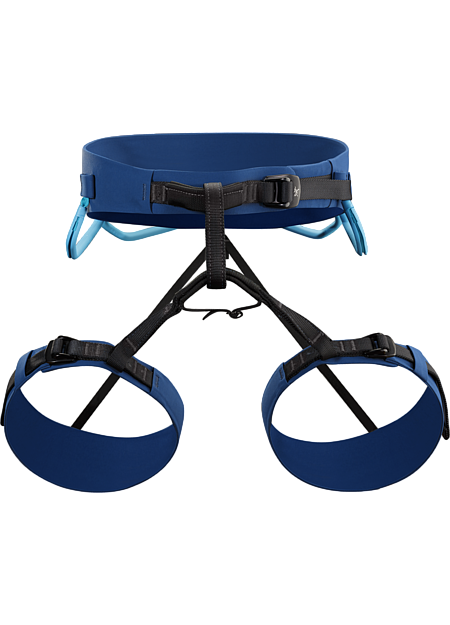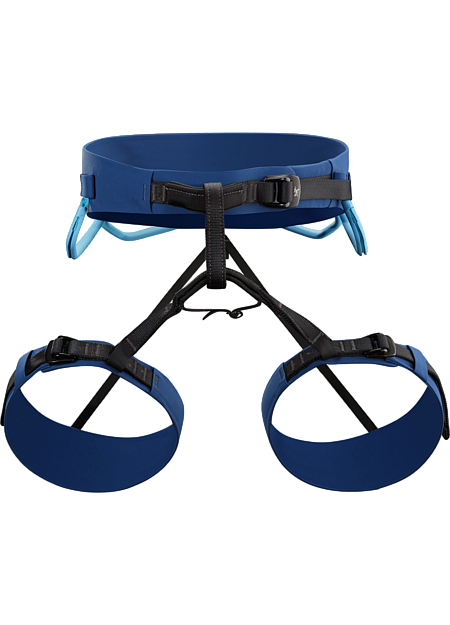 The Black Diamond Chaos is a few steps up from their entry level Momentum harness (discussed below). Because of this, it has some premium features that you won't find on lower budget harnesses but which make a big difference when you're in it all day.
Features include:
Four pressure-molded gear loops with slightly larger front loops, 12 kN-rated haul loop

Waistbelt and leg loops feature abrasion-resistant shell and a soft, padded 3D mesh interior

Bullhorn-shaped waistbelt built using Kinetic Core Construction

Pre-threaded Forged Speed Adjust waistbelt buckle

Weight: 12.5oz
According to the official review:
From the hard single-pitch splitters of Indian Creek to the soaring alpine walls of the Charakusa Valley, the Black Diamond Chaos harness is a highly durable, premium trad climbing harness that's built for long routes and serious abuse. Equally suited to cragging sessions and multi-pitch free climbs, the Chaos features Kinetic Core Construction, which uses a thin layer of Vectran fibers in place of traditional webbing to evenly distribute weight across the waist and legs.
What we like most about the Black Diamond Chaos is the premium stitching and padding which add both strength and comfort to it on those long days on the wall or at the crag. And at 12.5oz, it is extremely light and won't weigh you down when you're putting out that extra effort to achieve your goals.
The Chaos prices around $160 brand new.
Official image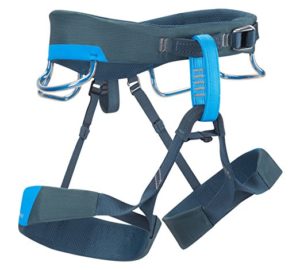 I love Mammut, the French company dedicated to alpinism and climbing. Part of this might be because it's one of the few companies coming out of my beloved Switzerland, but they also make incredible gear and sponsor some of the world's best athletes. And if you've ever been to Chamonix, you need to visit their store there!
The highly versatile Mammut Men's Ophir 4 Slide Harness brings the comfort without the weight for trad, sport, gym, and multipitch climbers. Split Webbing technology separates the harness's webbing into two strands that ride over and under your hips in order to reduce weight, increase ventilation, and decrease the necessity of padding, without hindering your comfort or safety. Four Slid Bloc buckles provide the ideal fit for a wide range of users in case your buddy wants to borrow the harness for a weekend. Mammut also equipped this harness with four gear loops for convenient organization, a tie-in protector for excellent longevity, a drop seat buckle for bathroom breaks, and a high-strength haul loop. It's incredible to think that all these features only add up to less than a pound.
Features include:
Four slide-bloc buckles (easy on and off)
Adjustable leg loops
Gear loops
A drop seat buckle
Tie in protector
Official image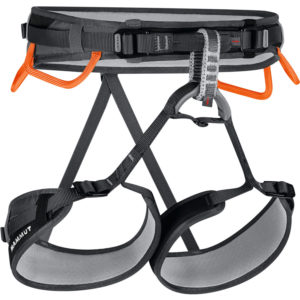 Price: $69.95
For all-around climbers who know that time spent fiddling with leg loops and adjusting a pinching waistbelt is time wasted, the Black Diamond Momentum delivers a time-saving design for all styles of climbing. A pre-threaded Speed Adjust waistbelt buckle saves time and eliminates error when tying in, while Dual Core Construction™ puts an emphasis on comfort, even when you're posted up at a hanging belay. TrakFIT leg-loops easily adjust for cool fall days at the crag or blazing summer days on long multi-pitches, and four pressure-molded gear loops and a haul loop make this our most popular all-rounder.
**This is a great harness for beginners!
Features include:
Pre-threaded Speed Adjust waistbelt buckle
Bullhorn-shaped waistbelt built using Dual Core Construction
Patent-pending trakFIT adjustment for easy leg loop customization
Adjustable rear elastic riser
Four pressure-molded gear loops
Haul loop
Official image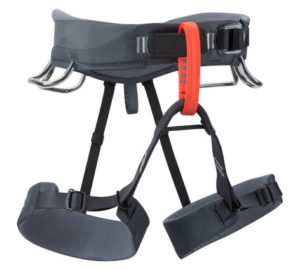 Price: $54.95
The Mad Rock Mars harness is a classic three-buckle harness with all the galactic features. Makes the perfect accessory to your quiver of Mad Rock shoes! The innovative PSi series waist belts uses Mad Rock's exclusive sculpted air pockets that are thicker where you need padding and leave space for breathability and maximum comfort. These mini air bags are filled with inert gas, and offer greater protection under loads than foam alone.
Features include:
Classic three-buckle harness
Mad Rock's exclusive sculpted air pockets
Thicker where you need padding and leave space for breathability and maximum comfort
Belay Loop : 26KN
Haul Loop : 24KN
Official image: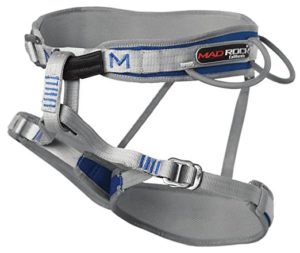 Price: $49.95+
The Petzl Sama is a classic climbing harness beloved by gym and sport climbers alike for its versatility and affordability.  With its ENDOFRAME Technology construction, it provides excellent weight distribution around the waist and legs to ensure greater comfort. The fitted elastic leg loops offer complete freedom of movement. The DoubleBack Light buckle on the waistbelt ensures quick and easy adjustment. The tie-in points are made of high-tenacity polyethylene for improved resistance to rope friction.
Features include:
No compression points or chafing zones on the waistbelt because there are no crossing seams
DoubleBack Light buckle allows quick and easy adjustment of the waistbelt
Two tie-in points:
Fitted elastic leg loops give complete freedom of movement
Four equipment loops: two rigid ones in front for quick and easy access to equipment and two flexible ones in the rear to avoid creating pressure points with a backpack
Two slots for CARITOOL tool holder
Rear loop for haul rope
Detachable leg loop elastics
Official image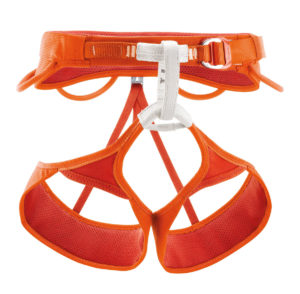 Price: $64.95
Single Geared is an advertising supported website and includes affiliate links. If you click on a product and purchase something from that website, we may be compensated. Learn about our advertising policies here.