When you have a skier in your life, it can be hard to know what to get them. There is just so much stuff, and a lot of it is expensive. Most skiers, of course, have their basic needs met with a good pair of skis, boots, and poles.
This kind of stuff is also very personal and hard to buy for someone if they don't have it. Unless you want to either go to the store with them or give them a gift certificate that hopefully covers what they want, it's best to steer clear of these big items.
So, what are the best gifts to buy for the skier who seems to have everything (or the person just getting into skiing)?
We believe that if you follow a few main guidelines when buying a gift for the skier in your life, you can't really go wrong.
Those guidelines are simple.
Any gear you buy for the skier in your life should do at least one of the following:
Make them warmer
Make them safer
Help them have more fun
With those four in mind, let's look at the gifts we recommend for skiers across each category.
Gifts to make skiers warmer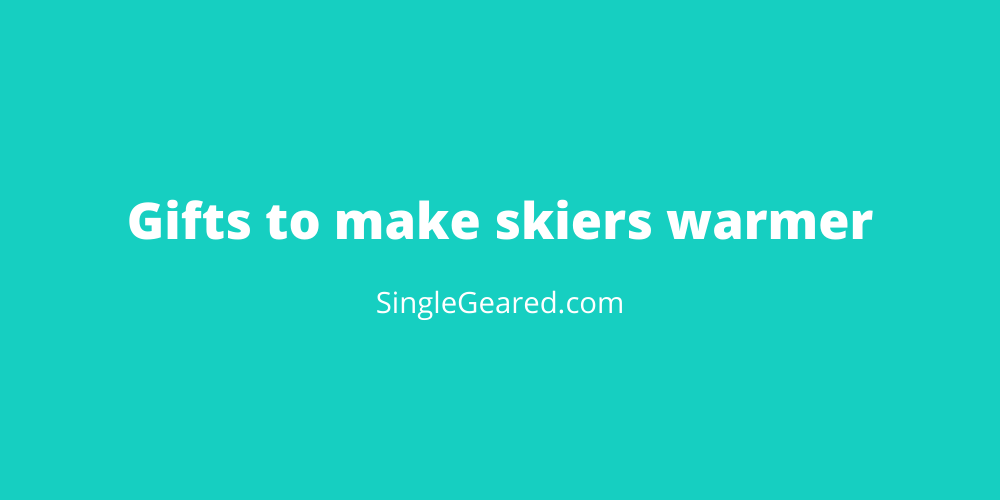 Skiing is inherently a cold sport, at least when the snow is best. Thus, anything you can do to help the skier in your life stay warm will make you their favorite person.
The core of the body usually isn't the issue, and most skiers have that covered with a good base layer and jacket.
In order of what gets the coldest the quickest, we have:
the digits such as fingers, toes, ears, and nose
the extremities such as arms and legs
the body core
Here are the gifts we recommend. And remember, these are also some of the easiest things to lose and forget so we wouldn't worry if you think they already have it. Every skier appreciates another thoughtful piece of clothing like these below.
Glove liners
Warm and waterproof gloves are a great place to start (women's gloves here), what happens once you have a good pair of those and your fingers still get cold?? Skiers the world over deal with this issue, yet there is a great solution to it.
Glove liners!
Glove liners can be everything from a thin pair of moisture-wicking to a slightly thicker pair of polypropylene gloves that can even be worn by themselves on warmer days.
But of course, what kind of industry would this be if they made picking the right ones easy on you? There are so many different kinds, from touchscreen compatible to palm grip, synthetic to wool.
We're partial to synthetic here at Single Geared, and these are our favorites:
Check out our recommended glove liners here, if you don't see any you like above.
Facemask
Some days, the cold is just unbearable. Most skiers will tell you of a time when it was so cold they couldn't feel their nose, mouth, or ears. Anyone who has skied Breckenridge in Colorado will definitely tell you this story.
A good facemask does three things:
keeps the face warm
breathes so moisture doesn't pile up
fits under a helmet
You may also see these called a "balaclava", which is really just a fancy word for a facemask. They are literally the same thing.
Here are our picks:
Buff
Until a few years ago I never wore a buff, but skiing in the west is very different from the east. On a blustery day, even the best jacket doesn't keep you warm like you need, so buffs are incredibly important. And if it's a big dump of snow and deep powder is to be had, a buff can be pulled up over the mouth to keep your favorite skier/boarder breathing!
Here are the ones to look at:
Any Buff brand. They're the originators after all – link (MSRP usually $20-$30)
 Marmot's neck gaiter. A bit heavier than most buffs, but will definitely keep one warm – link ($29.95)
Patagonia Capilene Air Gaiter. Merino wool so it's a bit heavier, but very warm – link ($49)
Gifts to make skiers safer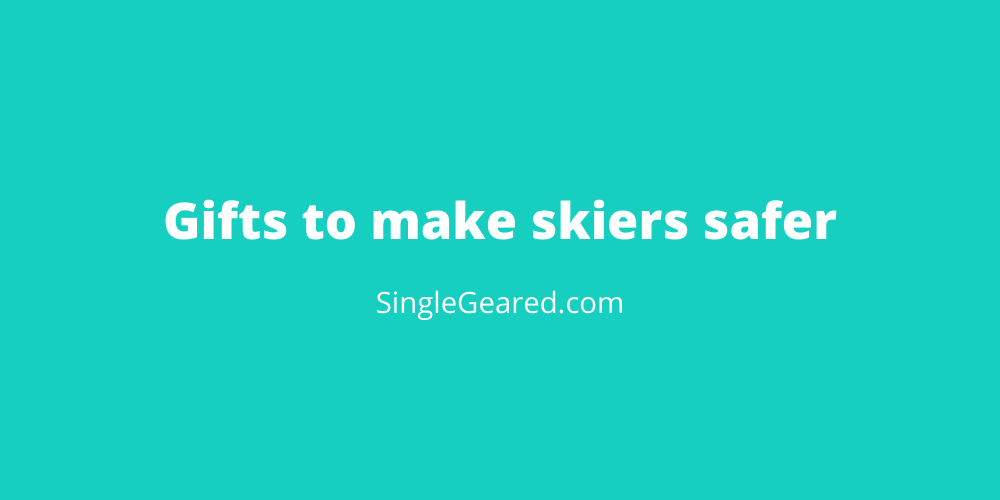 As well as being a cold sport, skiing is inherently a dangerous sport. While some data says that helmet usage has markedly increased, that does not mean that the sport is any less dangerous.
So, whatever you can do to make the skier in your life safer will help them out!
Here are a few of our favorites.
Helmet
Everyone skiing needs to wear a helmet. There, I said it.
I remember skiing without a helmet all the time in high school and college, and I would estimate that 75-80% of people skiing at my growing up home mountain also skied without a helmet.
In retrospect, that was really dumb. And I have the concussions to prove it.
Now living out West and skiing real mountains, I would estimate that 90% of people in lift lines are wearing helmets. This has dramatically helped.
Helmets aren't cheap, but they are much cheaper than a hospital stay or physical therapy, or even worse a brain injury.
Here are a few great helmets for skiers:
Salomon MTN Lab Helmet ($199.95 retail) – link – all Salomon ski helmets
Giro Ledge Helmet ($59.95 retail) – link – all Giro ski helmets
POC Auric Cut BC Spin helmet ($219.95 retail) – link – all POC ski helmets
Goggles
A good pair of goggles is important for both comfort and safety! While it may be tempting to go for cheap goggles, I'm here to tell you that those goggles will not be nearly as comfortable or effective as a pair that are a bit more expensive. If you (or your loved one) is just starting out, they'll also have a much better time with a slightly more expensive pair of goggles than a $20 pair of Smiths. I love Smiths, but don't buy those especially for the skier in your life who loves skiing. They'll appreciate them, then ask for the gift receipt 🙂
Here are some great goggles that also won't break the bank:
Wax
Safe skis are waxed skis. If you're unfamiliar with ski wax, it gets melted on the bottom of skis and then scraped off to where it is smooth. This protects the ski and lets the ski slide smoothly on the snow, which keeps the skier happy and from being stopped in front of others on the slope.
Here are a few ski waxes that the skier in your life would love:
Ski iron
To get wax onto skis, you need a ski iron. No, your clothes iron will not work because of the holes in it. Your skier needs a dedicated ski iron.
Here are our favorites:
Swix Performance Waxing Iron (~$179.95) – link
North Waxing Iron (~$49/95 retail) – link
(SingleGeared owns this) Dakine Adjustable Tuning Iron (~$49.95 retail) – link
Gifts to help skiers have more fun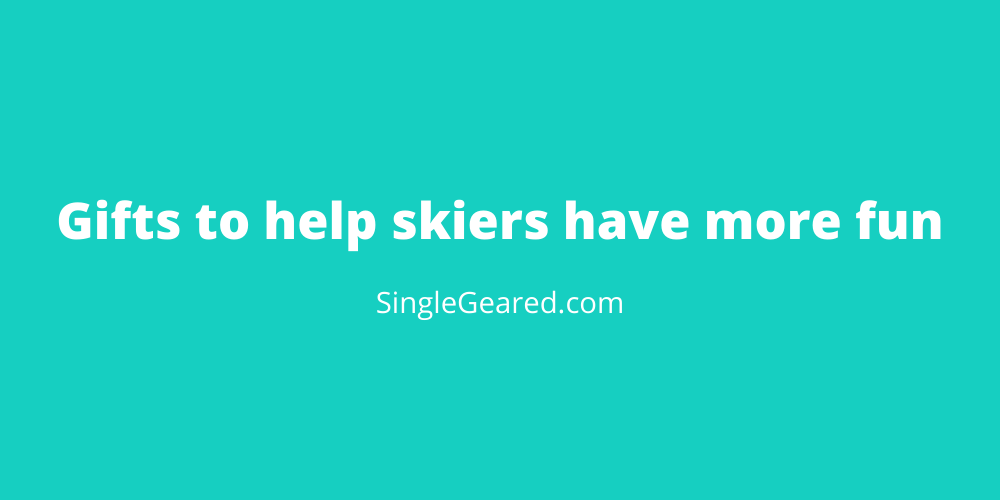 Finally, skiing should be about fun. We love skiing here at SingleGeared, and know that there are a lot of things that will make your skier able to have a lot more fun. Our favorite "fun" hack is a place right by the mountain if you can, so that commutes are short and powder days don't require as early of  a wakeup (though, any powder-loving skier will happily wake up extremely early for it).
Here are some things that we have found make skiing infinitely more fun.
Hand warmers
First, hand warmers. The pro skier in your life probably has amazing gloves (maybe some Hestras), but their friends might not and might be getting cold hands. The only thing worse than having cold hands yourself is having someone with you complain about theirs!
So give the skier in your life some hand warmers to use themselves or to give out to their friends.
Buy Grabber hand warmers at REI or Buy Yaktrax hand warmers at REI
GoPro
This one would be a real treat for the skier in your life. GoPros have exploded in popularity over the years (we have a Hero7 at SingleGeared) and people love to use them to film themselves.
If your skier doesn't have a GoPro and you really want to spoil them, then you can't go wrong here.
Ski straps
Skis can notoriously be hard to carry, and if your skier is a hardcore resort skier with a heavy setup they get cumbersome pretty quick.
An easy gift that will keep them happy is a set of ski straps.
Black Diamond ski straps ($4-$6) – link
Ski bag
If your skier travels, they'll need a good ski bag to protect their precious skis and poles. A ski bag is super useful because you can put everything in there, including poles and some clothes, which can also cut down on weight in other bags and keep them from those baggage overage fees.
I even use mine when throwing my setup on top of our car to head to the mountains for the weekend.
Some cool ski bags:
Thule Roundtrip Single Ski Pair Bag (~$149) – link
Dakine TRAM Ski Bag (~$109) – link