Gym review: Movement Climbing Gym in Denver Colorado
Movement Climbing is located in a warehouse-style building on the west side of the Baker neighborhood in Denver, Colorado.
The Gym
Movement Climbing in Denver comprises of four main areas:
Top rope and lead climbing
Bouldering
Upstairs training area
Weight and workout rooms
The gym is currently undergoing some changes as of early September 2017 where they are rearranging the training area, building a new walkway to that area, and expanding the yoga areas. According to their August 31, 2017 email:
Look forward to an incredible series of additions—just in time for the fall season! We are renovating our climbing training + fitness areas. We see fitness as a bridge to one's best self, so we're excited to offer more to the climbing training, yoga, fitness and cycling experience at Movement Climbing + Fitness, Denver. Of course, with any project this awesome, we will have some short closures throughout the facility. Thank you for your patience during expansion. 

The following areas will be upgraded: 
Bouldering mezzanine will become a dedicated climbing training area — complete with a moon board, hydraulic systems board, campus board, and stationary systems board! 

Dedicated weight lifting area on upper mezzanine + new equipment! 

Bridge to new climbing training mezzanine!
Roped climbing area
Movement has a huge roped climbing area. When you enter the area down a set of stairs, there are bleachers to your left and right where everyone leaves their bags and shoes. There are also locker rooms where you can use a locker for the day (bring your own lock) or rent one long term.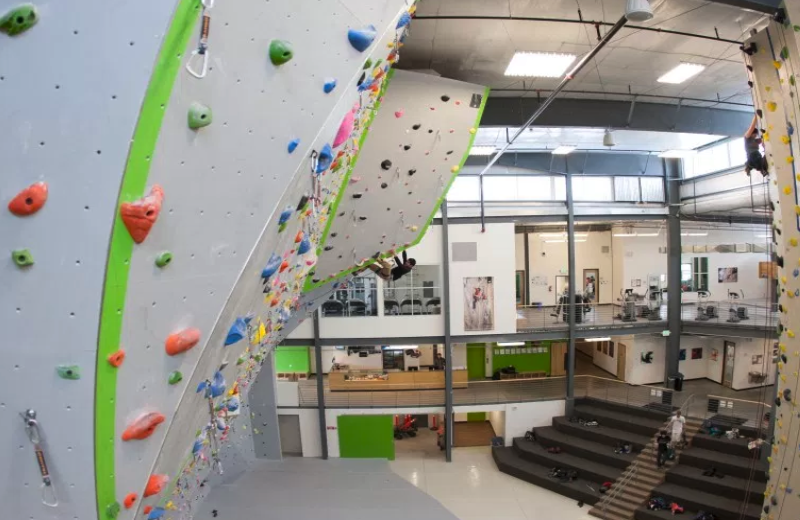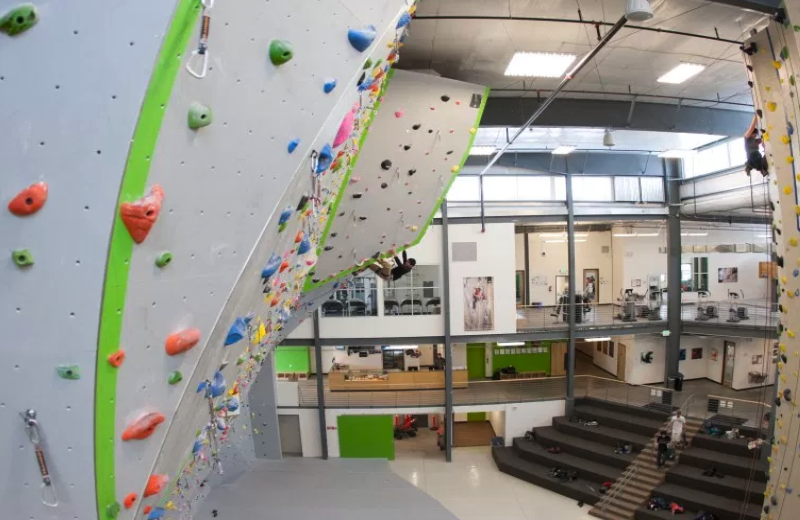 As you walk in, there are top rope climbs to your left. The right side overhanging wall is reserved for lead climbing only, though there are a few top ropes set up on overhanging walls at the other side of the climbing area from the entrance: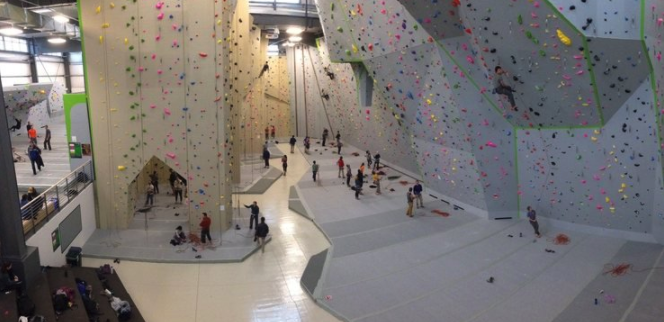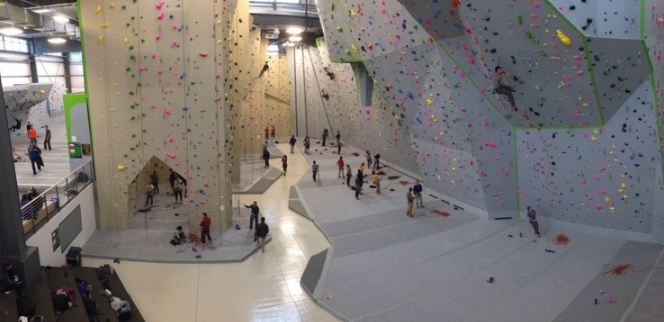 We should note that the top rope areas are very crowded from 6-8pm, so if you arrive before or after those times you will have open ropes. During those times, you will have to hunt for available routes in your range. Many times, there are only 3 or 4 total for each grade of climb on the top rope walls. But all the more reason to learn to lead climb!
Bouldering area
The Movement bouldering area is a thing of beauty.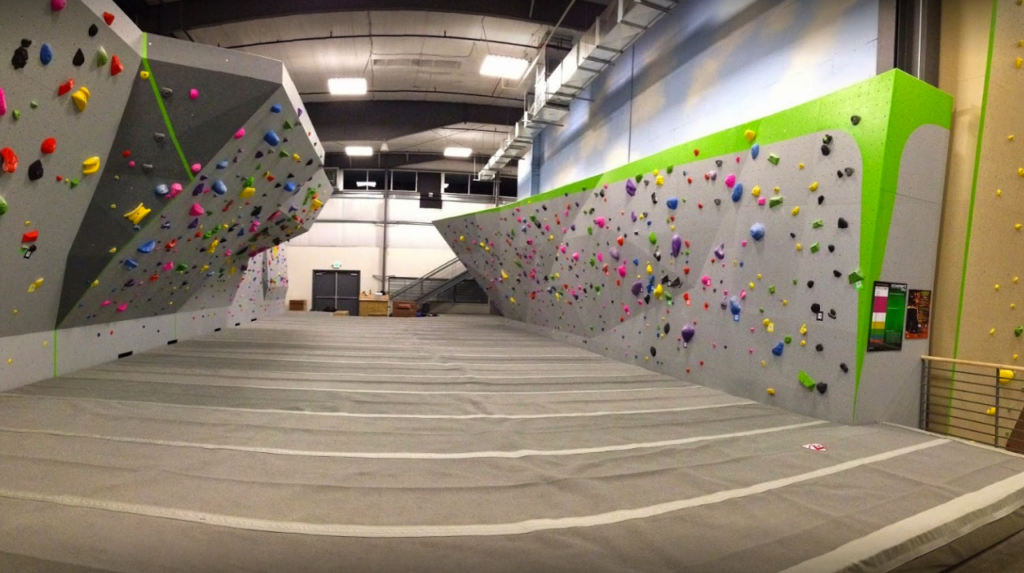 Boulderers at Movement climb very hard, and it is not uncommon to see pro climbers and elite amateurs alike climbing V9+ with ease. That said, everyone is extremely laid back and excited for you when you finish your V3 (or lower) project. There are very few egos in the bouldering area at Movement Climbing Denver.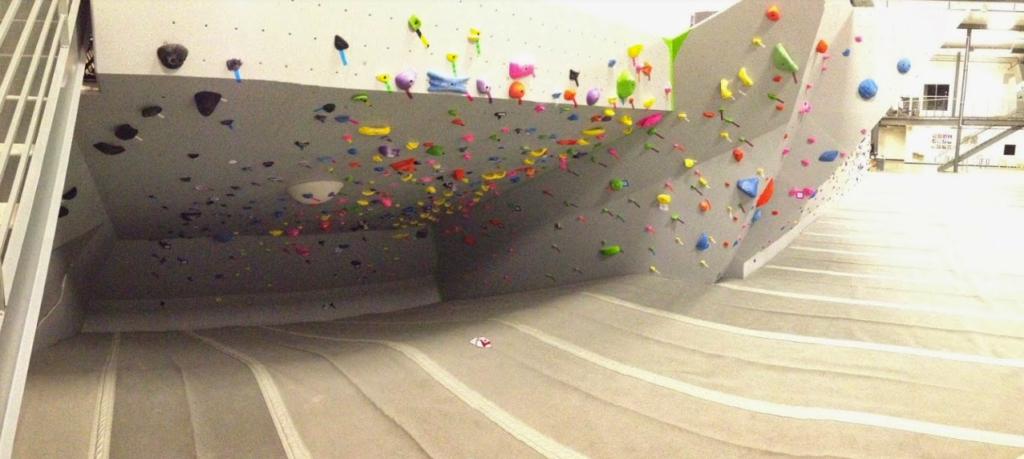 There are two long walls in the boulder area, then the back area contains the cave as pictured above. This is set with a wide range of climbs from V0 to V12, and a variety of people will be gathered here at any time. If you're looking for a lower ab workout, this is your place!
Upstairs training area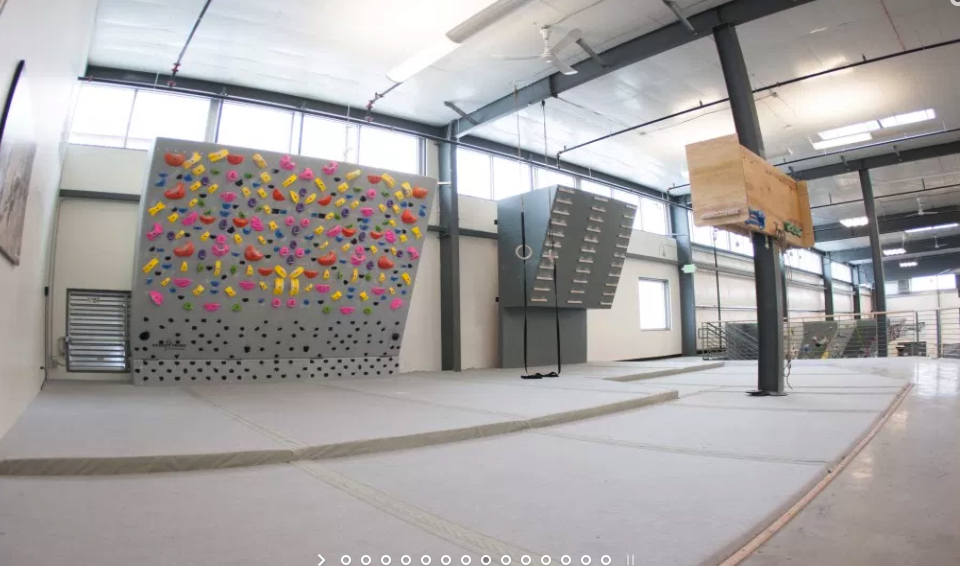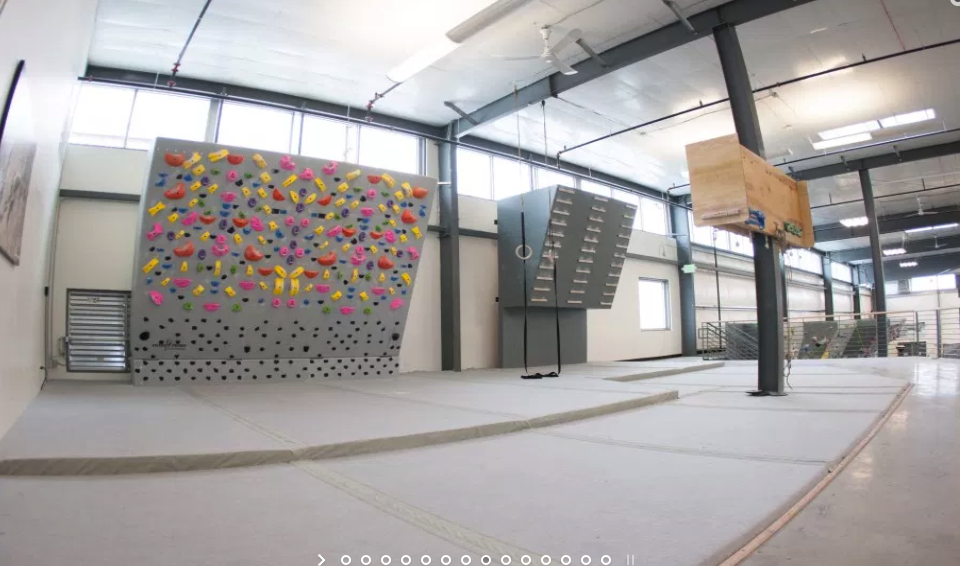 The upstairs area here is being renovated, but for the last couple of years it has been an area with campus boards, pullup bars, and the training area. This is a great area to stretch out, finish off your forearms after a hard workout, or simply go blast your back with pullups before you pull out the foam roller and roll out those IT bands.
Weight and workout rooms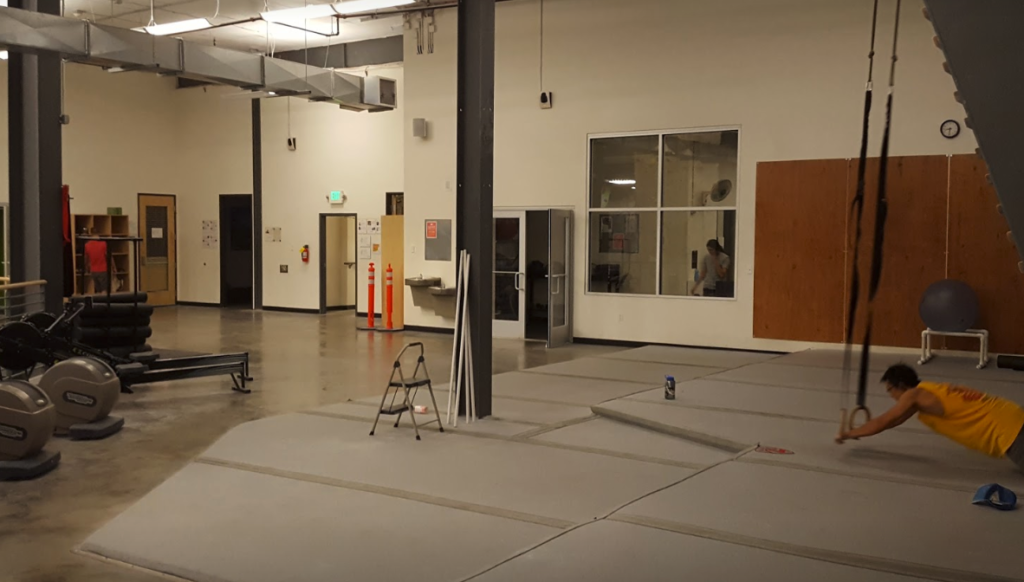 The upstairs area is also home to yoga rooms, as soon to the right in the photo above, and a weights room to the left past the pillar and the man in the red shirt. There are also elliptical machines, stationary bikes, and rowing machines with a great view of the climbers below. There is also an area for stretching and rolling out your IT bands.
Movement Climbing Gym Information
Official site: https://movementdenver.com/
Facebook page: https://www.facebook.com/movementdenver/
Movement Climbing Pricing
Movement's pricing page contains full information, though there are a few main ways to pay:
By the session, $20/day
Monthly, starting at $75 for singles and $125 for a family (3+ people)
Single month, $88
Getting to Movement Denver
Movement Denver is located at 1155 W 5th Ave, Denver, CO 80204. Click on the map below to input your starting location.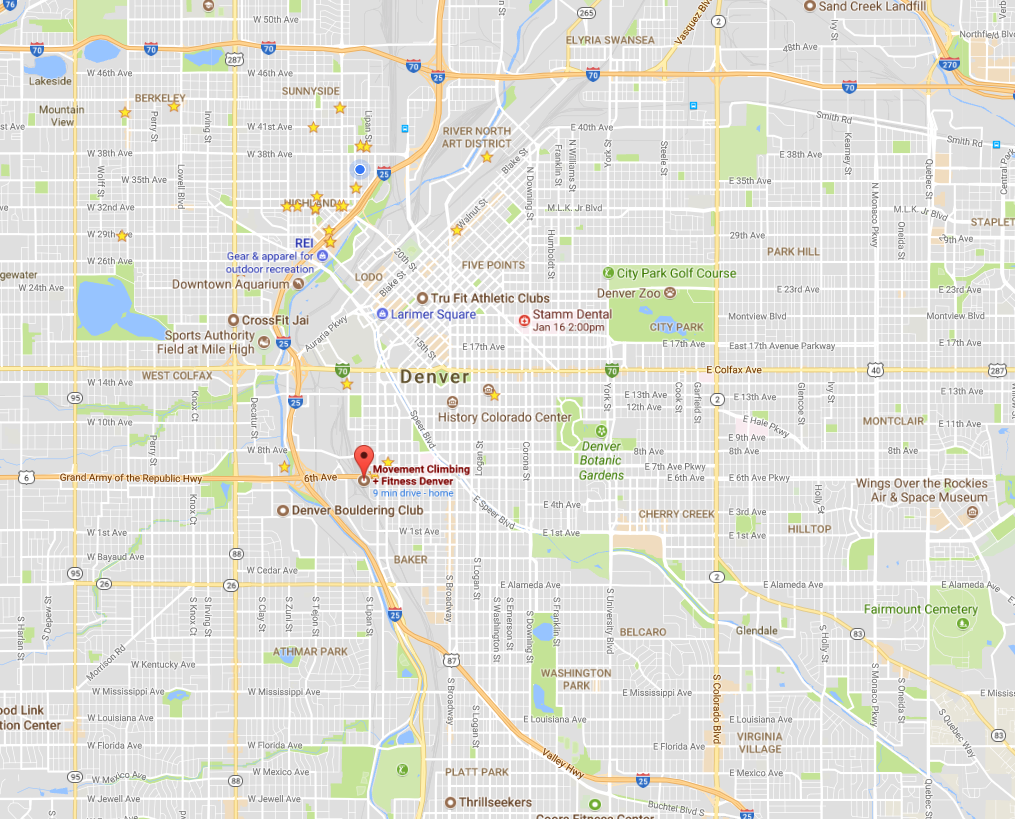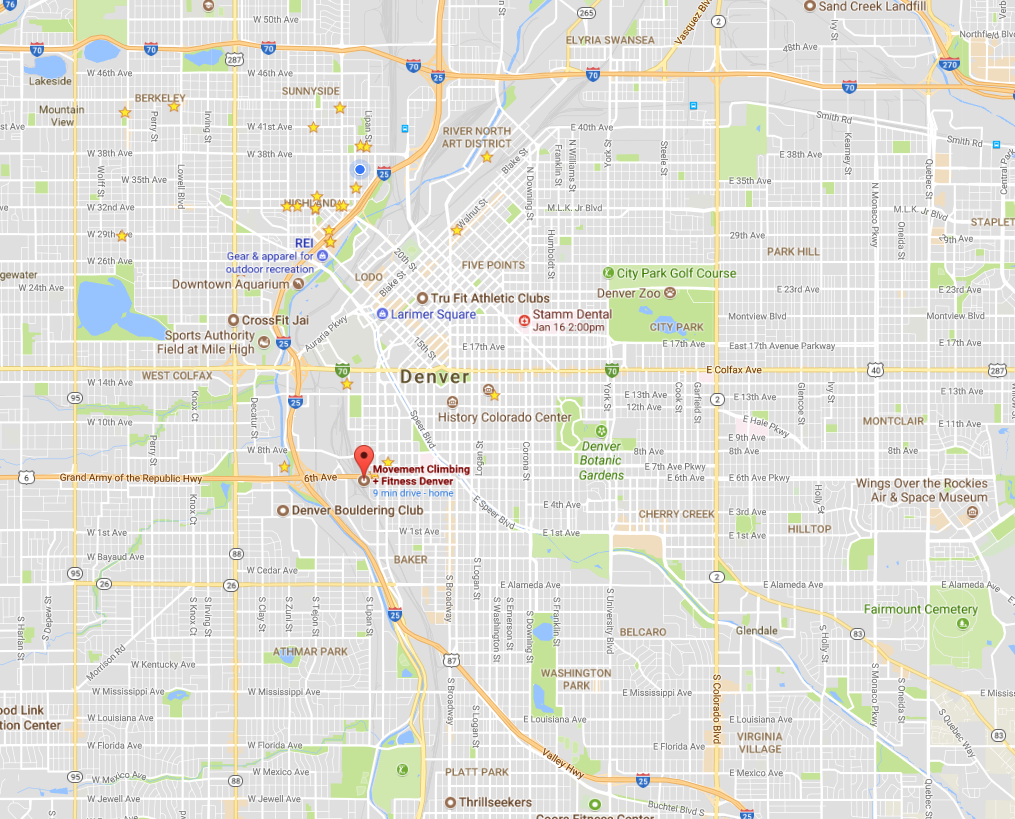 Parking and bike parking
Movement has decent parking for a busy gym. There is a dedicated parking lot to the south and west. Underneath the 6th Ave overpass there is more parking, and when that is full people will park along Mariposa Street. I've never had issues finding a parking space, as people come and go often.
There is bike parking out front, but be sure to bring your lock! The bike racks can fill up on nice spring/summer/fall evenings as well, so you may need to get creative with your placement.
Is Movement Denver recommended?
I've belonged to four climbing gyms now:
SportRock (Sterling, VA)
Brooklyn Boulders (Brooklyn, NY)
Mission Cliffs (San Francisco)
Movement Denver (Denver)
Movement is definitely among the top. It is fairly crowded at peak times, which can make it a bit less enjoyable. But, there are fantastic climbers and a great community.
One downside to Movement is that they are relatively unorganized with their classes. I've been wanting to take a lead climbing class, but they only do one per month, do not announce the times/days of the week until a couple of weeks before, and only allow 4 people in the class. Also, members do not get a discount.
I give Movement a 4 out of 5 stars. Have more top ropes set up and square away your climbing class schedules and that will improve!
Single Geared is an advertising supported website and includes affiliate links. If you click on a product and purchase something from that website, we may be compensated. Learn about our advertising policies here.