All Along The Watchtower – North Howser Tower, Bugaboos Trip Report
A note from John: Jenny is an old friend of mine. We lived together at L'Abri in Switerland January-April 2008, then spent a few weeks in Spain with a group friends eating and drinking red wine and hiking. I've since been privileged to see Jenny in Seattle, San Francisco, and other random cities and have followed her climbing career and adventures from afar. Jenny is fantastically smart, driven, and thinks about things on a level deeper than most people I know. I am incredibly humbled to have her writing on Single Geared from time to time. Welcome, my friend. You are an incredible human.
---
March 3, 2017, 5:13pm: …I'm sitting at my desk thinking about how I want to climb All Along the Watchtower in the Bugaboos this summer. Would you be keen on such a thing?
March 3, 2017, 5:23pm: YES. I'm in 100%.
Undisputedly the biggest, most remote mountain in the ever-popular Bugaboos, North Howser Tower was always off limits to me. Too big, too hard, too far…too alpine. I climbed its younger sibling, the South Howser, five summers ago, and at the time, it also felt too big, hard, far, and alpine. However, I joined an experienced partner for a climb of the Beckey-Chouinard and surprised myself when it felt simply fun. So when my friend Sarah Hart sent me an email in March inviting me to climb All Along the Watchtower on the North Howser in July, I thought back to my track record with intimidation. It didn't take me long to respond.
Throughout the last four years, Sarah and I have roped up a handful of times: in Squamish, on Mt. Rainier, and in the Chaltén range in Patagonia. Sarah has far more experience than I in the mountains, having climbed large peaks such as Fitz Roy, and in dramatic alpine environments like Alaska. I trust Sarah's judgement more than my own, and if she deemed me an appropriate partner for this climb, then I was in for the adventure. At the least we'd have no problem hanging out in a tent together for days, listening to techno music, talking about boys and life, and eating all the chocolate we could get our hands on.
On July 17, after hanging out in Squamish for a few days, Sarah and I make our way to Golden, BC, and hike into Applebee Camp. Our plan includes a few days of pretty simple and non-committal climbing: a chance to warm-up, wrap our heads around the environment, and prepare for the big objective. At this point, we're beginning to wonder if our eyes were bigger than our stomachs back in March when we set the goal of climbing North Howser; pouring over trip reports rife with rock fall, benightment, route-finding issues, and exhaustion has made us dizzy.
We take a quick lap on the Snowpatch Route, simul-climbing most of the way and making it back to Applebee in the early afternoon. The following day we venture up Sunshine Crack, cranking through the first seven, incredible pitches and then bailing when a massive storm begins its descent upon us. Once on the ground we run back to camp like giddy children in a granite playground, making it to our tent before the sky unleashes and thunder and lightening hover on top of us for the next hour. It's a storm to rival all storms, and we congratulate ourselves for seeing the warning signs and bailing when we did, especially after watching parties straggle back into camp hours later, bedraggled and soaked.
Sitting on the granite slabs in Applebee now, I have vivid memories of first being here five years ago, on one of my first climbing trips ever. Climbers gathered near the bear boxes in the evenings or on marginal weather days and talked shop; mutterings of Sunshine Crack and the Beckey-Chouinard filled the air. I'd hang around the fringes of these groups, listening but never speaking, often just retreating to my book or conversation with my equally inexperienced partner. These guys—because let's be honest, they were all men—were larger than life to me: true alpinists with loads of experience and the stories to prove it. I thought, Never. I'll never climb these big routes. They are objectives for hardmen and women. All Along the Watchtower was far from even being on my radar.
I return this year almost expecting to feel the same amount of awe and intimidation around my fellow climbers, but as it turns out, they're still talking about the Beckey-Chouinard and Sunshine Crack. I'm caught off guard by the feeling of elitism, but perhaps this time I just don't feel completely out of my comfort zone.
Bad weather forces us down to Golden, and we're faced with making a final decision about All Along the Watchtower. When Sarah and I speak, we speak cautiously, not wanting to put each other's dream in the balance. Then in a sort of aha moment, we realize we are both feeling hesitant, scared. We proceed to roll the plans around, back and forth, in and out in a cycle of fear and uncertainty, confidence and ability. We discuss whether to attempt the route in a push or plan to spend a night on the wall. Knowing many climbers—including strong female teams—who have done the route in a day camp-to-camp, we question whether or not we are even ready to do such a climb if we are considering doing it over two days. Our friends Josh and Delano want to join us to film the climb; we debate whether or not their presence will provide unfair assistance to our climb. Maybe we aren't ready, we wonder, maybe the climb is simply too big. This thinking is perhaps overly black and white, though I don't realize it at the time.
Yet with a day of rest and an extremely friendly weather forecast, we gain some resolve. We will attempt to climb All Along the Watchtower over two days, with the team of Josh and Del alongside us. Style matters, yes, and has mattered a great deal to both of us throughout our climbing careers. However, for this mission, we are comfortable with this intended style. Foregoing the fast-and-light in-a-day push does not make us bad climbers; it might in fact mean we're smart climbers, in touch with our abilities. Going with our friends will change the experience, sure, but it might also make it more enjoyable. We feel ready given this plan—I recognize that sometimes confidence doesn't look brazen and bold; sometimes it's formed around doubt and fear.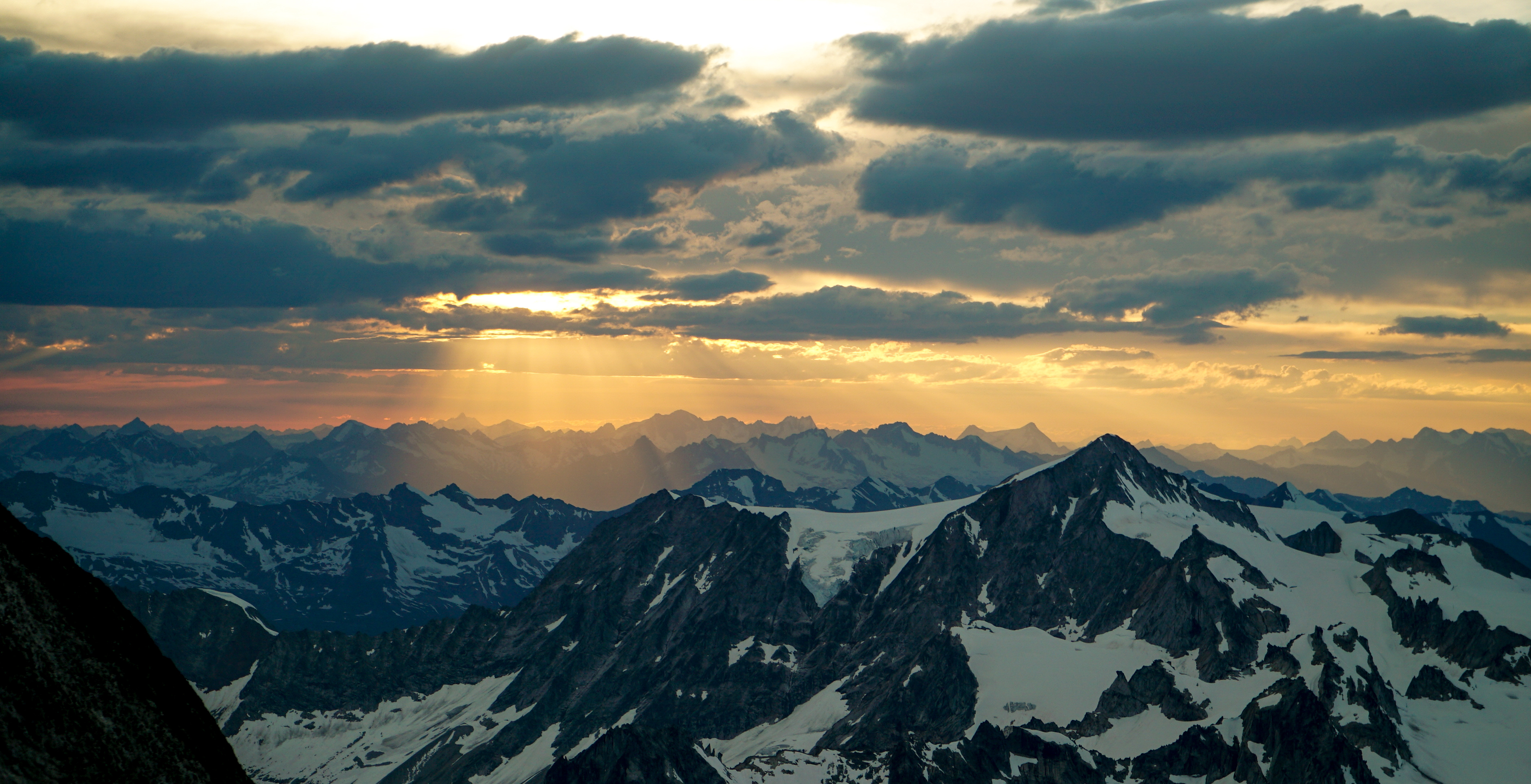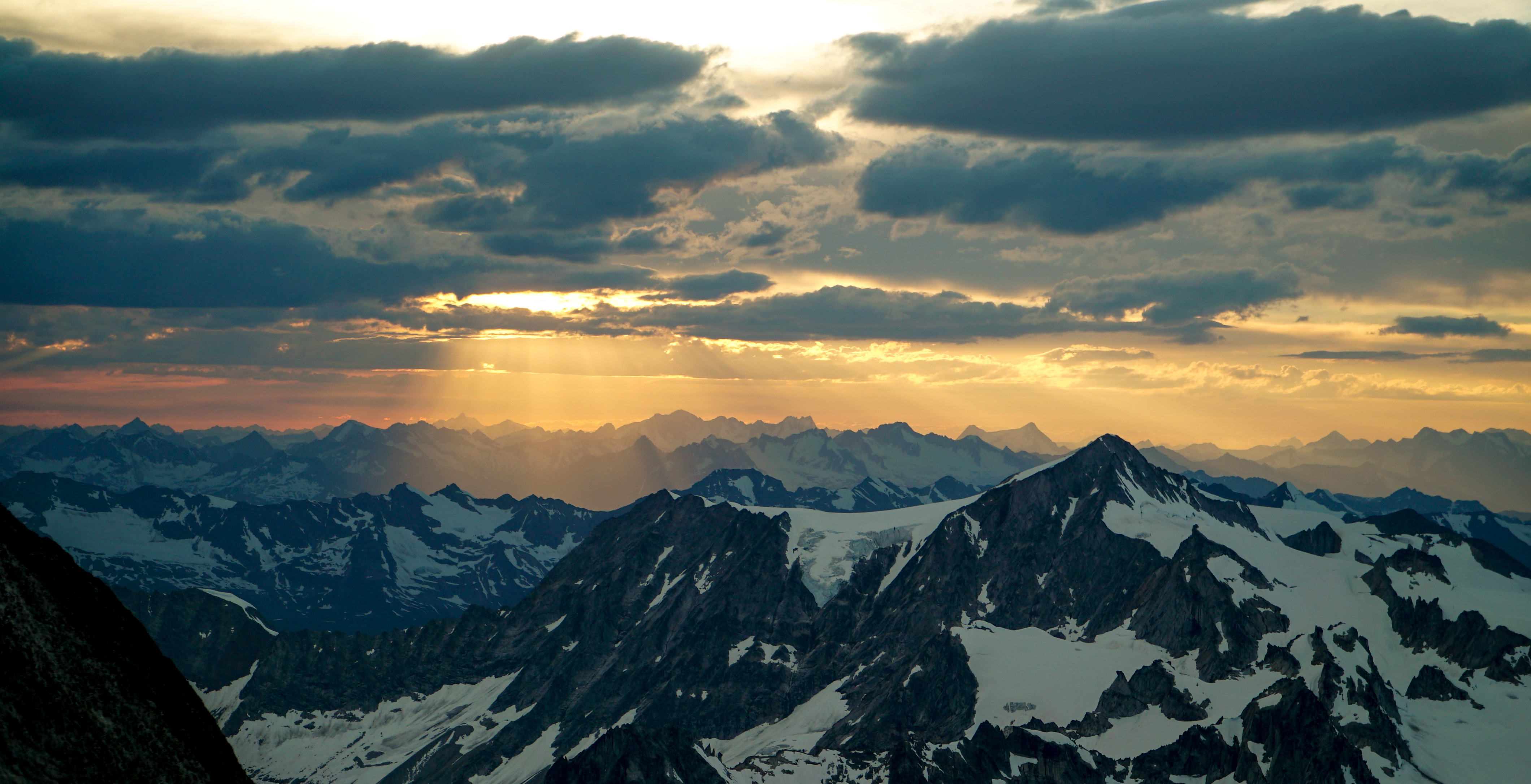 On July 25, Sarah and I, followed by Josh and Del, leave Applebee around 6:30am, climb up and over the Bugaboo-Snowpatch Col, cross the glacier to the Pigeon-Howser col, and descend down and around the base of the Beckey-Chouinard, then climbing up onto the other side of its ridgeline. Here we cross a short snowfield and find a series of cairns leading to four double rope rappels, all off bomber chain anchors established by Josh a few years prior. Each trip report we've read mentions this as an intimidating part of the climb—descending over 600 feet with the view of the massive ridge of the North Howser Tower finally in our gaze; we have so over-prepared ourselves for intimidation that it now feels like just another stage of the journey. At one point during the approach I say to Sarah, "What if it was possible for us just to have fun on this climb!? Like, no stress, no suffering, just fun." It feels like a novel thought.
Once at the base of the buttress, Sarah and I swap leads, up and up with no thought of the summit. We know this mountain is big, and so we remain in the present, enjoying the warm rock and sunshine. The quality of the pitches and rock improve as we climb higher; we find a few fun and physical left facing corners, and before we know it, are standing on the bivy ledge, Josh and Del already starting the process of melting snow for water. "This is it!?" I ask, assuming it is only mid-afternoon and we have multiple pitches to go before our intended bivy. Having worked up this climb so much in our imagination, Sarah and I are now simply cruising through inflated expectations.
We enjoy an evening lounging at the bivy, rehydrating and refueling for the difficult headwall the following day. The view is spectacular, the company good, the conditions perfect, and I wonder why we choose to revere climbing mountains in a day over the enjoyment of packing a light bivy kit and spending a night on the route. When darkness falls we retreat to two separate ledges, and Sarah and I share a sleeping bag and sleeping pad for a surprisingly restful and warm night.
Morning comes and four moderate, traversing pitches bring us to the base of the corner. All the research in the world on this section of the climb could not prepare me for the reality of being in a laser cut, vertical corner for pitch after pitch of finger crack and stemming. The pitches would be given five stars were they just on the ground; up high on a route, with exposure and mountains surrounding us, they're mind-bending. We free the first three and then exhaustion, finger pain, and the reality of time hits us; soon we are alternating free moves with French-freeing. Each pitch ends at an arbitrary hanging belay; perhaps aided by a foot chip out to the left or a slight deviation in the crack to rest a foot on. Hauling our small pack is tedious, not because of obstacles, but because of the build up of two ropes and a backpack hanging from the same anchor as the two of us. We transition quickly at each belay and soon find ourselves eager to leave the corner for the long rambling ridgeline above.
The ridgeline comes, and on it, one of the most spectacular sunsets I have ever witnessed. We don't stop for photos though; Sarah and I transition quickly from simul-climbing to soloing and back to simul-climbing, eager to get as far as we can in the last light. At one point I ask Sarah to closely belay me on an easy but overhanging step: my muscles feel weak, I don't trust my body. Every time I handle my GriGri I begin to wonder why I'm not a sport climber. Sarah turns a corner to meet Josh and his camera, and she calmly tells him, "Josh, now is not the time for filming." We're eager to get off this mountain, a thought that at the time makes me ponder why we choose such adventures. I'll remember again soon.
Once on the summit, we turn on our headlamps and make the decision to descend back to Applebee that night. Josh will lead the rappels; in his absence Sarah and I would likely bivy on the summit until first light. Two days ago we might have ideologically struggled with this, ceding the route-finding and work to another; now we just want to be sipping hot soup in our campsite with warm sleeping bags at the ready.
Four rappels lead us to the steep snowfield below the bergschrund; we traverse right and meet up with tracks descending the popular Beckey Chouinard. Under the cover of darkness, the easy journey back to camp becomes every man/woman for him/herself. A mixture of snow-running, controlled falling, glissading, and stumbling brings me back to our camp in Applebee, and soon the four of us are gathered in our makeshift kitchen, lounging and munching on chocolate, high-fiving and whispering excited accolades. This is euphoria: absolutely nothing beats the feeling that comes after completing a huge mission.
We sleep deep and I wake up buzzing with joy and excitement, wanting to rouse Sarah and Josh and Del and share glory stories of the days previous. Morning coffee in hand, I'm struck with the thought that prior to receiving the email from Sarah back in March, I had never even thought of attempting All Along the Watchtower. The mountain loomed way out of my league, as many do. In one breath I whisper, "Heck yeah," and "Shit," feeling both the rush of achieving the impossible and the weight of previously deeming what is possible, impossible. Intimidation and a lack of confidence might be the hallmarks of my life, and I consider with a hint of sadness that there might be myriad other "mountains" that I'm keeping myself from "climbing."
For the moment however, we've not let intimidation get the better of us. It takes awhile to sink in. We return to the lowlands; during the days after the climb Sarah and I find ourselves eating dozens of cookies in one sitting, nursing our finger gobies, and alternating between planning our next Bugaboos trip and toying with the idea of a sport climbing trip. At times we turn to each other awestruck, with the gasp, "We did it!" both finding it difficult to know what to do with an accomplishment such as this: years in the making, months looming in thoughts, a too-big objective that we learned to whittle down to size.
Now, a month later, I think I'm learning what to do with it.
In the recesses of my mind, there's a closed box that exists beyond even the realm of "impossible," where mountains and life goals and relationships have tags that read, You're not allowed to even consider me. All Along the Watchtower, to some a mere line up a little mountain, was a climb that taught me to rip those labels off and replace them with dates, conversations, years of learning and gaining experience. It showed me that I am allowed to grow really, really intimidated — intimidated even to the point of almost shoving the goal back and slamming shut the box.
And then, with some thought, careful planning, and a confidence that has weathered the storms of self-doubt and fear — I am ready to try.
Single Geared is an advertising supported website and includes affiliate links. If you click on a product and purchase something from that website, we may be compensated. Learn about our advertising policies here.