Arc'teryx C80 Chalk Bag Review
The Arc'teryx C80 chalk bag is the largest of the three Arc'teryx chalk bags, the others being the C40 and Aperture (which comes in small and large).
I've been using the Arc'teryx C80 chalk bag in black for about 8 months. Previously I had an 8 year old burnt orange Black Diamond Mojo chalk bag which, let's be honest, is still going strong. But my sister in law gave me the Arc'teryx bag for Christmas, and well, it's pretty great.
Images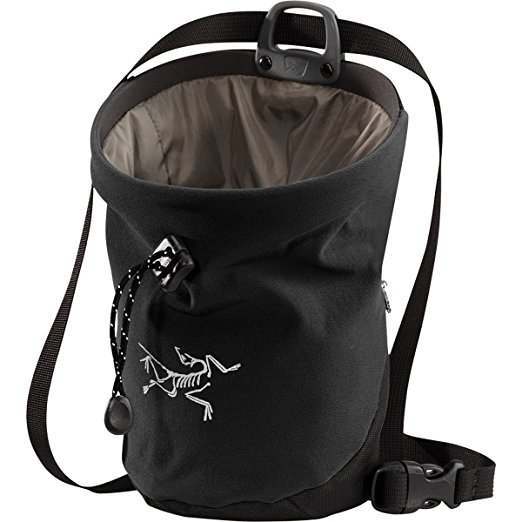 Size
The C80 is a solid size for a chalk bag. I am 5'9″ tall with average size hands, and I wouldn't want to go any smaller with a chalk bag. It's large enough for a regular size ball of chalk or plenty of loose chalk, but it's also not an enormous bouldering bag that is the size of a woman's purse (or a man bag).
Honestly I am not sure why someone would go with a chalk bag with a smaller main pocket.
That said, the zippered pocket in the back is fantastic for storing things like wedding rings when you are climbing but do not want to leave it in your bag. You could put small snacks, climbing tape, or whatever else you might need in it. Remember – it's an extra pocket on a not huge bag, so it won't fit a ton. But it fits what you absolutely need.
Durability
As stated, I've had this chalk bag for about eight months now. I am also a huge Arc'teryx fan – I love the brand, the ethos, their aesthetic, and I've loved all of their gear that I've owned. I have an almost 10 year old jacket shell that I still use and still works amazingly, and my wife has a two year old Arc'teryx winter shell that she adores.
That said, this chalk bag is not as durable as I had hoped. Within three months the drawstring ripped, and while I was able to restring the cinch and it still works, the bag doesn't open completely anymore because of the shortened drawstring.
Features
The C80 chalk bag has the following features:
Drawstring top
Felt lined main pocket
Brush holder
Extra pocket for valuables or small things
All in all, it has everything you need and nothing you don't.
Final word
Overall, I'd give the Arc'teryx C80 an eight out of ten, or four stars. This is simply because of the durability. It's a great looking bag. It's not the most affordable (MSRP is around $39), but that's to be expected from Arc'teryx.
Single Geared is an advertising supported website and includes affiliate links. If you click on a product and purchase something from that website, we may be compensated. Learn about our advertising policies here.