La Sportiva Otaki Climbing Shoe Review
I've been climbing in the La Sportiva Otaki shoes for about two months now after my previous La Sportiva Solution shoes finally wore out from two years of hard gym climbing (and a few outdoors trips). I picked these up at REI back in July (it's now early September) and have been only gym climbing in them so far.
I split my time half and half between roped routes and bouldering these days, so I've had a chance to get a feel for them as an all-around shoe.
Images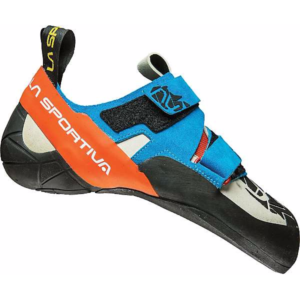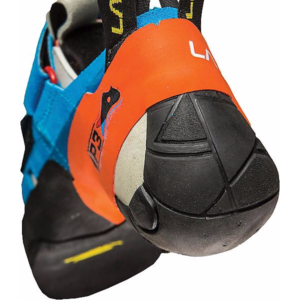 Fit and Breaking in
So far, I have found the Otaki to be incredibly comfortable. I have an average width foot, but I also have a bump on the outside of each foot that often turns into a pressure point. These shoes have not irritated that pressure point at all.
One thing to note with the Otaki is that it will be super comfortable and still feel like it will not slip even when it is a size bigger than you usually climb. I started with a size 10.5 and ended up buying a 9.5, which still fits like shoes I am used to and does not slip.
I have owned these shoes for two months now. After approximately a dozen times top roping and a dozen times bouldering, they are beginning to feel broken in and like they fit me well, instead of stiff new shoes. I did not wear them in the shower or warm water like some people suggest to break in new shoes.
Durability
So far, the Otaki have held up well. I tend to take very good care of my equipment, wiping off chalk and removing it from the soles before I climb, so my shoes do tend to last a long time.
I normally wear through the toes of my shoes before anything else wears out. I did this with the La Sportiva Solution  and my Scarpa Instinct S shoes before that. On that side, the Otaki are wearing a bit quicker than I normally expect, so we will see how they are in a year's time and after some strong outdoor climbing.
Type of climbing
I have used the Otaki for both top roping and bouldering, and they shine in both. I have great control over my toes and heel hooks are a breeze, even easier than in my old Solutions.
Because the Otaki are downturned, they are not comfortable for a long period of time. I usually take them off between climbs and bouldering problems, or at least loosen them up by releasing the velcro.
The Otaki are not recommended for trad climbing or long multi-pitch climbs.
Price and Details
The Otaki retails for $175.
According to the manufacturer, the Otaki has:
P3® patented technology for a down-turned performance fit for slicing and dicing where needed
Patented S-Heel™ construction provides optimal heel hooking maneuverability and the perfect heel cup fit
Laser-cut uppers reduce stitching and bulk
Single Geared is an advertising supported website and includes affiliate links. If you click on a product and purchase something from that website, we may be compensated. Learn about our advertising policies here.