La Sportiva Solution Rock Climbing Shoe Review
Before I got my current La Sportiva Otaki shoes, I climbed for almost 2 years in the La Sportiva Solution shoe. I bought these after my Scarpa Instinct S finally wore out. I loved the Instinct S because they were minimal and gripped on anything I could climb, but  they weren't quite what I needed for more slabby sport climbing.
When the Instinct S wore out, I went to Sports Basement (the San Francisco local REI) and tried on a bunch of shoes. I had seen a lot of people, including pros climbing really hard things, wearing the Solution so I decided to give them a go.
Fit
The Solution is a fairly deep and roomy shoe. By that, I mean that it comes up quite high on your ankle but it has a forgiving and roomy toe box that doesn't make your toes feel squeezed the whole time you are wearing them.
I wore a 36.5 in the Solution. My street shoe size is a 10.5 US, so I had to size down quite a bit. However, they never felt too tight and did not loosen up a ton with breaking in and use, so they held their size and fit the whole time I had them.
I see why so many pros love the Solution – they are supportive, have an aggressive sole, and are much more comfortable than pretty much any other top of the line shoe I've tried.
But, I must say that you'll either love them or hate them. If you have sweaty feet, then you probably will not like them because they get quite warm when worn for a long period of time. And if you do not like a high volume shoe that comes up high on your ankle, you may hate the fit of the Solution.
Sole and Grip
Because the Solution (women's version here) is a La Sportiva shoe, it has the Vibram sole. While I do appreciate Vibram overall as a company and their products are good, I ended up wearing out the toe of the Solution in about 14 months.
The Solution's sole is aggressive, but becomes really aggressive at the toe. Check out the profile: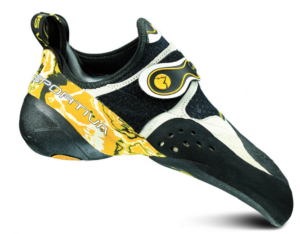 I found that when the Solution was brand new, I could stand on pretty much anything. Small toe holds were not a problem. But as I wore it a lot more and climbed in it a lot more, I noticed that the sole was wearing quicker than I expected for a $180 climbing shoe.
Images
Overall rating
Overall, I really enjoyed my time in the Solution. It's a very comfortable shoe and I really like the one strap that actually does help your heel stay in place.
But as I said above, I think people are going to be split on this shoe. I recommend it to all to try on if you're doing a lot of bouldering and some sport climbing, but it's primarily a bouldering shoe in my opinion. You'll either like the high ankle or you'll hate it.
Price
The Solution is not cheap. It retails for $180 brand new.
Official site: https://www.sportiva.com/men-s/men-s-footwear/solution.html
Single Geared is an advertising supported website and includes affiliate links. If you click on a product and purchase something from that website, we may be compensated. Learn about our advertising policies here.