How should rock climbing shoes fit?
Having correct fitting rock climbing shoes is paramount to a good climbing experience, especially when you are just starting out. That said, as you progress through your climbing career you'll also find that different types of climbing require different types of shoes and different fits.
So it's not necessarily always a question of "how should rock climbing shoes fit?", but often "how should my shoes for this type of climbing fit?"
And of course, part of fit is personal. Some like their shoes tight while others like them a bit looser.
Bouldering shoes fit
Bouldering shoes should almost be too tight and hard to wear for longer than one or two climbs straight. Normally, I will go down multiple sizes from my normal shoe size of a 10.5 to about an 8.5-9 for bouldering shoes. They're tight.
This is because bouldering shoes tend to have a rather aggressive downturn owing to the precision and overhung nature of many hard bouldering problems.
Have a look at the La Sportiva Solution: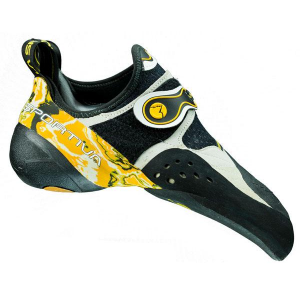 When I first buy new bouldering shoes, they are extremely uncomfortable. You can loosen them up quicker by wearing them in a warm bath then drying them out, but at the end of the day they simply need to loosen up through use.
The extremely tight fit of bouldering climbing shoes is why you will often see boulderers come off an attempt at a problem and immediately take off
So, bouldering shoes should fit:
Snugly, almost uncomfortably;
The heel should not slip at all, especially if you plan to heel-hook at all.
My best advice is to start a size below your street shoes then keep going smaller in half size increments until they are very snug. Shoes do tend to stretch with use, by about a quarter to a half size, so if they feel comfortable at the very start you should probably go even smaller. Sometimes you will surprise yourself with just how small of a shoe you can wear.
Sport climbing shoes fit
If you've ever spent a day out at the crag, you know that you don't wear your shoes all day except for when you are on your route.
You are also on your route for longer than a boulder problem, so your shoes need to fit slightly differently.
Because you are usually not standing on quite as small of toe holds as on bouldering problems, sport climbing shoes like the Scarpa Boostic or Tenaya Tarifa will fit a bit more easily than a super aggressive bouldering shoe but will not sacrifice performance until you are climbing 5.12+ (and if you are reading this article, then you're probably not!)
Like any other shoes, you'll need to break in your shoes and will probably buy them a size or so smaller than your regular street shoes.
So sport climbing shoes should:
Fit snug, but not as tight as bouldering shoes;
Be comfortable enough to wear on multiple pitches or routes, but don't expect to wear them all day.
Here is a pretty traditional sport climbing shoe: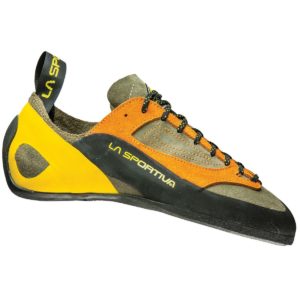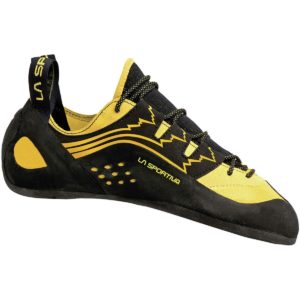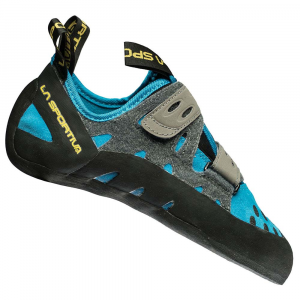 Trad climbing shoes fit
Trad climbing shoes are going to feel amazing after the previous two types we have covered (bouldering and sport). They are often made out of leather and have laces instead of velcro, but not always.
Trad climbing shoes are meant to be worn all day, high up on a wall, and stay comfortable so you can keep climbing.
Thus, most people tend to buy their trad shoes only a half size or so smaller than their regular street shoes, which is a full size or size and a half larger than bouldering shoes. This is because you won't be doing anything majorly technical in them, like heel hooks, yet need the precision to trust your feet.
Trad shoes should:
Fit comfortably so as to be worn all day;
Do not fit as tight as bouldering or sport shoes;
Often have laces instead of velcro and are made out of leather.
---
What about you? How do you fit your rock climbing shoes?
Single Geared is an advertising supported website and includes affiliate links. If you click on a product and purchase something from that website, we may be compensated. Learn about our advertising policies here.