Spotlight: XIV Sierra
Colorado is known for many things. First and foremost, it is known for its mountains. Just think of the word "Colorado"; what is the first thing that comes to mind? For me, it's snow capped mountains, great beer and adventure. When I look at those mountain ranges I see something to be conquered.
Colorado has the highest concentration of 14 thousand-foot peaks or "14er's" for those of us who live near these majestic beasts. To climb one is almost like a right of passage for natives and transplants alike. The journey is not always easy. You are looking at an early morning and a lot of mental and physical energy to get to the top.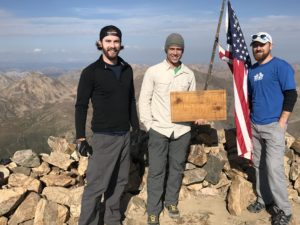 There is a level of deep satisfaction that comes with climbing to the top of a mountain. Last summer I officially climbed my first 14er,  Mt. Elbert, which turns out to be the tallest mountain in Colorado! I have backpacked for weeks at a time and this was one of the hardest experiences I have endured.
Once I reached the top, all I wanted to do was celebrate this momentous occasion and I took the traditional photo at the top with the engraved wood block stating that I made it. The photos, videos, and high fives from the top are really all I have to commemorate the experience. Full disclosure: I may or may not have facetimed with my wife and kiddos at the peak…..I know, heresy for the purists out there.
I wanted to celebrate my accomplishment and hold on to it for as long as possible, but unfortunately, once you come down and get back to real life, its hard to revel in that experience.
This is where XIV Sierra comes in. The owner/founder Kenneth Kent had somewhat of a similar experience. He recognized the beauty of Colorado and after his first 14er he felt compelled to give the experience of getting to the peak its proper recognition. Something to walk away with that truly feels like a reward or trophy for what you just did.
The XIV Sierra Story:
I asked Kenneth to tell me his story and here is what he had to say.
I am a Colorado Native and always took this state for granted. When my Dad asked me to climb my first 14'er I didn't think much of it other than it's a longer harder hike up a mountain. But when I reached the top, something clicked…I realized that Colorado is full of beauty in all kinds of different perspectives, such as the top of a Mountain.
Once that journey to the top was completed I was able look back and reflect. I then came to understand the only thing I got was a picture holding a cardboard sign. No trophy, no medal, not even a ribbon. With my love for beer and new-found appreciation for Colorado and its 14'ers I then started my project to create a line of pint glasses (Hikers Pint) to help commemorate your ascent to the summit!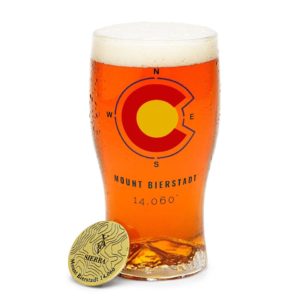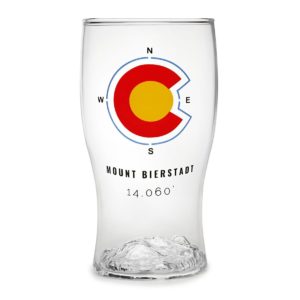 I believe Colorado is second in the nation for craft breweries which has helped focus sales towards beer enthusiasts. With the growth of the craft beer community, the focus on aroma, flavor, and appearance has grown exponentially. Therefore, the standard pint glass / shaker glass has become a thing of the past. Which is why choosing the Tulip Shaped Pint Glass, to help accentuate their characteristics.
I am still in the beginning stages and am currently selling the Hikers Pint (Mount Bierstadt). The clients I am trying to reach out to are Beer enthusiasts / home brewers, Nature enthusiasts, Nature conservationists (14'ers) and of course anyone who has visited Colorado. I want people to know that a portion of each glass sold is donated To Colorado Fourteeners Initiative (CFI) to help preserve its trails!
In the future I plan to not only offer a glass for each of Colorado's 14'ers but to be able to laser engrave the glass for the date when they conquered their 14'er. So that not only is it a tangible memory, a trophy, but a keepsake they can use time and time again. Luckily it comes with bragging rights free of charge.
Being the sole proprietor of a company has its challenges on a daily basis but I am determined to not only continue to create products that people love but to donate and actually make a change!
Does Single Geared recommend XIV Sierra?
All day long! Kenneth has created a badass looking glass that celebrates two of Colorado's most cherished things; Mountains and Beer. Well done my friend! You can buy these glasses and other swag at http://www.xivsierra.co/
Single Geared is an advertising supported website and includes affiliate links. If you click on a product and purchase something from that website, we may be compensated. Learn about our advertising policies here.