The North Face Morph Hoodie Review
If you love warm puffy jackets and are looking for something that will keep you warm while stationary at the crag or sitting outside near a fire at the resort, then you should seriously consider the Morph Down Jacket from The North Face.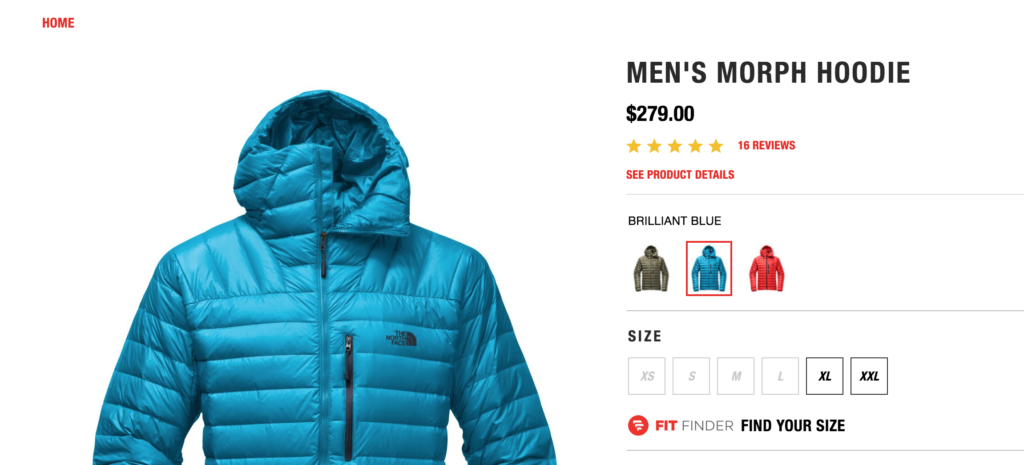 I have been looking for a thicker down jacket than my Ghost Whisperer for a while now. I love the Ghost Whisperer, and it remains my favorite jacket that I own. The Ghost Whisperer is fantastic in that it fits under a shell no problem, is incredibly light and packable, and can be easily taken on or off if you're outside and active.
But sometimes I'm out in the cold Rockies standing around, whether at the rock crag or around the car at the base of the mountain putting on or taking off ski boots. For that I need a thicker jacket because I tend to get cold just standing around.
Enter The North Face's Morph Hoodie. While it's also 800-fill down, it's substantially thicker than the Ghost Whisperer. The Morph is 800 fill goose down, while the Ghost Whisperer is 800 fill Q.Shield, which is MH's own creation.
Overall Review
I've had the Morph for approximately a year. We've had both unseasonably warm and cold days here in Denver, which means that I've been able to try out this jacket both when it's on the edge of needing a jacket as well as when a very warm jacket is needed. I also used it all the time in Canada in December 2018 over the holidays, and it kept me very warm with a sweater and my REI puffy vest underneath.
This jacket is WARM and looks great as well. The Morph is more of an around-town and stationary jacket than other puffy jackets, which is great at the crag or at the base of the resort.
When I first got the jacket, it felt a bit short and tall at the same time. By this, I mean that it's not cut as athletic as some other jackets I've reviewed/owner and felt short at first. I do not like jackets that fit short and pull up when you raise your arms, so this was weird to start. After wearing it for a while though, and adjusting it via the pull cord stored within the pockets to adjust it to your body, it fits well.
Second, the Morph will zip up quite high on your face. The jacket has a very spacious turtle section here which keeps you incredibly warm yet does not suffocate you.
Overall, this jacket is amazing for keeping you warm when outside on a cold day, around the ski resort, or when stationary outdoors doing adventurous things. I would not recommend it for many super active activities like alpine climbing, though I will consider taking it on those to put on at the summit.
Packability
The Morph weighs 12.7 oz and has a thick loft to it, so it packs down into its own pocket (which is handy and a must-have for me) though not as small as some other jackets we've reviewed.
A fully packed down Morph is approximately 4 inches wide and tall, and about 2-3 inches thick. It can be thrown into a backpack no problem.
Fully packed down, it's roughly the size of a pair of men's running shoes.
Warmth
I grew up on the East Coast where anything that can does not handle wetness well is avoided. As such, we never really had down jackets.
As I have learned since moving west 5 years ago, down can be awesome but has to be the right weight for the right weather.
I was recently on a backcountry skiing trip in the Rockies, near Aspen. We got out of the car and were preparing to skin into our destination. I was wearing my Mountain Hardwear Ghost Whisperer (it was about 20 degrees Fahrenheit) and was starting to get cold. I pulled out my Morph and was instantly warm.
I am so glad I had this jacket with us. It will keep you warm on the coldest of days, and when you need more warmth simply pull up the neck gaiter and you will be plenty warm.
Fit
As you read other reviews around the internet, you'll see that some people say that the Morph fits weirdly in the shoulders. I was concerned about this, but went with the size Medium.
I am 5'9″ and weigh approximately 160 pounds. I'm an athletic build and a rock climber, so I tend to have broader shoulders than a lot of guys my age and size. I also have long arms (+4″ ape index) and a longer-than-average torso. I also have short legs for my height.
The Medium is the right fit for me, but I definitely would not go any smaller. The Large may feel too big, but I have not yet tried it.
The shoulders fit just about perfect and I can move in them without a problem. The sleeves are exactly the right length for me, and the high zip does not suffocate me. Yes, the zip is quite high which for some just walking around may become annoying, but on a cold windy wintery night in the mountains (or Denver) you will be so happy for it.
Finally, the hood is the perfect size for a non-helmeted head. Just like the Ghost Whisperer, there is no way you could fit it under a ski helmet, which is just fine. I've not tried it with a rock climbing/mountaineering helmet.
As far as length and cut are concerned, the Morph is shorter and not cut as athletic as the Ghost Whisperer. But that doesn't matter when you're chilling at the crag or at your apres spot outside.
Photos
Here are some photos of the Morph hooded.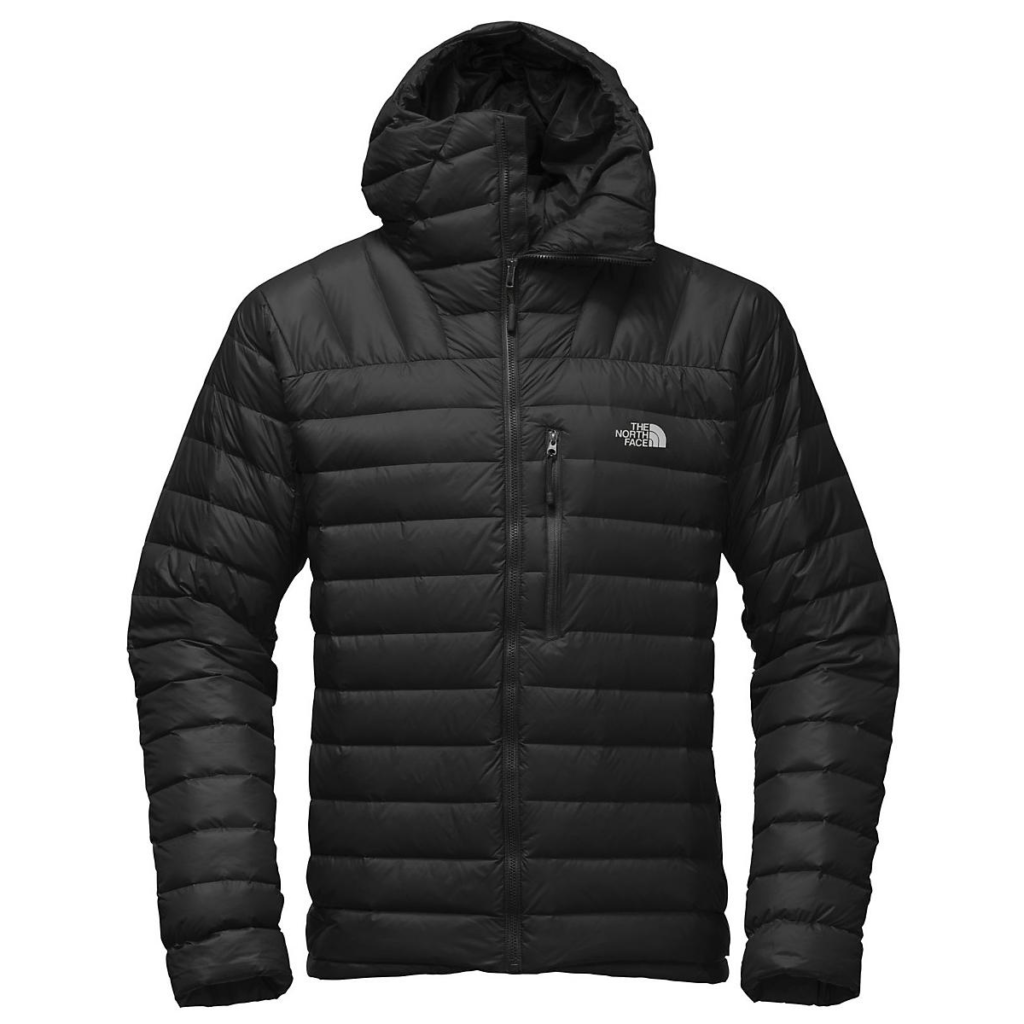 Price
The Morph comes in at a surprisingly affordable $279 MSRP.
Technical Specs
These are the product specs directly from The North Face:
STYLE: NF0A3C6D
AVG WEIGHT: 360 g (12.7 oz)
CENTER BACK: 28″
BODY: 20D 85 g/m² 100% nylon with durable water-repellent (DWR) finish
INSULATION: 800 fill goose down
SOURCE: Imported
GUARANTEE: Lifetime Warranty
CARE INSTRUCTIONS: Machine Wash
BENEFIT RATING: Warmest
Would Single Geared recommend?
I definitely recommend the Morph for the right needs. If you are looking for a jacket to wear on quick ascents in the mountains, this jacket is not right.
But if you (or a loved one) is looking for a super warm jacket to wear around the resort, at the base of the resort, or as a warm layer when you know you'll be stationary (such as belaying outdoors), this is a fantastic choice.
Single Geared is an advertising supported website and includes affiliate links. If you click on a product and purchase something from that website, we may be compensated. Learn about our advertising policies here.