A perfectly snowy week in Chamonix France (December 2017)
It's not often that you plan a trip and hope for the best, and then actually get it. This past week in Chamonix, that came true.
At the beginning of October 2017, we decided to pull the trigger on booking a month long European trip. Notice I didn't say European vacation. We both work remotely (me for myself, her for a tech company based in New York that she works for from Denver), and so we decided that while we are in this current life stage (early 30 DINKs) and able to do it, we should travel and work.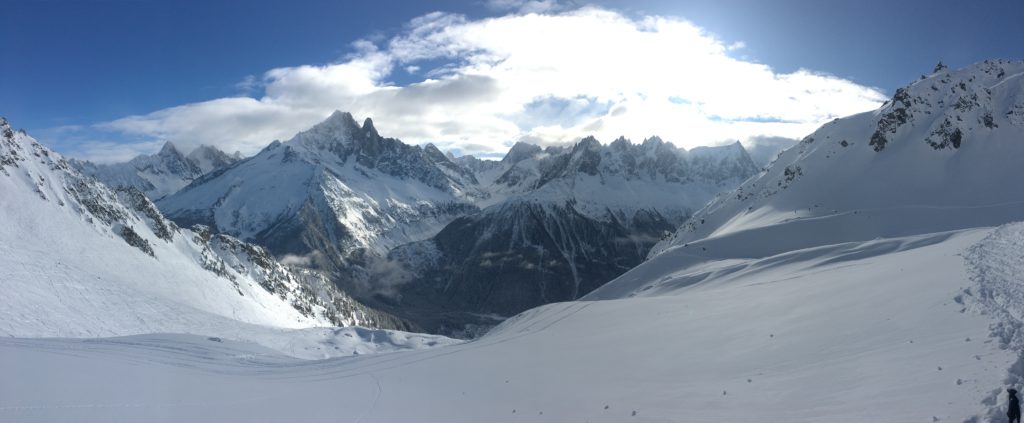 So we booked a trip (flights using miles, AirBNBs the rest of the way partially on a credit I had) leaving the day after Thanksgiving and returning three days before Christmas. The first two weeks were in Barcelona Spain (with a weekend in Madrid), then a long weekend in Switzerland in the Alps at my old home, and finally a week and a half in Chamonix.
As I said, we took a bit of a risk because the last two years have been very low snow years. We even spoke with our landlord, who was on ski patrol in Chamonix for a number of years, and they told us that we probably would not get any skiing in because December has been so low.
Well, I'd say we lucked out with 35 inches of snow in the week and a half we were there: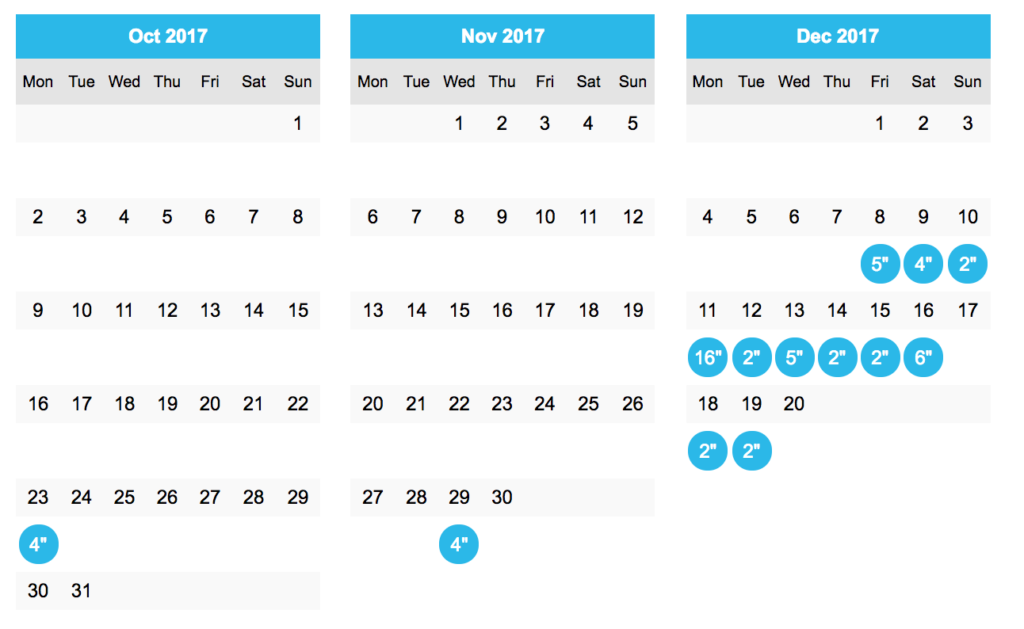 Travel Hiccups
Getting to Chamonix, we had some challenges. We spent the previous four days in Huemoz Switzerland, which is my old home and the location of Swiss L'Abri. We visited my friends, then departed on Monday morning for Martigny. This was our plan: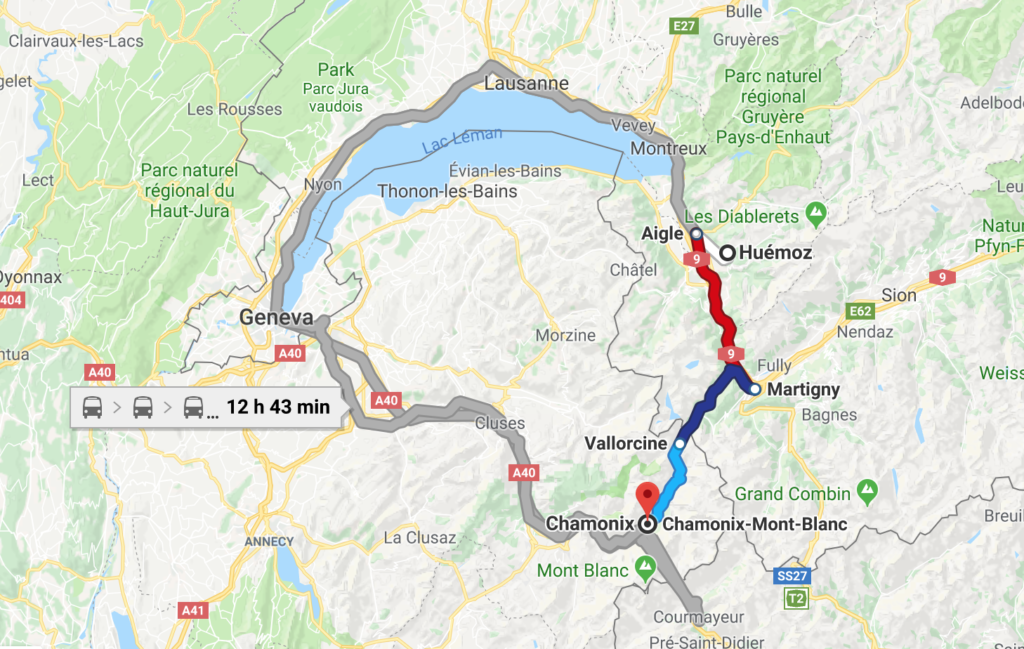 If you have been following the snow reports this year though, you will know that they've had a ton of snow. That began before we were scheduled to arrive, so the train tracks on the French side (from Vallorcine into Chamonix, the light blue line above) were blocked and trains not running. The passes were so covered in snow that the backup buses were not running either.
So we stayed in Martigny for a night, and the next day went this way: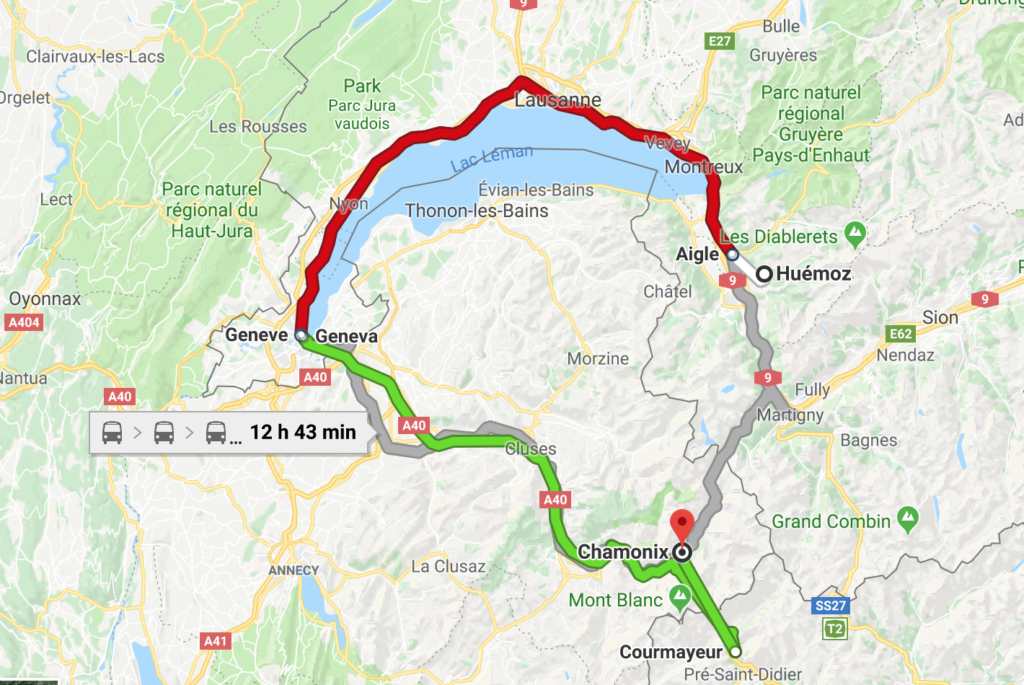 That's right, we went back around Lake Geneva to Geneva train station (Gare de Geneve), then hopped a bus to a train to a train to a train to get to Chamonix 24 hours late.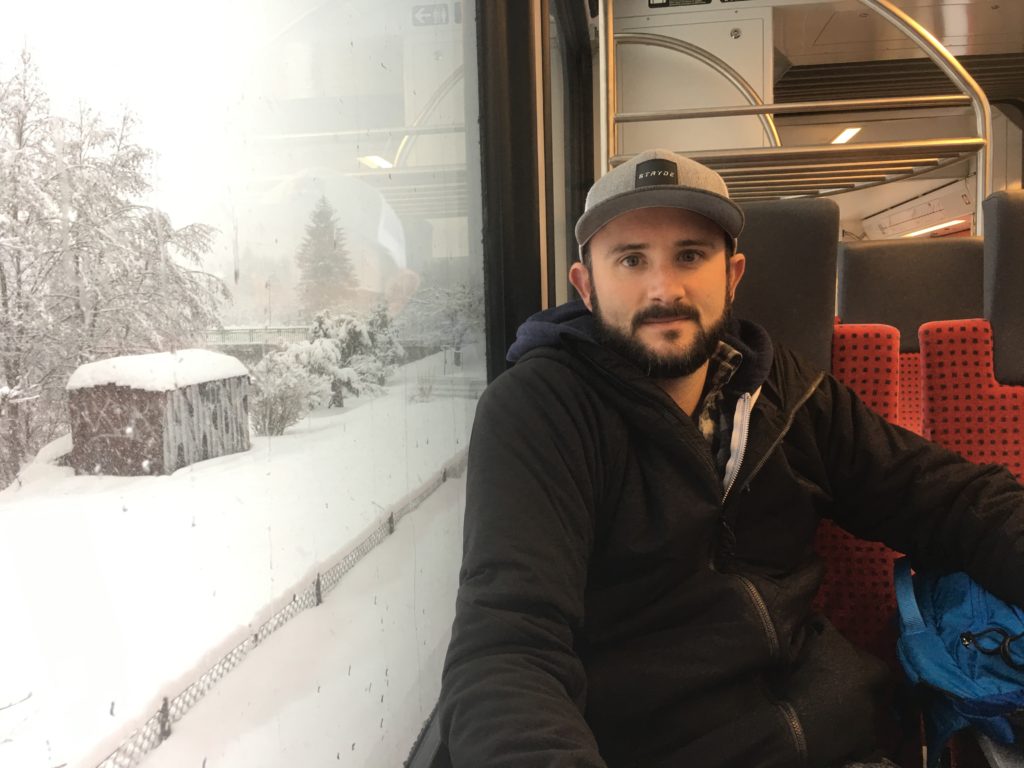 The trip itself around the lake was fine. In retrospect though, as I wrote about in How to get to Chamonix, we would have taken the Oui Bus from Geneva to Chamonix as it was faster, cheaper, and more comfortable than hopping trains.
Staying in Chamonix
As we were traveling and working (not "on holiday" as everyone assumed. I've learned to just say "Thanks we will" when someone says to "Have a nice holiday!"), we needed a comfortable place that had a separate living/kitchen area from the bedroom(s).
There are many many nice hotels in Chamonix. We almost stayed back at Le Prieuré, where we stayed for 2 nights in 2015 and had a very comfortable stay. And there are many hotels through the main part of town and of course many chalets to rent throughout the Chamonix valley.
We ended up staying in an AirBNB directly across the street from Amnesia Club (not actually a club, from what I could tell) and above Moody Coffee Roasters, which is owned by a very nice British expat couple: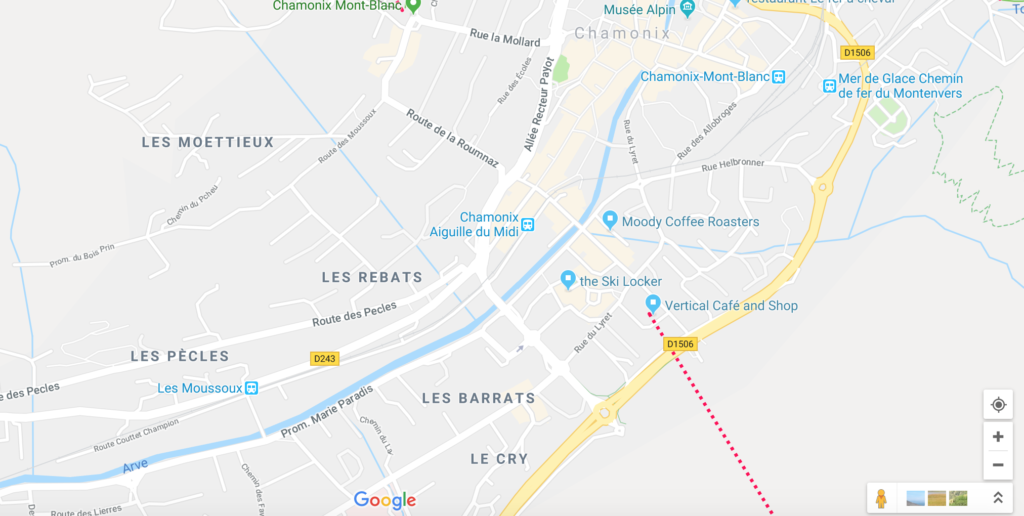 Our internet was passable, though a challenge especially for my wife who is frequently on video calls for her job.
The apartment was perfectly comfortable for what we needed and a nice place to call ours for the 9 days we were there. If you're in Chamonix for longer than just a few days, I recommend checking out the AirBNB options. You can save substantially over a hotel, and you can also get access to hot tubs/spas for about $20 a day.
Ski areas of Chamonix
Now to the best part of Chamonix in the winter – the skiing. We were extremely fortunate to be there directly during some early season storm cycles which apparently have yet to let up (it's now late February 2018), so we had some incredible fresh and even some runs that were knee-deep the day before they cut the slope for the winter. Talk about amazing.
There are five main ski areas up and down the Chamonix Valley, four north of Chamonix and one south. They are (from north to south):
Les Grands Montets
Flegere
Brevent
Les Houches
Le Tour/La Vormaine
We skied the top four, but did not go to Le Tour.
Les Grand Montets
The first day, we went to Les Grands Montets. The powder was unbelievable. We took the free Chamonix bus (#2) from Chamonix Sud to the base, then the telecabine to midway and the gondola from there.
As with most European resorts, there are very few cut trails and the trails that are cut are nominally more than snow cat trails which beginners can navigate.
Chamonix's ski areas are not for beginners.
I was riding a pair of rented Black Crows Navis Freebirds with some bomber AT bindings (not my usual Ion 12s). Riding mid-calf to knee-deep powder, we had a fantastic time even though the snow base was not built up enough and I had a few rocks take me out. The second time, I ended up in powder up to my waist struggling to get back onto my skis.
Heaven.
Unfortunately I did not take any photos this day as it was cold and we were having too much fun, apparently.
Flegere/Brevent
Our third and fourth days were spent at Brevent and Flegere respectively. These two days followed a few days of a big storm cycle coming through so we found some incredible deep powder on both sides.
Brevent is known for being a bit more chill, but it's basically two big bowls with a ton of skiable acreage. The morning we spent there was pretty cloudy, but we wandered across the mountain and found some great stashes of untouched powder. Nothing remarkable, but great skiing. I also did not take any photos here.
That afternoon we took the gondola from Brevent across to Flegere. It is also possible to ski between the two if you go high and then drop through a steep couloir, but avalanche danger was very high so we opted for the safe route.
Flegere was amazing. Here's the piste map: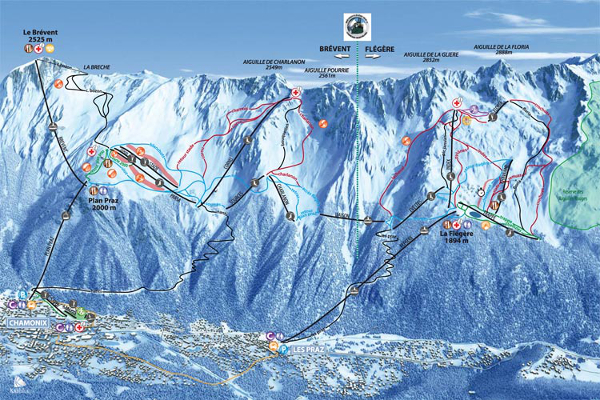 Brevent is on the left and Flegere is on the right. The far right side was not quite open, mostly because of avalanche danger, so we played on the left side of Flegere. The far left red run of Flegere was amazing and we got to it before they cut the slope (two days later it looked totally different), but we still found some fresh basically underneath the left and if you traversed across a bit more.
Here are a few photos:




Les Houches
Our second day was spent at Les Houches. Les Houches is split into two areas, the first of which is less steep though has a few small cliffs easily accessible from the main lift. We played around there for a while then worked our way over to the backside which heads down to St Gervais. The mountain was not open all the way down, but we found some good steep powder under the lifts.
I will also say that I took one of the biggest falls I've had in the last 10 years at Les Houches. We were quickly running down the backside where I thought I saw a great spot to jump, only to realize too late that it was untouched because there was a cat track below it that was hidden. I hit that, double ejected, and ragdolled once. I was fine, but really glad to be wearing my helmet.
Tip: wear your helmet.



Chamonix's areas are surprisingly affordable for days out skiing. In fact, they're 1/2 to 1/3 the price of most Colorado ski resorts! If you are skiing for a week, I'd honestly recommend that you look into flights and hotels in France/Europe instead of going to Colorado.
We paid on average 40 Euro per day each to ski ($80 for two people), so four days of amazing skiing cost us approximately $320. Of course, you may have to rent skis so that adds on another few hundred dollars to the total price. If you have great skis then you could easily take those with you. We took our own ski boots, so that cut down on price and improved comfort tremendously.
You can find ski ticket information here.
Town of Chamonix
The town of Chamonix is, in a word, adorable. If I had to use a secondary word, I'd say it's magical.
Chamonix is a typical European ski resort town. It has incredibly expensive watches and chocolates as well as cheaper grocery stores and restaurants.
Here are a few photos I took around town:







Shops
Like every ski town, there are shops galore. From Mammut to Patagonia to Arc'teryx to more generic sporting goods stores, you can find anything you need.
And this makes sense as Chamonix is a year-round adventure sports mecca for climbing, skiing, alpinism, paragliding, and so much more.
If you get there to climb or ski and you forgot something (or if you leave your rental helmet and it gets stolen and you need to buy a new one and goggles…) then you can find it no problem.
Be sure to also check out ChaChaCha, which is a cute little wine store with super helpful staff and great beer micro-brews as well as local wine and spirits. If you're tired of the generic European light beers, go here!
Evening dining
Chamonix also has amazing evening dining.
We had an amazing meal at Munchie, which is a fantastic Asian-Fusion place that we stumbled upon in the area just north of the center part of town. It's just near a few more bars and restaurants, and right by the artisanal hot dog stand. This was my favorite meal of our time in Chamonix.
We also went to:
La Tablee for fondue (delicious and our second time here)
Le Boccalatte (very good pizza)
La Caleche for raclette (very good, interior design was very classic)
I don't think we had a bad meal in Chamonix, though we did avoid a lot of the touristy places and quite a few restaurants were not yet open because it was early season.
Relaxing
Chamonix, like most ski resorts, can be expensive. If you stay at a hotel, you usually get free access to their hot tubs/saunas/etc. If you don't stay there you have to pay for access, and I recommend booking ahead. We had one afternoon where we wanted to go to a hot tub, but couldn't find one taking non-guests.
We ended up doing a few hours at the spa at Refuge Des Aiglons. I think it cost us $40 total (19 euro each) and was well worth the two hours of hot tub, hammams, hot saunas, and hot showers.
And if relaxing with a good beer or glass of wine is more your thing, you can find plenty of that.
Renting gear and transport around Chamonix
As you can imagine, ski rental places are a dime a dozen around Chamonix. While you can rent average ski gear at any of them, we were interested in renting good skis. And since we were in Chamonix and both ride Black Crows at home, we figured why not rent Black Crows in their hometown?
I am a creature of habit so I rented the Navis Freebirds, and my wife rented the Camox. We both had a fantastic time.
We rented from SkiLoc, which is conveniently across the street from the main Chamonix Sud bus station where you catch the buses up and down the valley. We highly recommend SkiLoc!
If you're staying in the town of Chamonix, then Chamonix Sud is the place from which to grab the free buses that run up and down the valley to the various areas. You can also take the train, but they run less frequently and are more expensive (read: you have to pay for them).
---
Chamonix is an amazing place and one of my favorite places in the world. Whether in summer for rock climbing/summer adventure sports (before the thunderstorms roll in each day) or in the winter for skiing, you'll have a great time.
I can't wait to go back.
Single Geared is an advertising supported website and includes affiliate links. If you click on a product and purchase something from that website, we may be compensated. Learn about our advertising policies here.