How to get to Chamonix, France
If you're a skier or into adventure sports, you know that Chamonix France is the epicenter of the world.
In the summer you have wingsuit flyers, paragliders, and rock climbers crawling all over town and throughout the mountains.
In the winter, you have incredible lift-accessed terrain and ice climbing/winter high alpinism.
One of the challenges though is getting there. Chamonix is tucked away back in the Chamonix Valley, a few mountain ranges across from the Rhone Valley in Switzerland and about an hour and a half southeast of Geneva.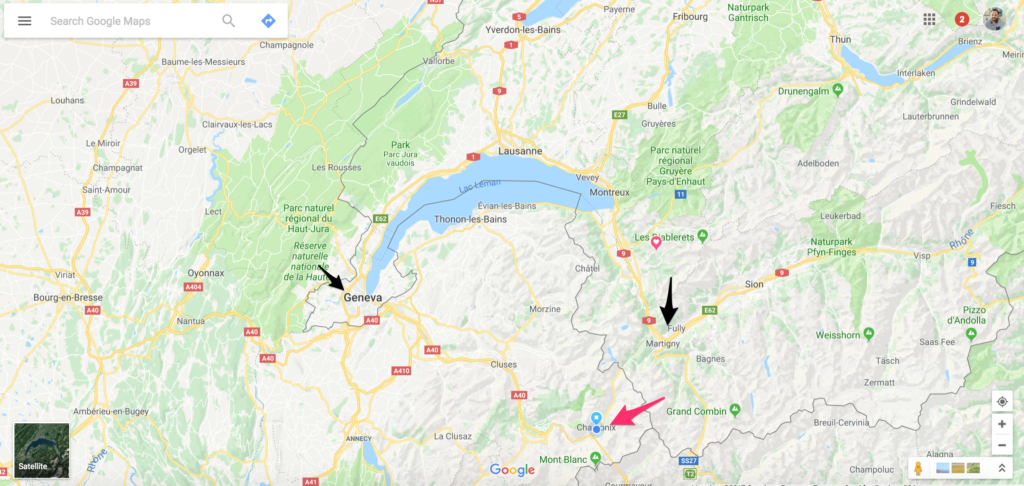 There are three main ways to get into the Chamonix Valley:
By bus, bus/train, or car from Geneva;
By train from Martigny Switzerland;
By car from Courmayeur on the Italian side.
Barring any crazy weather and travel interruptions (my wife and I were delayed once for 24 hours waiting for the French side of the pass from Martigny to open, and then decided to go back around to Geneva and come at Chamonix from the opposite direction), this is how you get to Chamonix.
How to get to Chamonix from Geneva
If you are coming to Chamonix and arriving at Geneva Airport, you will have a number of transfers and tickets to buy. If you rent a car, then you can get to Chamonix a bit faster but of course will have to deal with parking (many apartments and hotels have parking onsite though) and inclement weather if you are coming in the winter.
How to get to Chamonix from Geneva by train and bus
If you arrive to Geneva Airport, then this is your itinerary for traveling to Chamonix by train/bus:
Train from Geneva Airport (Geneve Aeroport) to Geneva Train Station (Gare).
Go down and outside the train station and take the 61 bus to Annemassee, which is in France. At the border crossing there will be armed border patrol who board the bus and ask you for your passport.
From Annemasse, you will take the train to St Gervais – Le Fayet. Note that it may feel like you are going the wrong way, but as long as the train says "Direccion St Gervais Les Bains", you are good to go. Enjoy the train ride, which also has power outlets for your devices.
From St Gervais – Le Fayet you will need to take the TER train which currently leaves at 5 past every hour and takes approximately 40 minutes. If you bought your tickets to Chamonix in Switzerland at the Geneva Airport, you will likely also have to buy a ticket on this train, which is about 7 Euros per person. Make sure you have Euros, or be prepared for a very annoyed French ticket person.
Get off at either Chamonix – Aiguille du Midi or Chamonix Mont Blanc train station, depending on which is closer to your hotel/apartment.
You can buy tickets here.
You can also take a Oui Bus from near Geneva Cornavin bus station directly to the Chamonix-Sud bus station. We took the bus from Chamonix to Geneva and paid 19E per person. The journey took 1h40 and was extremely comfortable. If you are on a budget, I highly recommend it!
How to drive to Chamonix from Geneva
If you are driving from Geneva Airport, you basically take the A40 all the way until it hits the N205, which takes you right into Chamonix. As far as I know, there is no tunnel or bridge charge along this route unlike the route from Courmayeur/Italy.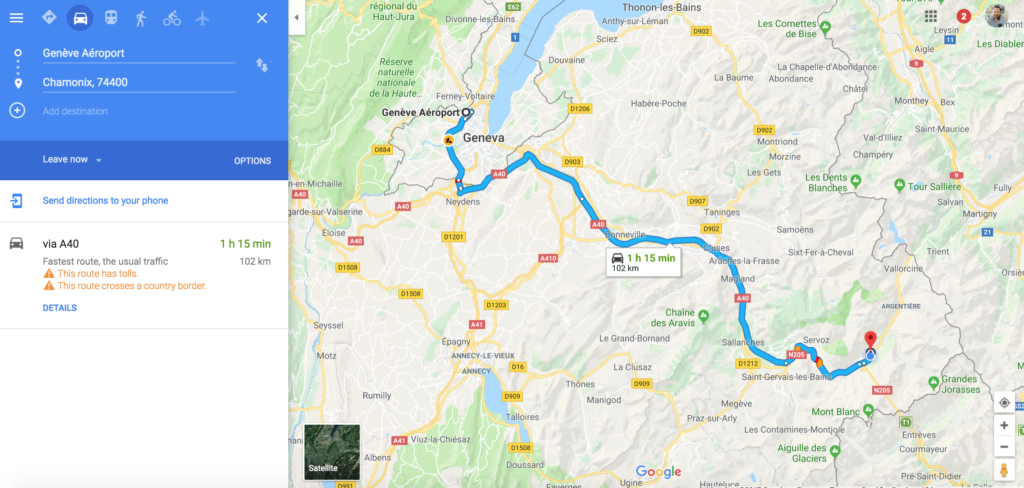 How to get to Chamonix from Martigny Switzerland
There are two ways to get to Chamonix from Martigny:
Train
Car
How to get to Chamonix from Martigny Switzerland
If you are going by train to Chamonix from the Switzerland side, you will need to take the train from Martigny to Chamonix Mont Blanc. Trains leave at 46 past each hour, starting at 7:46a and the last train leaves at 18:46p (6:46pm).
These trains leave from Platform 40, which is right beside Platform 1 (the main Regional and InterRegional track heading back towards Geneva) and says "Chamonix Mont Blanc". The conductors are extremely nice and helped us out a lot when we were stuck in Martigny for a night before deciding to reroute back around the lake to Geneva and to approach from that side.
There are multiple stops as the train crawls up the mountain on the Switzerland side all the way to Vallorcine on the French side, where you are able to catch the TER train up to Chamonix (the same one as you take from St Gervais Le Fayet).
As of December 2017, the above schedule is not working and instead you:
Take the train from Martigny to Chatelard
Get on a bus that takes you to Chamonix.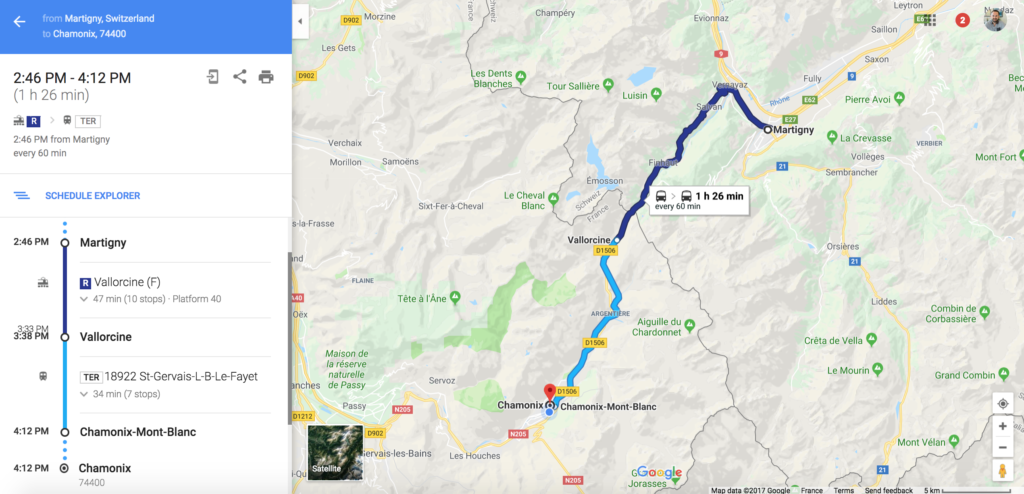 Note that if you are coming from Geneva, it makes way more sense to get to Chamonix through the southeast approach through France as opposed to a train ride around Lake Geneva and then over the pass. The pass from Martigny to Chamonix is supposed to be beautiful, but it will be much more expensive than the other way.
You can buy train tickets here (63-71E).
Driving to Chamonix from Martigny
It is also possible to drive from Martigny to Chamonix. It is a couple hour drive over a few large passes, but the drive is beautiful and well worth it in great weather. You'll drop down into the Rhone River Valley in Southern Switzerland around Sion. If you head East then you will eventually arrive to Visp, from where you can catch a train to Zermatt. And if you head west, you will encounter the Dents du Midi valley and then Lake Geneva and its cities such as Montreux (Freddie Mercury's home) and Lausanne.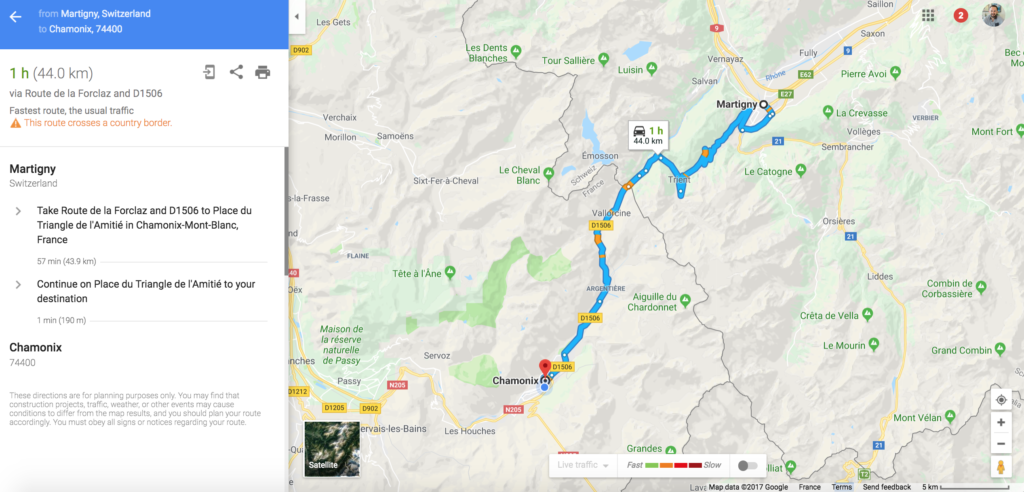 How to get to Chamonix from Italy
If you are coming from Italy to Chamonix, you have two options:
Drive via Aosta/Courmayeur through the Tunnel de Mont Blanc, which costs 45E;
Take the 590 bus through the tunnel to Chamonix.
Driving to Chamonix from Courmayeur/Italy
Driving from Courmayeur/the Aosta Valley in Italy through to Chamonix is pretty straight forward. There is a border crossing before you go through the Mont Blanc tunnel, which is a 20+ minute tunnel going underneath the Mont Blanc massif.
The tunnel costs about 45E and exits right in Chamonix Sud, where you have a few sharp turns and then go right through a roundabout to get into town.
Bus from Courmayeur to Chamonix
It is also possible to take a bus, the 590, from Courmayeur to Chamonix. One simply boards the bus in Courmayeur and pays a 48E fare, which I suppose covers the tunnel charge of 45E that cars pay. 1 hour and 7 minutes later you arrive in south Chamonix.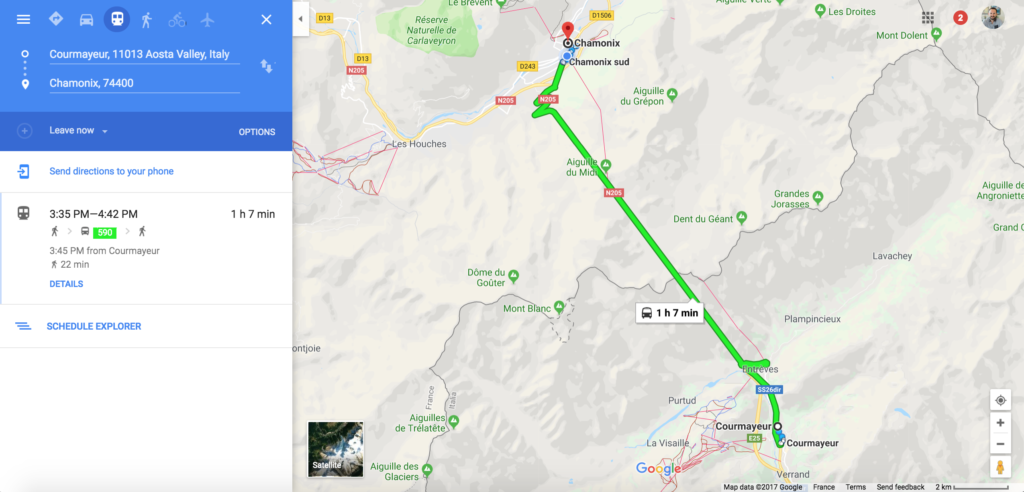 Bus tickets are bought at the station in Courmayeur, or at the Chamonix station if you are going to Courmayeur from Chamonix.
You can also apparently take a Flixbus from Courmayeur through to Chamonix for 5 Euros.
Has any of this changed recently and you have a correction? Email it to john@singlegeared.com with info and we'll get it updated!
Single Geared is an advertising supported website and includes affiliate links. If you click on a product and purchase something from that website, we may be compensated. Learn about our advertising policies here.