Osprey Kamber 32 Backpack Review
Are you looking for a new backcountry skiing pack and are considering the Osprey Kamber pack? My wife and I took up backcountry skiing in winter 2014/2015 and for the last couple of years I have been using my old TNF Terra 45 pack, which I also use for backpacking.
In the last six months the straps on that pack have started to tear, it's too big for my real needs in the backcountry, plus it doesn't have waist belt pockets or a pocket for easy access to my avalanche gear should I (forbid) ever need it.
So this year I invested in the Osprey Kamber 32 in the Cold Blue pictured below though it does also come in Galactic Black (kind of a black/grey) and Ripcord Red (aka Fire Engine Red).
I've had it out a few days so far, both fully loaded and for a weekend trip to Moab to pack my clothes etc, and here is my review.
Photos
Before we get into the text and technical parts of this review, let's have a look at the Kamber 32:
Storage and pockets
The Kamber has 3 main pockets:
Zip pocket against your back that zips along the back, so it won't come open while out. This also has a zip mesh pocket for things like a knife or carabiners;
Outside pocket with dedicated pockets for your probe and shovel handle, and room for a shovel;
Top zip pocket for goggles.
The Kamber is billed as having pockets for dry and wet equipment, with I believe the outside pocket being meant for dry gear. However, this pocket is really not very big plus when out touring I would not want anything in the pocket where it could keep me from being able to access my avalanche equipment in the worst of circumstances.
The main compartment is approximately 20 liters. I am able to carry all of the following when out on a tour:
Ski gloves;
Climbing skins;
Shell (Arc'teryx Alpha AR)
Puffy packet (Mountain Hardwear Ghost Whisperer)
Snacks
Full water bladder in the back panel, with hose feeding through to the insulated shoulder pads.
The outside pocket, as I mentioned above, is tailor made for your backcountry skiing equipment. It has two dedicated sleeves, one for your probe and the other for your shovel handle. It's also the perfect width for a shovel blade, such as the Backcountry Access B81 shovel.
Ski carry
The Kamber 32 has two ways to carry your skis:
Across the back;
As an a-frame with a ski stuck in each side.
If you are using the Kamber's helmet carry ability (talked about below), then you will not be able to carry your skis across the back and will have to use the side carries. Though to be fair, I much prefer the side a-frame carry to slinging my skis across the back.
Other details
There are a few other great details to the Kamber that we should cover as well.
Helmet carry
The Kamber has a piece of attached mesh tucked up inside the outside of the pack that pulls out to then be used as a helmet carry. You can carry it one of two ways, either going up and showing the Osprey logo or down with no logo.
Some of the other reviews you will read online say that the helmet carry blocks the access to your shovel/probe, which is absolutely true only if you store your helmet on top with the Osprey logo showing. There are black loops on the outside of the pack down by the shoulder straps/waist belt where you can attach it going down.
Voila, the pocket is not blocked.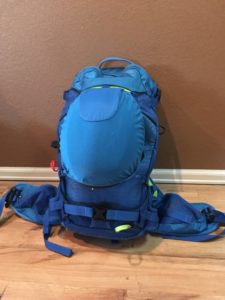 Waist belt storage
One of my favorite parts of the Kamber 32 is the storage pockets on each side of the waist belt. I can fit a granola bar (usually a ProBar) and some gel cubes in one and my phone in the other. I have an iPhone 6S Plus (the large one) and it fits in the pocket. So, the pocket fits even the bigger phones out there with relative ease.
Insulated shoulder strap
When you're out on a tour, you need water. For the last couple of years I have been struggling with a combination of Nalgenes on the outside of my pack (which fall out when/if you fall and also tend to freeze over) and a water bladder where the nozzle freezes over if not insulated.
So I love the insulated shoulder strap of the Kamber 32 because it keeps the nozzle and straw from freezing. What a great feature.
Final recommendation
Overall, I've used this pack a few times and really love it. It's just the right size for a day out touring with plenty of water and a few extra layers.
I will say that when you have it fully loaded down with skis, boots, and all your gear it does get a bit heavy and I would say is honestly maxed out. So if you are going to be doing a lot of hiking in hiking boots, you're very much going to push the limit on this pack. But if you just have your skis on the side and your normal gear, it will be quite comfortable. Max weight is about 30lbs, which I was pushing on our hike up St Mary's Glacier recently.
So yes, I do recommend the Kamber 32! I will continue to update this review over the year as I use it more.
Pricing and availability
The Kamber 32 retails for about $170 both in stores and online. I have not found it on sale anywhere as it is still a relatively new pack.
Like any backpack, you should try it on in person before you buy. If you'd like to support Single Geared, we'd love it if you'd try it on in person but buy it on Amazon using any of the Kamber 32 links in this post!
Single Geared is an advertising supported website and includes affiliate links. If you click on a product and purchase something from that website, we may be compensated. Learn about our advertising policies here.