Patxi Usobiaga climbs Pachamama 9a+
Patxi Usobiaga has been trying Pachamama, a Chris Sharma 9a+, in Oliana for a while now. Right next to Papichulo, it's one of the harder climbs in Oliana.
Patxi announced today via Instagram that he has finally sent it.
Congrats Patxi!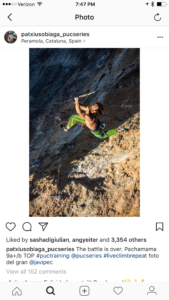 Single Geared is an advertising supported website and includes affiliate links. If you click on a product and purchase something from that website, we may be compensated. Learn about our advertising policies here.