The North Face Ventrix Hooded Jacket Review
The North Face is a well known brand in the outdoors world, but to be honest sometimes I wonder how high quality and high performance their gear is because they are such a large brand. I tend to support brands like Arc'teryx and Mountain Hardwear (yes, who is owned by Columbia I realize) instead of the larger brands because I like how their gear performs when I'm active.
That said, I'm always curious about some of the new gear that companies like The North Face come out with each year. When the opportunity to review The North Face's Ventrix Hoodie Jacket came up, I jumped at it because I:
Love down insulation and wanted to see if the synthetic could stand up to it
Was heading to a cold location (Swiss and French Alps) and wanted to see how warm it is
Was looking for a jacket that you could wear out on a slightly more fancy evening than a puffy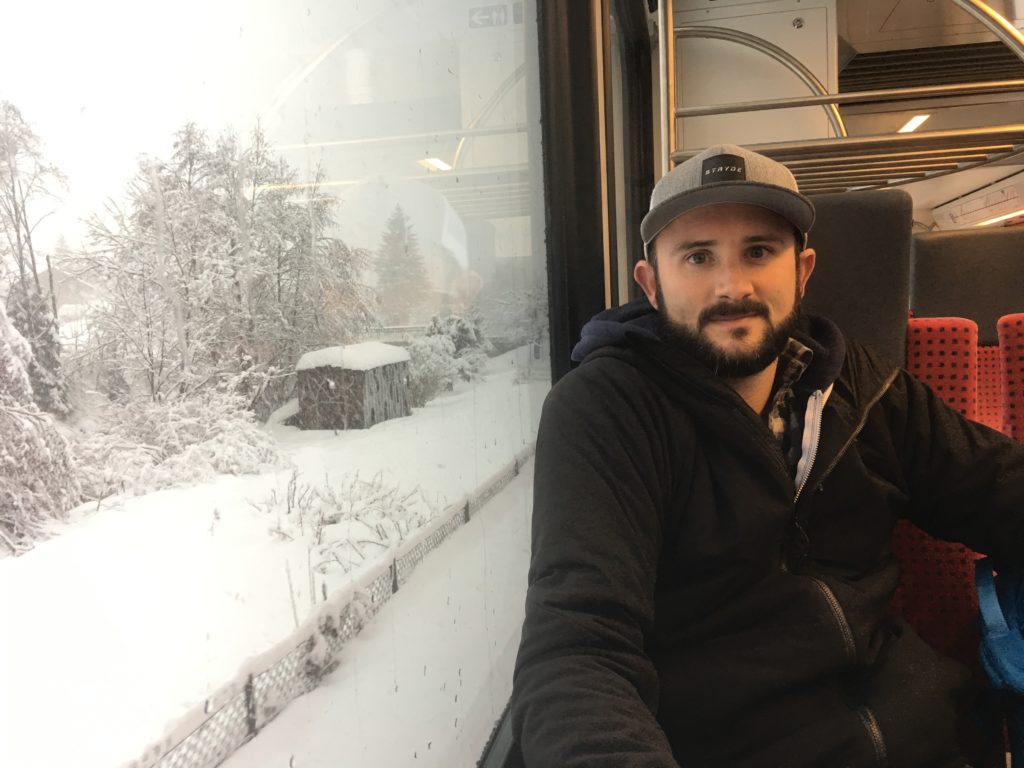 I am going to rate the Ventrix on warmth, breathability, packability, versatility, and durability.
Overall verdict
When I first got the Ventrix in the mail, I'll be honest that I didn't love the look and feel of it. I grew up wearing off-brand outdoors gear, and the Ventrix felt similar to a ski jacket I had back in high school that I think we bought at Costco. I hated that jacket.
I took the Ventrix on a 5 mile hike, 2.5 down and 2.5 up, with my mother and my wife the day before Thanksgiving 2017 in the Appalachians of Virginia. It was a 40 degree day in late fall, and I have to say the Ventric performed admirably. I was plenty warm on the approach and the downhill, and then on the uphill I never got too hot. It's unclear whether this should be attributed to The North Face's technology that is supposed to let the jacket breathe, but I stayed comfortable with the temperature around 40, and down to around 38 when we finished.
I then brought the Ventrix on a month long European trip to Barcelona, the Swiss Alps, and the French Alps (Chamonix). So far it has been through rain in Barcelona, a very chilly weekend in Madrid, snow and rain in the Swiss Alps, and traveling through Switzerland to Chamonix in France as well as walking around Chamonix.
I am very impressed with it. The Ventrix keeps me warm, doesn't heat up too much when I am on the go (with multiple bags no less), is super comfortable to use when on an airplane, and in TNF black can go to a fancy-ish restaurant much easier than my bright blue Mountain Hardwear Ghost Whisperer jacket.
Warmth
As noted above, the Ventrix Hoodie is very comfortable down to around 40 degrees Fahrenheit (3-4 Celsius) on its own. The jacket insulates well against wind and cold, especially in the hooded version which can zip up to protect your neck.
I have worn this jacket in the Swiss/French Alps with a dry cold (snow) as well as in Barcelona and Madrid Spain with a wet cold. In both locations, the Ventrix performed admirably and kept me warm.
I should note that when the temperature gets well below 40, you definitely need to layer under and potentially over the Ventrix. This is no different from the Ghost Whisperer by Mountain Hardwear, and in fact the two feel very similar in warmth even though the Ghost Whisperer is marketed at 800 fill and the Ventrix at 650 "fill" (remember, it's synthetic).
Breathability
The North Face says that the Ventrix has "dynamic-venting insulation" and "lightweight, highly air-permeable fabrics" with "laser-perforated under the arms for dynamic venting that balances warmth and breathability".
This is all a fancy way of saying that the Ventrix has some small holes underneath the arms and across the back of the neck that are supposed to help the jacket vent and keep you cool even when you heat up while wearing it.
I noticed them after having the jacket for about two weeks and wondered when a mouse had the opportunity to nibble on my jacket, but then realized that there were a lot of holes that were all evenly spaced.
I've never felt the holes venting, but because the Ventrix regulates body temperature well I'd say they work.
Packability
After wearing this jacket for a few weeks in all sorts of weather, I would say that the Ventrix's main downside much like any other synthetic jacket is its bulk.
I am used to wearing goose down puffy jackets that I can stuff into their own pocket and throw into my pack (the Osprey Kamber 32 is my current outdoors pack). The Ventrix is able to roll up into its own hood, but it it still the size of an American football or rugby ball.
Versatility
The Ventrix shines when tested on versatility. I feel very comfortable wearing it out and about in all sorts of weather, as it is water resistant (8% elastane ripstop with durable water-repellent (DWR) finish) and the hood is large enough to cover your whole head, though your face may still get wet.
As mentioned above, on a hike the Ventrix kept me warm and I did not overheat. Traveling through Europe in mixed weather I did not get wet and did not overheat.
I also wore the Ventrix (remember, in TNF Black) out to dinner some nights and felt presentable instead of like a mountain man going to dinner wearing my Ghost Whisperer. Other colors may vary as The North Face seems to have made some…interesting…color combination choices, but TNF Black is a very safe color and you cannot tell the difference in fabrics between the main body and the forearms.
Because the Ventrix is a bit heavier than my other midweight jackets, I will not take it on light and fast ascents because that is not what it is meant for. The Ventrix is, however, becoming my go-to around town, while traveling, and on hikes where I do not care as much about weight or packability.
Durability
As mentioned throughout this review, I have had this jacket for approximately three weeks as of the time I am writing this review. Thus far, through many planes, trains, automobiles, and weather types it has held up admirably.
You only really get a feel for durability once you have owned and used it for a while, at least 6+ months, so I cannot comment on that yet.
I will say that the fabric on the forearms feels quite durable and I have not had any concerns over whether it may rip, which is different from down puffy jackets that are meant to be very light and packable.
Product Details
Images
Here are some images of the Ventrix from The North Face:




And ours:


Pricing
The Men's Ventrix Hoodie retails for $220. It feels like a fair price for a jacket like this that should last you many years and is so versatile. Compare to the Ghost Whisperer at $350 and the Patagonia Nana Puff at $249, $220 is a very good deal for a slightly less outdoors techie jacket.
The women's version of the Ventrix also comes in at $220.
Product specs
Here are the product specs as outlined by Moosejaw:
| | |
| --- | --- |
| Features: | Draw or Cinch Cord, Zipper Garage, Insulated, Hood, Water-resistant, Elastic Cuffs |
| Weight: | 15.5 oz |
| Back Length: | 29 in. |
| Hood Type: | Helmet Compatible, Adjustable, Fixed |
| Exterior Pockets: | 3 |
| Jacket Fabric: | 30D x 20D 92% Nylon, 8% Elastane Ripstop |
| Insulation Details: | 80 g 100% Polyester Stretch |
| Fabric Weight: | 1.9 oz / Square Yard |
| Waterproof: | Yes |
| Type Of Waterproofing: | DWR |
| Product Technology: | DWR |
| Gender: | Mens |
| Best Use: | Mountaineering and Alpine |
| Jacket Length: | Hip |
| Fit Type: | Slim Fit |
| Insulation: | Synthetic |
Official description
Here is The North Face's official description:
Tackle the challenges of rapid elevation gain and loss with this new, lightly insulated hoodie that features our state-of-the-art Ventrix™ ventilation for balanced warmth and breathability. Perforations in key areas are designed to expand and dump heat or contract and retain as you move, so you won't overheat or sweat out.
---
Note from John: the Ventrix jacket we tested was sent to the Single Geared crew free of charge. We have tested it thoroughly across different elements of weather and written the same non-biased review as we have written for our other gear reviews where we purchased the gear. We have also nofollowed all links to TheNorthFace.com in keeping with Google's webmaster guidelines.
Single Geared is an advertising supported website and includes affiliate links. If you click on a product and purchase something from that website, we may be compensated. Learn about our advertising policies here.