Sharma Climbing BCN Gym Review
If you're in the rock climbing world, then you know the name Chris Sharma. If you know Chris Sharma, then you know that he is a world class boulderer and sport climber, having put up some of the hardest sport climbs, deep water solos, and bouldering problems in the world.
Chris is an American, but lives in Barcelona with his wife and their adorable daughter.
What you might not know about Chris is that he has also become a businessman.
In the last two years, he opened Sharma Climbing BCN in Barcelona Spain, in the Poblenou neighborhood in northern Barcelona. Poblenou is south of Badalona, and northeast of the Sagrada Familia, Gaudi's famous cathedral that is still under construction.
Our review
From the time we walked into Sharma Climbing BCN until leaving an hour or so later with pumped arms, I was nothing short of impressed.
First, the staff who greeted us were extremely nice and accommodating. They did their best to speak English and we did our best to speak Spanish, so we all came away smiling with the mission accomplished of signed waivers and money exchanged. I should also note that there is a cafe to the right of the sign in desk, though to get around to the climbing area you need to go to the left. But we saw a guy having a beer at 11am and it looks like they can make a mean cappuccino, so if you're hanging out on a Wednesday morning you might as well grab one.
Neither my wife or I could find the locker rooms, so we both changed in our respective bathrooms. Upon going to leave I discovered the locker rooms and was able to change in there back into my jeans to go back into the cold Barcelona day. If you want to find the locker rooms, walk to the left of the sign in desk and straight back to the wall. The men's is on your right (just a white door with a tiny sign) and the women's is to the left. Voila.
The climbing area
The climbing area is extremely well thought out (almost like one of the best climbers ever dreamed it up….) and logical, with area that fit every need and skill level.
I am going to describe the inside from left around to the right as you stand at the backside of the entrance/cafe/gear store area, approximately where photos 2-7 are taken from below, and here is a panorama:
Back around to the left, which you cannot see, is an area with a few (2-3) top ropes as well as an area meant for traversing/warming up. It was a cold morning when we arrived there, so I spent some time here running some laps to warm up my arms and my hands, especially since I had not climbed in two weeks.
Continuing to the right which you can just start to see on the left side of the panorama above are some straight walls that then go into a feature that continues on around that is on a slope. If you've been to Brooklyn Boulders, it is reminiscent of the front climbing area (and quite tall, maybe 15-20 feet).
This continues all the way around through the middle of the photo above. Behind the big feature on the right side of the photo above is a bouldering cave, with many long and short problems. This cave is bigger and taller than many I've climbed on at various gyms, and I can only imagine it's modeled after Chris's experience with deep water solos in Mallorca. It was awesome.
Route setting
The route setting, as you would also expect, is similarly incredible. Nothing felt sandbagged, so a problem that was rated around V4 (they use a color system which I will talk about in a minute) felt like a V4. I climbed most of the problems V0-V4 while we were there, and I would say they all felt true to their rating.
Rating system
The rating system at Sharma Climbing BCN is different from any I've encountered before. Unfortunately I forgot to take a photo of it, but essentially there are 5 color levels, I believe light blue through black, that encompass a few grades through each color. There was also no notation of a plus or minus to show that it was on the harder or lower end of the spectrum.
On the one hand, I like this approach. I think a lot of climbers are afraid to climb something harder than they are comfortable with so this forces them to try something harder.
On the other hand, you are not sure if you are hopping on a V3 or a V5 because they're both green. You're pushed to climb harder potentially, but you may also be spending energy on something easier when you want to be climbing harder that day.
Overall, I like the approach. I think climbers need to be less focused on how hard they climb and more on having fun and being creative while climbing hard. Who cares if it's a V5 or V4? It's just a number. Do problems that you think are interesting.
Photos
Here are the photos we took of the gym.
Sharma BCN front
To the right of the welcome area
To the left of the previous image
Entrance area (cafe)
SG founder John selfie
It got busier!
Panorama
Back behind photo 2 where there is a bouldering cave.
Getting to Sharma Climbing BCN
As mentioned at the beginning, Sharma Climbing BCN is located in Poblenou. There are a few ways to get there.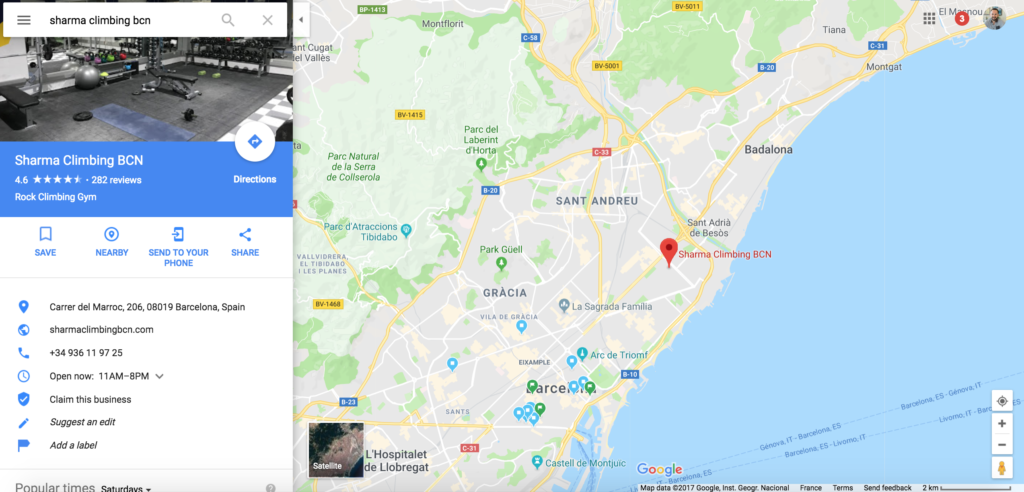 By metro
It is possible to get close to Sharma Climbing BCN by metro, and then a 10 minute walk to the gym itself. One of the things that struck me about the walk was that the gym is in a neighborhood that is mix of warehouses and apartments, so it's not exactly what you'd call nice but exactly where climbers have come to expect gyms to be because they require large amounts of space and warehouses can be acquired relatively cheaply.
We were staying in Poble Sec, so we took the L2 metro line which dropped us at the Sant Marti stop. So wherever you are in Barcelona, make your way to the L2 and the Sant Marti stop. From there, when you exit the station on the north end you turn right and walk about 12 minutes to the gym. I should note that Google Maps had us walk through a back alley that felt a bit unsafe, so I recommend staying on the major roads.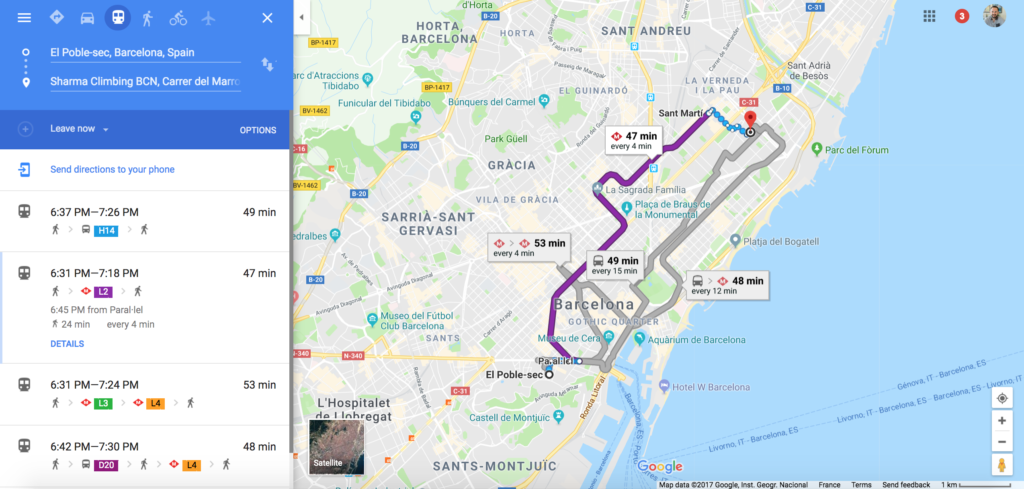 It is also possible to get to the gym on the L4 metro line which deposits you south of the gym and is then a 10 minute or so walk as well.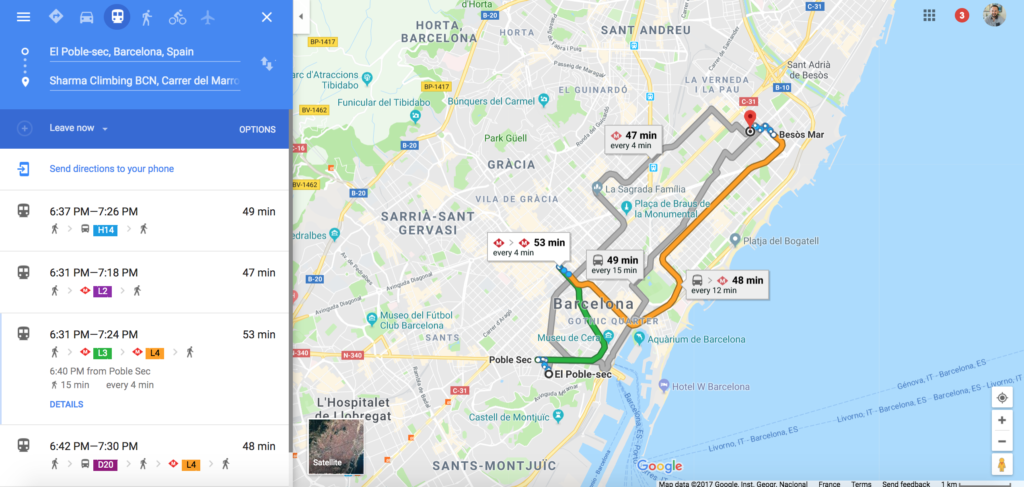 By car
You don't need directions on driving or how to drive a car, but let me say that it is totally possible to drive to the gym and there seems to be plenty of parking right around it. I did not see any dedicated parking for the gym itself, but there were many parking spots available when we went at 11am.
Details
There are a few details that I had to search for when researching Sharma Climbing BCN, so here they are for you in one place.
Hours
Sharma Climbing BCN is open to the public the following hours:
Monday to Friday: 7am – 11pm
Saturday & Sunday: 11am – 8pm
Bank holidays: 11am – 8pm
Do check ahead to see if you are going on a bank holiday. We unwittingly went on Constitution Day in early December, and had to hang out at a restaurant nearby and drink coffee until the gym opened.
Here is a complete list of Spain's holidays.
Price
My wife and I went together and brought all of our own gear, so entry for us was 28 euros total. It is possible to get a morning pass (7a-12 noon_ for 10 euros a piece, but even though we unfortunately went on a bank holiday where the gym did not open until 11am.
Regular price: 14 euros per person
Day pass reduced rate: 10 euros (if under 18 or a student with valid ID)
Monthly memberships are also available.
Single Geared is an advertising supported website and includes affiliate links. If you click on a product and purchase something from that website, we may be compensated. Learn about our advertising policies here.