Patagonia Micro Puff Hoody Review
A few months ago, I had an issue with my four year old Mountain Hardwear Ghost Whisperer (hands down my favorite mid-weight puffy jacket ever, review here) where the zipper started snagging and the jacket essentially became a pullover.
I sent it back to Mountain Hardwear and they agreed to repair it under warranty (I received it literally as I was writing this review), but the timing could not have been worse. I live in Denver and we're having an amazing snow year, so I couldn't go 2-3 months right in the middle of an incredible winter without a midweight puffy layer!
So I did my research and went to my local stores (REI flagship, Rab, Wilderness Exchange) to try them all on. I found an Arc'teryx Cerium LT on a crazy good sale, but realized I didn't need or want an 850-fill puffy for out in the skin track or around town (I have my TNF Morph Hoody for that) even if it was 60% off!
I tried on many jackets including one from Rab, Marmot, and more but ultimately decided to give the Patagonia Micro Puff a go in their Micro Green.
Here's my review.
Patagonia Micro Puff Warmth
The Micro Puff is not a heavyweight puffy jacket on the level of the Cerium LT or the Morph, and as such it is not as warm as those nor is it meant to be.
I'm more interested in how the Micro Puff compares to similar weight jackets, such as the Ghost Whisperer.
Since buying this jacket about a month ago, I've worn it:
Out and around Denver in temperatures ranging from low teens to mid-40s;
Backcountry skiing on Berthoud Pass near Winter Park;
As a base layer at both Winter Park and A-Basin in the Rockies.
Here's how it performed in each of those.
Around Denver/town
One of the secrets of Denver (shhhh don't tell anyone) is that we actually have fairly moderate winters since we are located on the plains. I wear this Micro Puff to work quite often when it's 20s in the morning but then warms up to the 40s during the day. Walking to work in the sun can get quite warm.
I've never had to take this jacket off while walking around with the temperature in the mid-40s, nor have I gotten too warm in my car while driving. That has happened many times with my Ghost Whisperer, but I actually think I could drive any distance I want to in the winter in my car and not get too warm in this jacket.
Backcountry skiing
I've worn this Micro Puff backcountry skiing two times up on Berthoud Pass, outside of Empire in the Rockies. In the past I've worn my Ghost Whisperer, and on very cold mornings (teens) I've been totally fine in that.
Wearing this with temperatures in both the teens and the twenties, I've been very comfortable wearing the Micro Puff. As mentioned above around town, I'm quite comfortable going up (though I do unzip it a bit) and then it keeps me plenty warm at the top while removing my skins and getting ready to go down.
Two thumbs up here.
Base layer
I've also worn this jacket twice as a base layer under my Patagonia Stretch Nano Storm. Neither day was very warm, and I will be honest that I got a bit too warm both days.
I think in the future I will only wear this as a base/mid layer under my Stretch Nano Storm on very cold resort days. Otherwise I will stick with a lighter base/mid layer.
Patagonia Micro Puff Fit
I'm a very average-sized male at:
5'9″ tall and 154lb currently; with
a longer-than-average torso,
an ape index of +3, and
shorter-than-average-for-my-height legs.
I also have broader-than-average shoulders for my height, which makes it difficult to find a jacket that fits me well. Because I am rather slim, boxy shirts (like most made by outdoors brands) and jackets balloon on my body and don't fit me well. When I wear button-down shirts (which I did a lot more in New York and San Francisco than in Denver), I always buy them in slim fit so that they fit me correctly.
After reading reviews online and trying it on in-store, I decided to buy a size Medium. Some other reviewers had complained that the Micro Puff runs a bit short and would pull up on them when they raised their arms, so I made sure to test for that.
Here are some photos of the Micro Puff on me.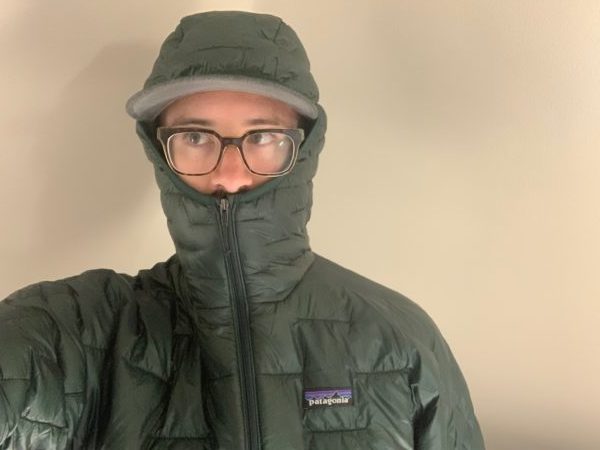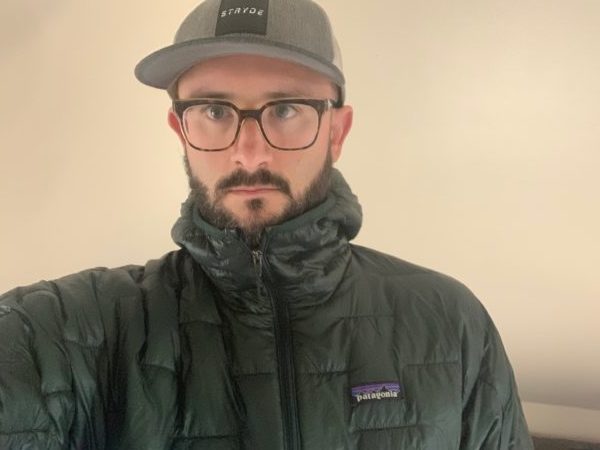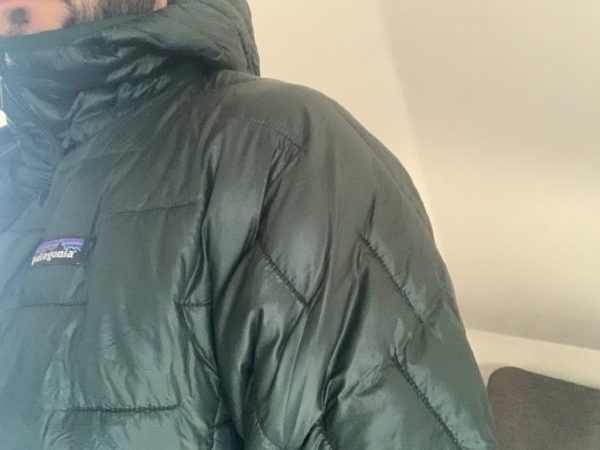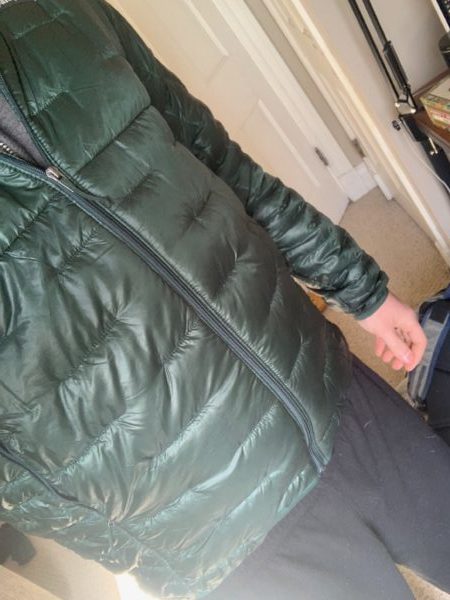 I want you to pay attention to a few things in the photos above:
Arm length
Jacket length
Fit around throat
Hood size
Shoulder fit
Patagonia Micro Puff Structure
Let's talk through the structure of this jacket.
Stitching
The Micro Puff's stitching structure is interesting. Instead of self-contained squares, rectangles, or layers like on most puffy jackets, the Micro Puff has interlaced sections of insulation: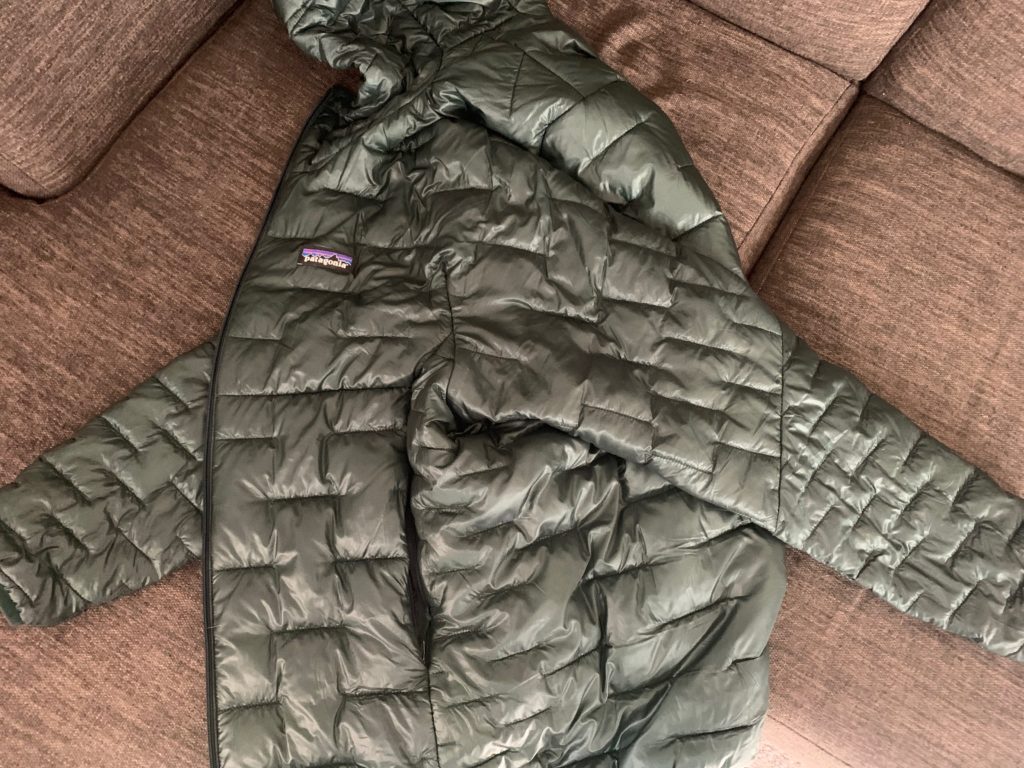 According to Patagonia, this is a new patent-pending construction that "create(s) an ultralight jacket with the best warmth for weight we've ever achieved – down or synthetic." The thinking, I believe, is that by constructing it this way instead of the traditional way then the insulation is better able to spread both warmth and breathability throughout the jacket.
I would say they've nailed it pretty well with this, as the Micro Puff keeps me warmer than I expected and also doesn't feel clammy in a warm car like some other jackets.
Insulation
The Micro Puff is 65g of Plumafill, which acts like down while not being from animals. I've found it to be very warm and to still breath well, and it even keeps me warm when I sweat a bit when skinning uphill to get to the next ski run.
I also like that it is a bit fluffier than other midweight puffy jackets I've owned, which makes it more comfortable than I imagined it would be.
Zipper
The zipper is also stiffer than a Ghost Whisperer, which does lend itself to some awkward non-movement when sitting especially, but so far it's been bomber and I've not had any issues with it.
Waist
I'll admit that one of the things I was most worried about with this jacket is its stretch waist instead of a cinch like most other jackets. While it fits me well at this point (a month in) and I've not had issues with it, I do wonder about long term durability.
Patagonia Micro Puff Packability
Video
Here is Patagonia's official Micro Puff video:
Patagonia's Micro Puff official info
Ultralight nylon ripstop Pertex Quantum® shell is water-resistant, windproof and treated with a DWR (durable water repellent) finish
Revolutionary PlumaFill insulation replicates the structure of down in a continuous synthetic insulation material, offering the warmth and packability of down but with the warm-when-wet performance of synthetic insulation
Innovative quilting construction complements the insulation by stabilizing and maximizing the loft of the PlumaFill strands with minimal stitching
Center-front zipper has storm flap and zipper garage at chin for next-to-skin comfort
Two welted zippered handwarmer pockets and two internal drop-in pockets; left pocket doubles as a stuffsack with a reinforced carabiner clip-in loop
Under-the-helmet hood construction is light and simple
Elasticized cuffs and hem seal in warmth
264 g (9.3 oz)
View on Backcountry  ($299)
I compare this jacket with:
Single Geared is an advertising supported website and includes affiliate links. If you click on a product and purchase something from that website, we may be compensated. Learn about our advertising policies here.