The North Face Thermoball Eco hoodie review 2019-2020
Hello, my name is John and I have a puffy jacket addiction. If you look at the coat closet in my house, it is FULL of puffy jackets for all sorts of uses.
I am constantly on the hunt for the best puffy jacket for my needs, and while I have tried almost all I keep on searching to make sure I'm not missing out on one that tops my prior top pick (see that with the link at the beginning of this paragraph).
In that spirit, I added The North Face's Thermoball Eco hoodie to my collection in spring 2019 and set out to test it to see how it compares against my others. Here's our review.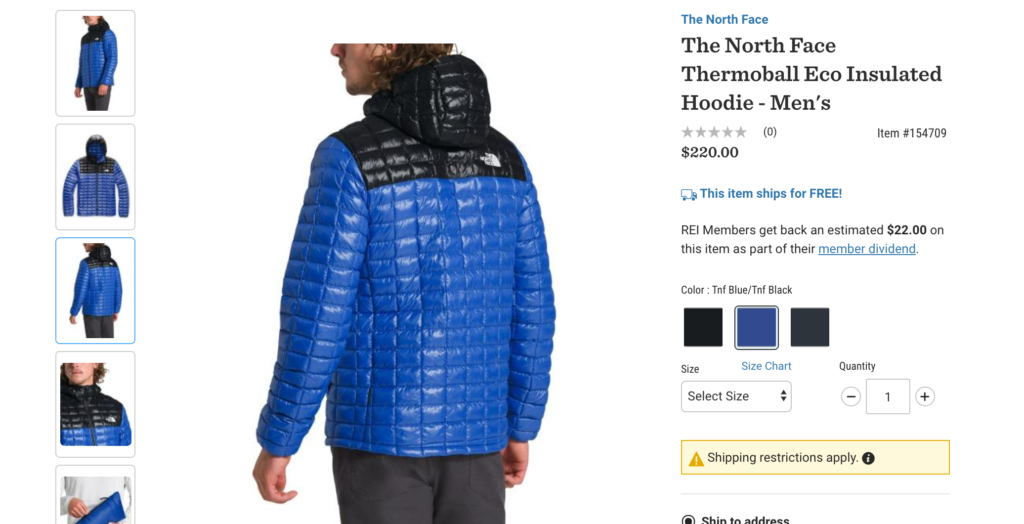 TNF Thermoball Eco Overview
I started off this review talking about how I love puffy jackets, but we must be clear that not all puffy jackets are down! In fact, the Thermoball Eco is not down at all! Rather, it is made of The North Face's own proprietary synthetic fibers. Thus, the "eco". The North Face is continuing to invest in sustainability, which is a great move for its brand and the future of the planet.
According to REI, this jacket is best described as:
For lightweight and packable warmth on cold hikes, The North Face Thermoball Eco insulated hoodie for men made from post-consumer recycled content keeps you going all season long.
Here are the specs via REI:
| | |
| --- | --- |
| Best Use | Multisport |
| Fabric | Nylon |
| Lining Fabric | Nylon |
| Insulated | Yes |
| Insulation Type | Synthetic |
| Insulation | ThermoBall Eco synthetic fibers |
| Hood | Yes |
| Packable | Yes |
| Back Length | Hip-length |
| Back Length (in.) | 27.5 inches |
| Gender | Men's |
| Weight | 15.9 ounces |
| Sustainability | Contains recycled materials |
So far, I've used this specific TNF Blue/Black Thermoball on the following days:
Hiking above Salida, Colorado with my daughter on my chest
Walking back and forth from my house in Northwest Denver to the coffee shops 3-5 blocks away
Under my Patagonia Stretch Nano Storm while spring skiing at A-Basin in Colorado
Around Denver on cool evenings
To/from the climbing gym both via bike and car
The pros of the Thermoball Eco are:
It is lightweight at just 15.9oz and packs tight into its own pocket. This is double the weight of my Mountain Hardwear Ghost Whisperer, but for most it's quite light.
It looks great. If you're walking around a ski town (or just a mountain-ish town), you're going to look good.
It has minimal warmth leakage because of the tight baffle construction, which is not something one can say about a lot of other puffy jackets.
It's minimal with just two pockets on the outside for your hands and one small internal zip for your personal goods (like an ID/credit card). You can also stuff this jacket into itself. The lack of an exterior chest pocket is downside for some, but an upside for me.
The cons of the Thermoball Eco are:
It does not have a chest pocket, which for people who carry a lot of things is a downside.
It's not as athletically cut as the Ghost Whisperer or the Patagonia Micro Puff.
It does not breathe quite as well as either of those either.
MSRP: $220 (compare with Ghost Whisperer and Patagonia Nano Puff around $249)
SingleGeared's score: 6.5/10
Best used for: around town, hiking on brisk days and hanging out around camp on nights not below freezing.
Photos
Here are the official photos from REI:



And me in it: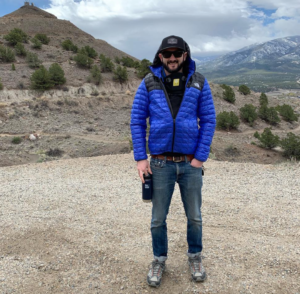 Construction
Say what you will about its less athletic cut (at least for a climber like myself with broader-than-average shoulders at 5'9″), this is a well constructed jacket.
In past years, the Thermoball had warmth-leakage issues because of how it was constructed. With moving to the baffle/waffle setup (each is approximately 2″ wide by 1″ high), this jacket packs a lot of insulation for not being super heavy. That excess stitching does make it a bit heavier, but I'll take that for the warmth-to-bulkiness ration tradeoff.
The North Face doesn't skimp on materials, in my opinion and experience, with a strong YKK zipper that threads flawlessly and a waist cinch that does not feel like it will snap if you pull too hard. Once again, you're sacrificing extreme weight savings for durability.
Warmth
The Thermoball is purposefully on the lighter end of the insulation range, and thus this jacket should be more compared to other meant-for-activity jackets like the Patagonia Nano Puff. In our experience, the Thermoball is a bit thicker and thus provides a bit more warmth, but also means it is a heavier mid-layer than some of the others.
I have actually found the Thermoball to be warmer under my outside layer while skiing than the Ghost Whisperer as well as warmer/more heat containing than either the Ghost Whisperer or the Patagonia Micro Puff (note: we have not tested and reviewed the Nano Puff here on Single Geared).
That's a great thing for walking around town/keeping you warm, but not so great when being active. When I'm on the skin track in the Rockies or actively skiing on a late winter/early spring day, I found the Thermoball to be too heavy and hot for me. And since I tend to run pretty cold, that means others will definitely find themselves too warm in this jacket.
Durability
I've had this jacket for about 8 months now, and it has stood up very well to regularly usage in the early spring/spring and fall as it gets cooler here in Denver. As mentioned above, I've worn it a few times skiing and hiking, and then around Denver for every day.
I have zero concerns about how well this jacket will hold up over time, especially since it will not be my go-to being active in the mountains. I will likely keep it at our ski rental outside Breckenridge and wear it when going outside to shovel snow or climbing into the car to go to Breckenridge for something.
Does Single Geared recommend?
Yes, Single Geared recommends The North Face's Thermoball Eco hoodie for the following activities:
Around town keeping warm on nights not below freezing, or with good layers underneath;
Hiking on cool/overcast days;
Light outdoor activity;
As a mid-layer on very cold days at a resort;
Every day life in the winter around a city like Denver.
Disclaimer: this product was supplied by The North Face for the purpose of this review. That has not influenced our review, as most of our products are supplied by the manufacturer/brand and Single Geared exists to help you find the best gear available. Links in this article may be affiliate links which means that Single Geared may receive a commission if you purchase an item using our referral link.
Single Geared is an advertising supported website and includes affiliate links. If you click on a product and purchase something from that website, we may be compensated. Learn about our advertising policies here.