Steamboat Ski Resort Review, Prices, and Hours
If you're thinking about heading to Colorado for a ski vacation, or you live in Colorado and haven't explored all of the resorts yet, let me encourage you to consider Steamboat as your next destination.
Why?
The primary reason, I think, is because Steamboat is off the I-70 corridor of ski resorts that include Breckenridge, Copper, Vail, and more.
Resorts like Steamboat, such as Aspen and Winter Park, that are hard(er) to access or at least require a longer drive have stayed more true to themselves than the big built-up resorts along Interstate 70 (the main interstate running from Denver across the Rockies to Grand Junction and further).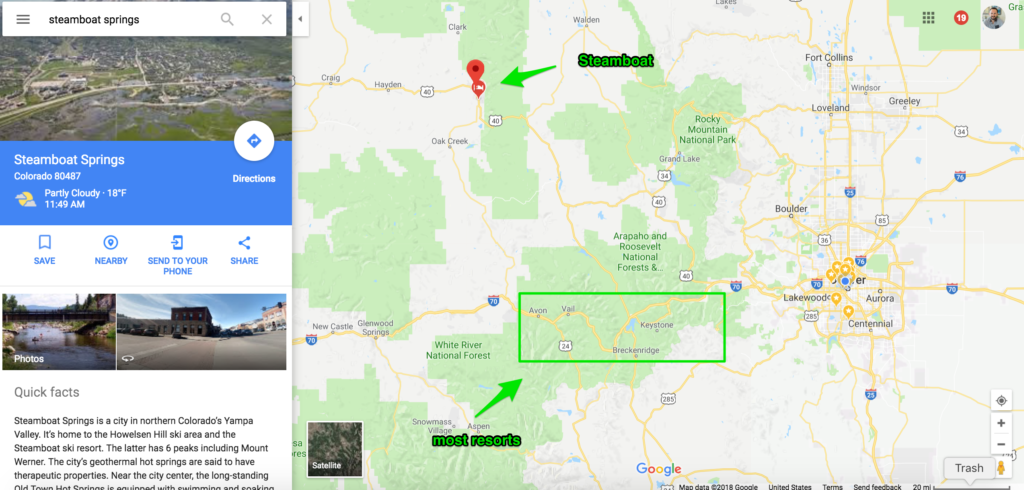 If you're willing to get to Steamboat, then here's our review of what you will find.
Steamboat Springs Review
Having been to Steamboat eight or nine times plus getting married there in 2014, I have been able to see all sides of the area minus actually living there long term. Here are my reviews of the skiing, the town, and lodging availabilities.
Skiing
Steamboat is mostly not a steep mountain, but it does offer some steep chutes, some great tree skiing, and a lot of options for the beginner and intermediate skiers out there.
Steamboat is known for (and widely advertises) its "champagne powder", which is so light and fluffy it feels like skiing on clouds. Powder days can be hit or miss, but because Steamboat is harder to get to than other resorts powder stashes can remain on steep slopes and chutes and in the trees for days on end, especially mid-week.
Overall, Steamboat's terrain is set up thus:
14% Beginner
42% Intermediate
44% Advanced
In my opinion, the 44% advanced is a bit disingenuous as Steamboat has a reputation for being a lot easier and less steep than a lot of the other mountains in Colorado.
Here is the trail map (source: Steamboat.com):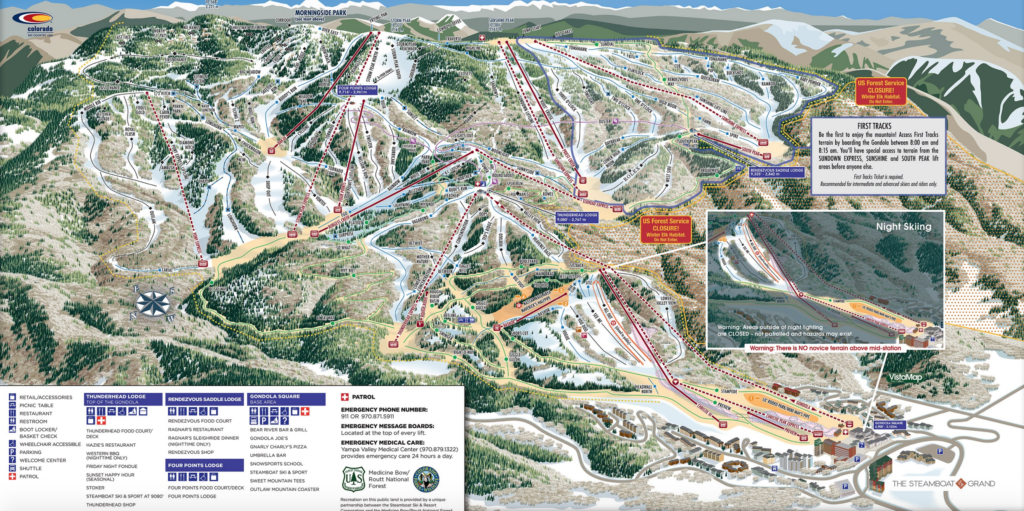 As you can see, there are a lot of trails and a lot of trees to be skied if you are into that sort of thing.
Generally, from left to right this is how the mountain is laid out:
Advanced and steep chutes and trees;
Medium steepness but wide open trails and groomers with a few trees. Tighter trails the lower you get on the mountain;
Lots of blues on the far right of the mountain.
There is also a backside which can be accessed via the Four Points lift. There is no novice terrain on the backside and it gets very flat towards the lift, but there can be some great powder on the right (looking up from the lift) if you are willing to hike for it.
Town
Steamboat is divided into two areas:
Old town
Hotels and Steamboat Grand near the base area
This section is going to talk about the Old Town specifically because it is quaint and quintessential Colorado mountain town. While it has the cheesy tourist shops, Steamboat also has a lot of great restaurants (both fancy and non), local breweries, and places to grocery shop if you are there for a bit of time or trying to cut costs.
Steamboat as a town celebrates its Wild West roots and has different days during the year to celebrate it, especially with horses. There are parades and an annual competition down main street near the end of winter. It's a town with real soul!
The area near the Base Area is much more like a resort than old town Steamboat. The Steamboat Grand is the marquee hotel there, and from personal experience staying there for a wedding it is very…grand. The rooms are great and it feels luxurious. If you're looking for more of a luxury holiday than a weekend destination with friends, the Grand or the Sheraton across the road are both great places.
There are fewer restaurants and bars up this way, so you're still going to want to go to town (a 5-10 minute drive) for those. Of course there are hotel bars and restaurants if you are into those.
Lodging
Steamboat has many lodging options for you:
Hotels around the base, such as the Steamboat Grand or the Sheraton
Lots of condos further right of the base area, available on AirBNB (sign up here to get $40 off your first stay) or VRBO
Cheaper hotel options in town and along Interstate 40 as you enter into town after going over Rabbit Ears pass
We've stayed all across the mountain, from cheaper hotels down in town (which were walkable to bars and restaurants) to the Grand for a wedding to condos and nice townhouses south of the Base Area (yet still walkable to the bottom gondola) and to cheap hotels on the way in on 40.
They all have different things to offer, so find the one that fits your needs and your budget.
Steamboat Ski Resort Lift Ticket Prices
Before we get into the prices, remember that skiing can be an expensive sport. If you live in Colorado and plan to do a decent bit of skiing at resorts during the winter, it is fiscally prudent to buy a ski pass like the Epic or Rocky Mountain Super Pass. If you are looking at Steamboat specifically, you should buy the Rocky Mountain Super Pass as it gives you 6 days at Steamboat during the winter. If you live in Denver, that's basically a weekend trip once a month for three months, which is probably a bit optimistic anyways.
Here are Steamboat's advertised prices for lift tickets:
Day lift ticket: $130-$165
3 day lift ticket: $390 (no savings)
7 day lift ticket: $868 ($6 savings per day)
Season pass (unlimited): $1499
Steamboat 15 pass (any 15 days): $1149 ($76.60/day)
As you can see, Steamboat is not a cheap place to ski. It is comparable, though, with other resorts in Colorado.
A lift ticket hack to get lower prices
If you live in Colorado but do not want to invest in a full season lift ticket, you can get discount lift tickets by going to your local King Soopers (locations all around Denver):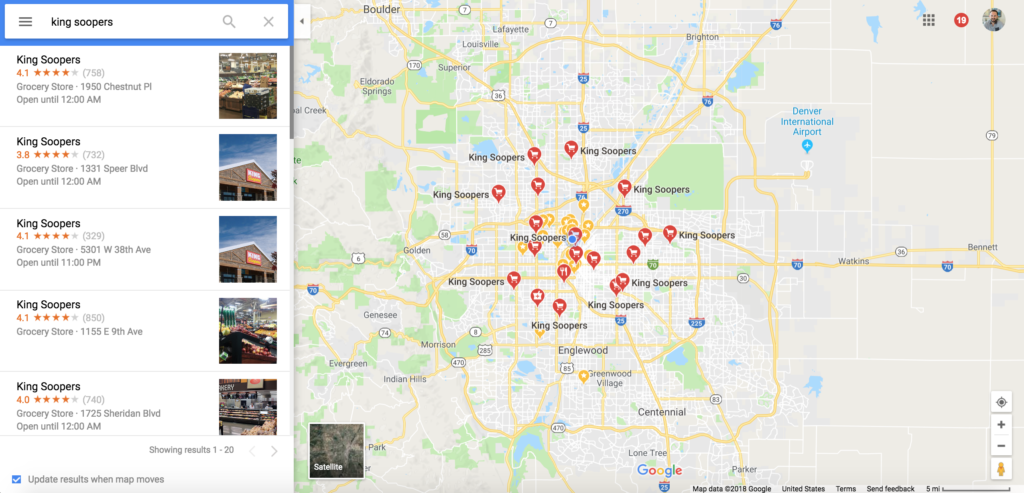 At King Soopers you can buy 4-packs of lift tickets, two to Winter Park and two to Steamboat. They'll be somewhere in the range of 20-25% off by doing it this way, and you can use them any time during the winter.
The downside is that they will probably end up costing you about what a season's pass costs if you acquire the season's pass early, but you'll end up saving over buying tickets at the resort itself.
You can also check out Liftopia for deals.
Steamboat Ski Resort Hours
Steamboat's ski area is open every day from 8:30AM to 4:00PM until April 15th, on which date extended spring hours will apply.
Of course, like most west coast resorts with large ski areas, some lifts load their last chair between 3-3:30pm in order to start funneling skiers back down the mountain before closing time.
Getting to Steamboat
Getting to Steamboat is definitely more of a challenge than getting to the resorts along I-70, but as we said above, that can reward you with fresh powder and smaller lift lines.
Getting to Steamboat by car
If you are flying into Denver or live along the Front Range of the Rockies (Colorado Springs, Denver, Fort Collins) then it is very possible and easy to get to Steamboat by driving. The drive is about 3 hours and 20 minutes door to door from Denver International Airport to Steamboat, and in the 3-4 hour range from anywhere along the Front Range.
To get to Steamboat by car, take I-70 West to Silverthorne. Then head north on 9 which turns into 40 at Kremling. Take this on till Steamboat!
If you are coming from Grand Junction, then take I-70 East to Silverthorne and follow 9 North to Kremling at which points it turns into 40 and takes you all the way to Steamboat. There are other back routes, but honestly they take forever and in the snow they can be quite dicey.
Do note that in the winter you should opt for an all-wheel or 4-wheel drive vehicle as the Eisenhower Tunnel and Rabbit Ears passes can be quite dicey depending on if it is snowing, and you'll want all or four wheel drive with good snow tires (at minimum all-weathers with good tread).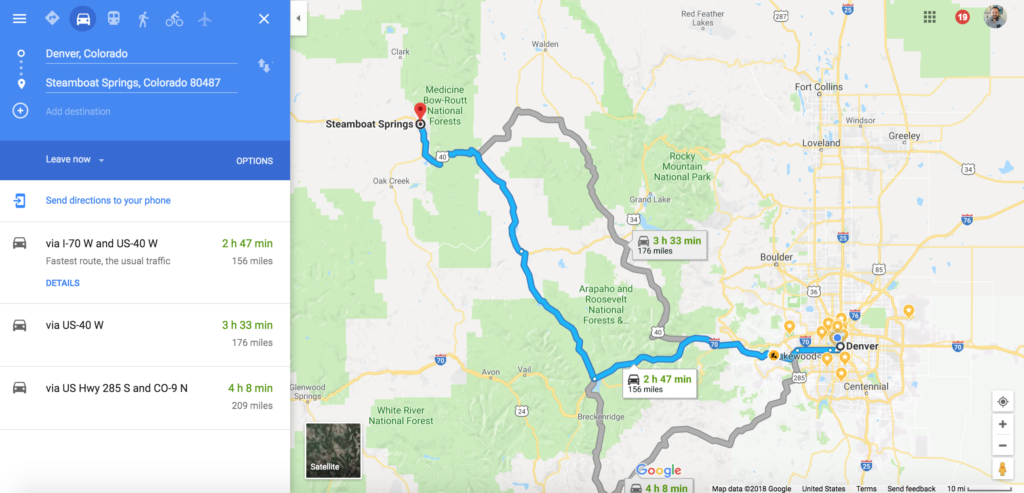 Getting to Steamboat by plane
It is also possible to get to Steamboat by plane by flying into Yampa Valley Airport (HDN). There are 14 cities that have non-stop flights to HDN, such as San Francisco, LA, Denver (!!), Minneapolis, Chicago, Austin, Washington DC, and Newark.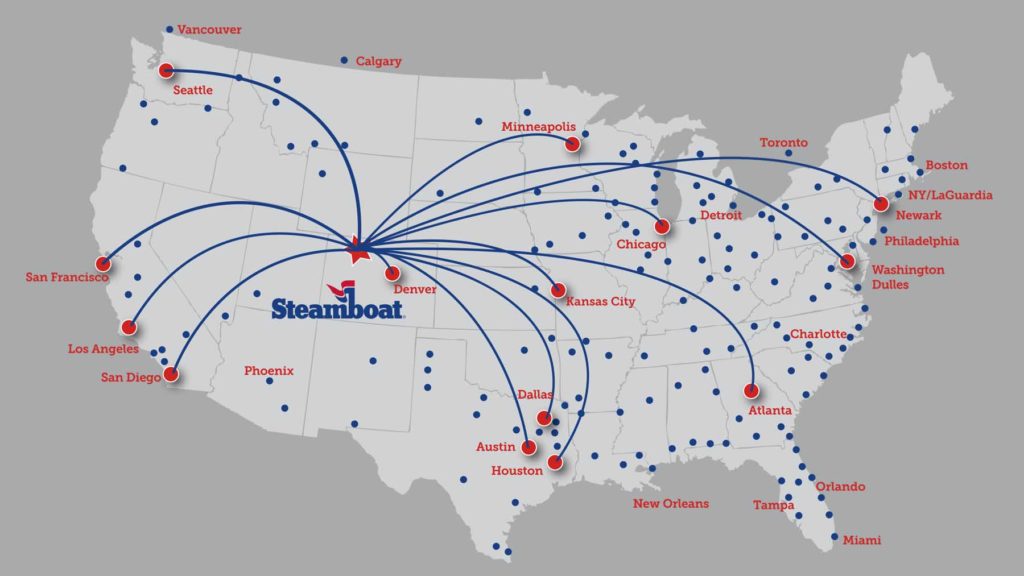 Flights do tend to be much more expensive into HDN than into Denver and then renting a car, so depending on your financial situation it is likely much more reasonable to fly to Denver and rent a vehicle to make the drive.
Single Geared is an advertising supported website and includes affiliate links. If you click on a product and purchase something from that website, we may be compensated. Learn about our advertising policies here.