Best Gifts for Rock Climbers
If you have a rock climber in your life and you are struggling to find something to get them that they'll love, you've come to the right place.
This post is written by me, John, the founder of Single Geared. I have been a rock climber for about a decade now and am also (obviously) a gear nerd. I like gear and am the type that believes in "the right tool for the job" when you can get it. Obviously sometimes you can't bring it along or something goes awry and you need to improvise, but generally I believe that you are best off if you are using the right gear made for the specific job.
I also recognize that many seasoned climbers already have a ton of gear, so we can be really hard to buy for!
If you're looking for a gift for the rock climber in your life, here are some tried and true options.
Every climber needs a chalk bag or three. One of my favorite gifts I've ever received (I needed a new chalk bag, badly) was my Arc'teryx C80 chalk bag, which I represent with pride.
But when I asked a lot of my friends what their favorite all around chalk bag is (note: it's not a big bouldering chalk bag) that also has a belt. they told me this Prana chalk bag. And at $20, it's an affordable option!
Not all climbing brushes are created equal, which is evident when you try the Sublime climbing hold brush. If the climber in your life is constantly at the gym or out trying a new climb (even if you don't really know what that means), they're probably cleaning off the holds so that they can get up their project.
Get them this climbing hold brush to help them out.
Climbers need to keep their hands strong and their callouses soft, but we can't all climb all the time. For the climber in your life, get them a Gripmaster  hand trainer so that wherever they are, whether on the couch or in an airplane, they can keep their hands strong and minds occupied.
One can never have too many water bottles. While I bet your favorite climber already has a Nalgene, they can always use one more.
The Hydroflask has exploded onto the scene in the last few years as well. It is an incredibly well-built and still BPA-free bottle that can take both hot and cold beverages (Nalgenes only take cold). They're a bit more expensive than a Nalgene, but so useful.
If your climber also enjoys beer and wants to take it climbing with them, get them this super nice Hydroflask 64oz beer. They can stop by their favorite brewery to fill it up before heading up to the mountains for the weekend.
Books
Alex Honnold is one of the climbing world's most well known figures, known for his jaw-dropping free solos (no ropes, no belay partner, just climbing shoes and a chalk bag) of walls like El Capitan, Half Dome, and others well known in the climbing world.
I read this book in about 24 hours of a Christmas break. It's entertaining and gives a glimpse into a world class athlete's brain.
Tommy Caldwell is another of the climbing world's current luminaries, known for doing some of the hardest big wall climbs in the world (you may remember the Dawn Wall from 2015, which was broadcasted nationwide). Tommy write this quasi-memoir about being a professional climber. "The Push" references his experience, alongside his future (and now ex) wife and two other friends, being captured in Pakistan only to escape when Tommy pushed their captor off a cliff.
I'm in the middle of reading it myself, and attended one of Tommy's talks about the book in Denver back in 2017.
Yvon Chouinard is the founder of both Patagonia and Black Diamond, though most know him best for Patagonia. Black Diamond started as Chouinard Equipment out of the back of Chouinard's van as he lived the climber life and made/sold carabiners and other climbing tools to his climber friends.
This book is a deep dive into the mind and ethos of Yvon, who in my opinion is one of the greats of the outdoors world. From his part in the 1960s/1970s Yosemite climbing world to building businesses that are literally changing the world, he's done it all. And he still calls himself a reluctant business man.
The climber in your life, if they are business or conservation minded, will enjoy this book. It's one of my favorites.
If your climber is a coffee addict (like myself and like most climbers I know), then they're probably a) always looking for another hit of caffeine, b) spending too much money on crappy coffee like Starbucks, and c) super busy and always running out of coffee at home.

Enter Driftaway. Driftaway is a coffee delivery startup based in Brooklyn, New York. They take great pride in their coffee, sourcing it from small vendors in South America, roasting it fresh every Friday, and then shipping it directly to you.
I love Driftaway because they tell the story of the grower from whom your coffee came. They also refuse to send ground beans because ground beans lose flavor quickly, and Driftaway refuses to compromise on quality.
Prices start at $12 for 7oz of coffee delivered every two weeks. This is approximately enough for one cup of coffee per day for the two weeks.
If you are like me and drink more than that, 11oz every two weeks only costs $16.
Following from the Driftaway subscription recommendation above, the climber in your life may constantly be on the move. They're moving from place to place, camping and living cheap, to fulfill their love of climbing.
Or, they just love coffee and are a weekend warrior.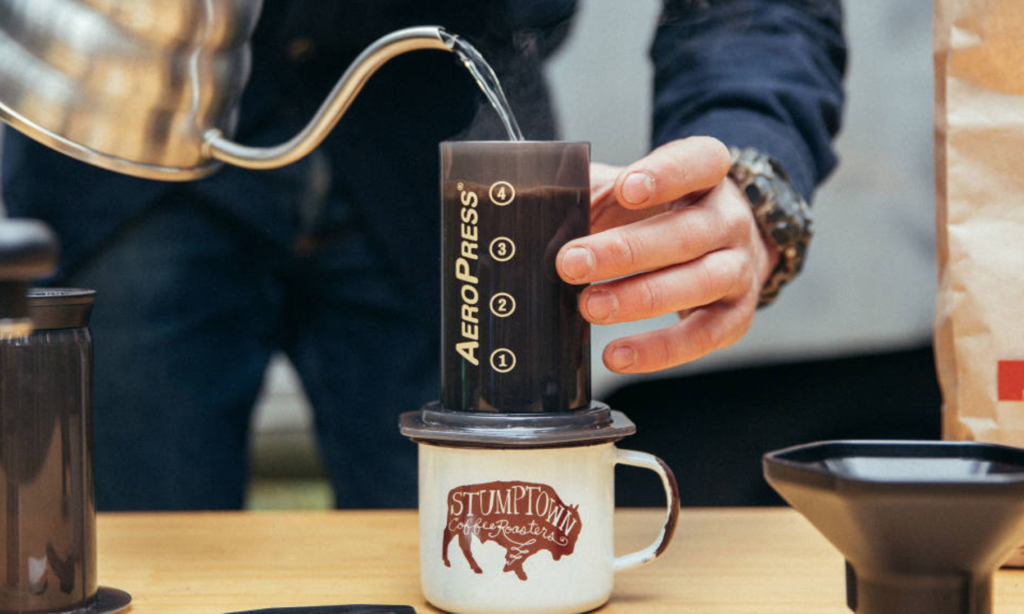 Image via Stumptown
Either way, the Aeropress is a fantastic gift. It is trusted and beloved by many coffee drinkers and snobs (many of my old Seattle coworkers swear by theirs, and you know how much Seattlites love their coffee). It makes a great cup in under a minute (plus time to heat up water). Believe me, the quicker the process from start to first sip the better.
Your favorite climber is probably obsessed, and that means sometimes they have to stay out late at the crag to finish a project or camp overnight to try again the next day.
They need to see, so if you're looking to spend a little bit more (~$70) on them for a nice present then we recommend the Petzl Actik Core headlamp. With approximately a 90% approval rating (there are always haters…), this headlamp delivers with night vision red lights, a rechargeable battery (via micro USB), super bright lights, and a battery charge of over 160 hours (!!).
Single Geared is an advertising supported website and includes affiliate links. If you click on a product and purchase something from that website, we may be compensated. Learn about our advertising policies here.