Ekster Senate + Tracker Wallet Review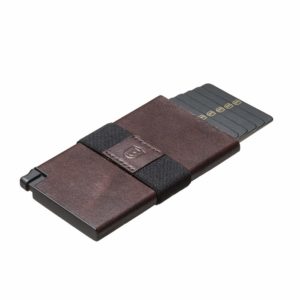 Have you ever experienced the absolute terror and frustration of losing your wallet? Not only do you feel like an idiot, but once those fraudulent charges start showing up on your credit card you feel like an idiot.
Then you have to go and cancel all of them.
Losing your wallet is the worst, but what's even more terrible is when you don't find it again.
But, all of the RFID wallets out there look terrible and the ones with trackers don't work, right?
Wrong.
Enter the Exster Senate. Ekster contacted me asking if I'd like to review their wallet. While I have a Tanner Goods Journeyman Wallet that I bought here in Denver that I love, I figured I'd give this a go when the team at Ekster asked to send me one.
I will say, it took me a bit to switch the contents of my wallet over to the Ekster. Turns out that once I have a system set up that works for me, I don't like to change or take the effort to make the change.
That said, once I moved over I've now gone 3 months without switching back full time.
Here's why.
Ekster Senate Construction
The Ekster Senate is made from top-quality European leather, with a strap around the outside to provide extra storage for cash or receipts.
Leather
The leather is extremely high quality and feels great to hold. There was obviously a lot of thought and care that went into the leather used for this wallet, being a premium product, and it shows. After ~3 months of dedicated use it has darkened a bit as one would expect. I love it.
Carrying capacity
I have found the Ekster Senate to be able to hold:
5 credit cards;
My ID in the extra sleeve;
Cash folded on the outside and held in place by the branded strap.
One of the challenges of this wallet is that it has less carrying capacity than my other wallet. I am a bit of a credit card churner, playing the game with credit card points to get free and awesome flights (my last 4 international trips have been lay-flat business class for free), and because of that I have a lot of credit cards.
I am also a business owner (3 businesses, really) and so I have cards for those businesses, especially my main company.
Ekster says that this wallet can carry "up to 8" credit cards, but in reality I've found that I can really hold 5. And that's with most of my cards being premium cards that don't have raised numbers on them.
Because of this, I am not able to carry all of my cards that I use at once.
As an example, I rarely use my REI credit card except for when I am at REI. I recently went to REI straight from work with my wife, and realized I didn't have my REI card with me. Bummer.
Card holder construction
As mentioned at the top, the Ekster Senate is an RFID wallet meaning it protects your credit card information from being stolen by skimmers. I don't really go places where this might happen, but it is additional peace of mind I guess.
The RFID-protector section of the wallet is made from a hard plastic. It holds everything in place very well, though when I first received the wallet it felt a bit cheap.
Once I used it for a few weeks, I stopped noticing that and have had no issues with it. But initial reactions do matter, and thus this is something I think the Ekster team should take into account. I'd even consider wrapping it in leather as well so that the whole wallet feels more premium.
Reactions
I've received some really interesting reactions to the Ekster Senate when using it around town. These include:
At the DMV: "Did you just push a button and your cards popped out? That's amazing!"
At the office: "Dude that's a really good looking wallet!"
At a friend's: "Ooh I've been looking for one of those, and I like that one! What brand is it?"
The proof is in the reactions, I guess!
Images
Here are our own images of the Ekster Senate:






What Ekster says
Ekster has this to say about the Senate:
The Senate is a cardholder for those that want to minimize bulk. The cash strap or pocket strap provide additional storage whilst keeping things slim.
Features include:
RFID/NFC blocking technology against skimming & private data theft

A card-slider system providing instant card-access at the click of a button

Hand-crafted with premium Dutch/German top-grain leathers by Dutch designers

At 4.1" tall x 2.5" wide x 0.59" thin, it has room for 8+ cards. The RFID-proof cardholder compartment built into the wallet holds 4-6 cards depending on embossings.

100% Satisfaction Guarantee: Not satisfied? Simply return it for a full money back guarantee within 30 days.
If you need a bit more space than the Ekster Senate, I also recommend checking out the Ekster Parliament, which is about $10 more expensive but also includes a flap for carrying cards like an ID card or subway pass (depending on where you live, of course!)
Does Single Geared recommend?
The answer to "does Single Geared recommend this wallet" is yes, with a few caveats.
If you need to carry a lot of credit cards, this wallet will not be your every day. You might use it for going lighter, but if you carry a George Costanza-size wallet like my father does then this won't be your ideal wallet.
I haven't really made use of the tracking option, and it feels a bit superfluous. I would've been just fine with the non-tracking version as I don't lose my wallet ever. If you have lost yours, this might be a good feature for you.
Overall, I am very happy with the Ekster Senate and recommend it!
This is a sponsored post in that I received the wallet for free. Therefore all links in this post are no followed according to Google's guidelines and our own. I was not asked by Exster to explicitly write a positive review.
Single Geared is an advertising supported website and includes affiliate links. If you click on a product and purchase something from that website, we may be compensated. Learn about our advertising policies here.