Driftaway Coffee Delivery Review
Most outdoors people I know love coffee. We count on it to wake us up in the morning and to still be hot when we get back to the car after an adventure.
The challenge many of us face is that coffee is expensive. Like, really expensive.
And when you try to buy good fresh and ethically sourced coffee, it's almost prohibitively expensive.
Don't get me wrong, I love my $4 cappuccino from my local coffee shop because it's locally roasted coffee and it is probably the best cappuccino I've ever had (and I've traveled extensively in Italy). But I don't want to spend $4 on a cappuccino every day.
Enter Driftaway.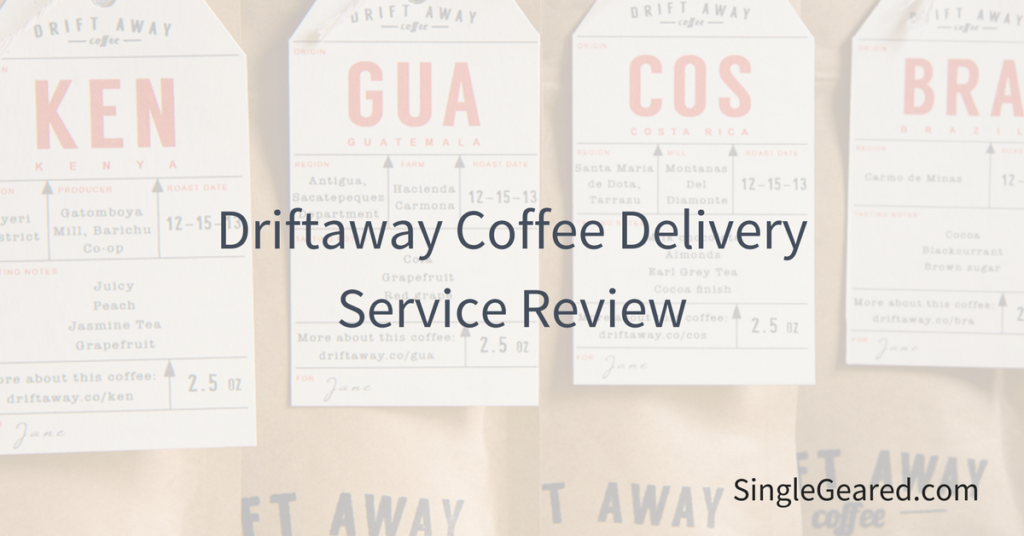 I discovered Driftaway about three years ago when we were living in San Francisco. San Francisco coffee, as you can imagine, is more expensive than Denver's. When I got laid off and had to provide all of my coffee (instead of just the first cup each day), I wanted to find an affordable solution where I could still have great coffee.






How Driftaway Works
Driftaway is so easy. It's freshly roasted coffee delivered to your door every two weeks or as often as you specify. There's no more of this "Oh shoot I forgot to get coffee at the grocery store" or "I was out of town so I wasn't able to go grocery shopping and now I have no coffee in the house!"
You might have a spare five year old can of Folgers in the pantry, but who really wants to make that?
Driftaway roasts their coffee fresh in their roastery in Brooklyn NY every Friday and sends it out. You get an email that your coffee is on the way: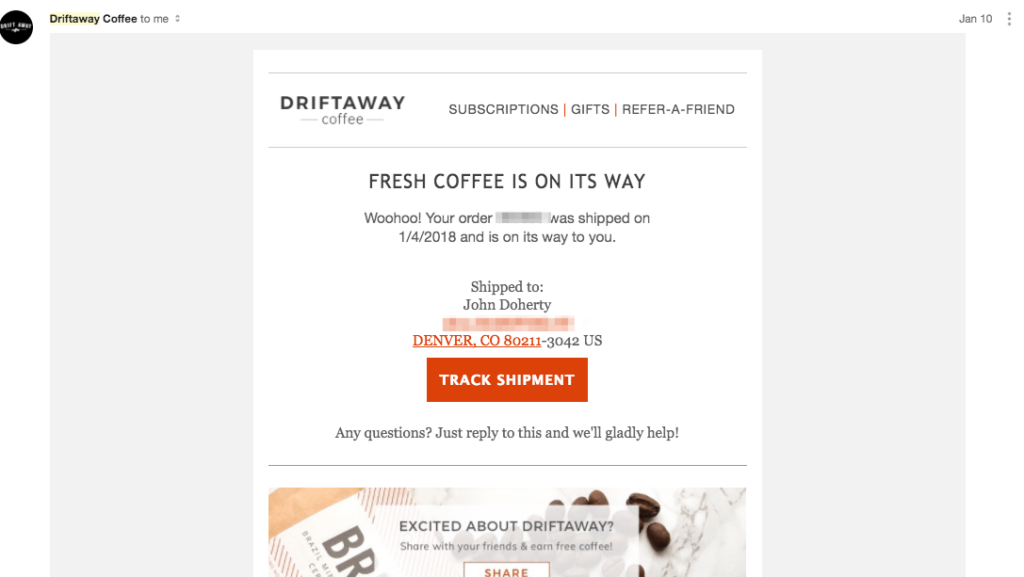 And then it arrives in the mail on Monday: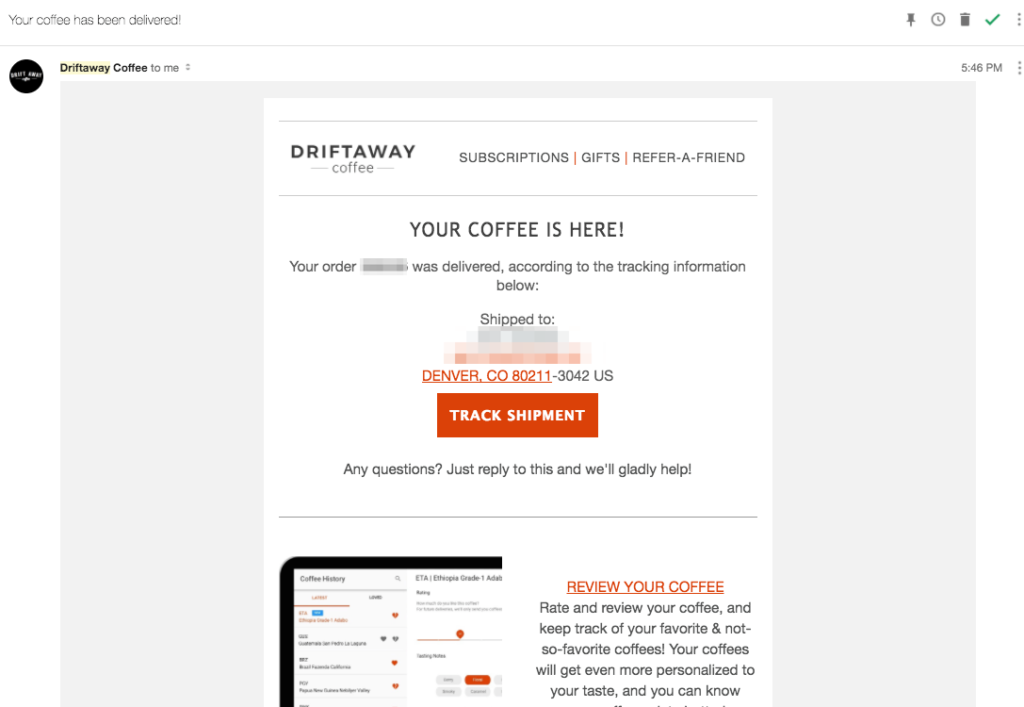 One of the features I love about Driftaway is that they include with every batch a postcard that tells the story of the grower. You hear their story and see their photo. While I wish there were more women profiled, this adds a human touch and reiterates that you're supporting small businesses.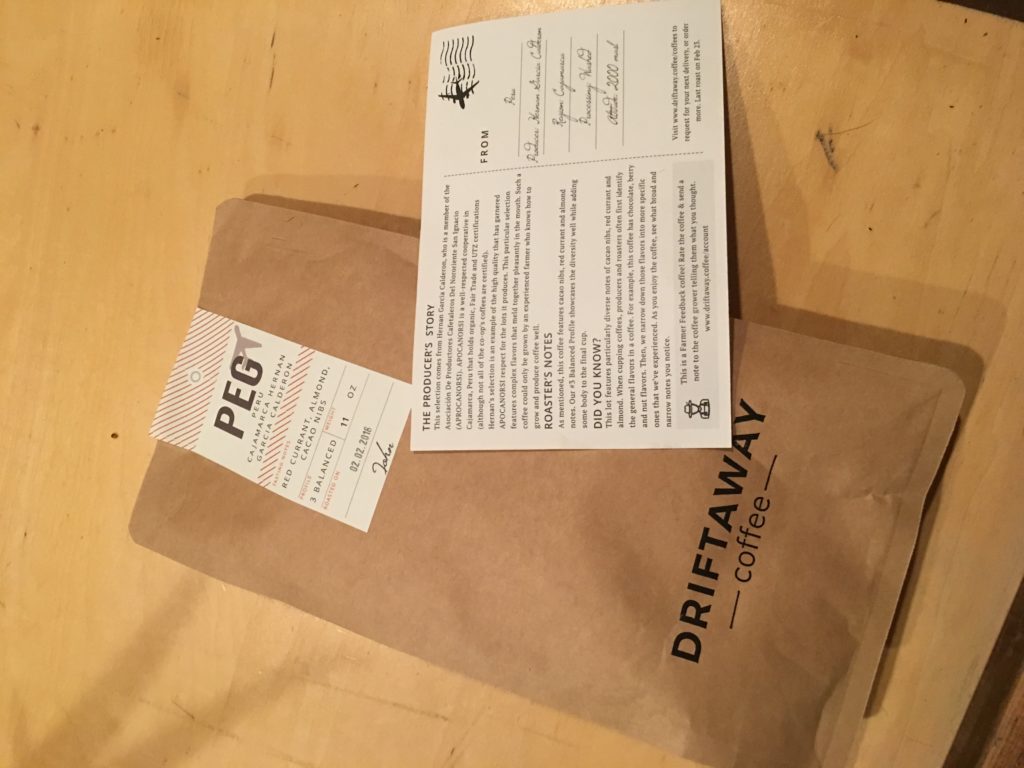 I should note that Driftaway does not grind the beans for you. They've publicly said that this is their most requested feature but they refuse to do it because then the coffee will not be as fresh and tasty for you at home.
Now that's principle.
Getting started
When you first sign up to Driftaway, they send you four samples from light to dark in order for you to set your flavor profile with them. You log into the Driftaway app and rate each one.
Every two weeks (or month if you select that option) they send you the type of coffee you rated highest whenever they ship you your shipment.
It's really that easy.
Driftaway Pricing
Compared to quality bulk coffee you get at the grocery store (we shop at Sprouts in Denver), Driftaway's pricing is very competitive, with the added bonus of having it delivered on a schedule without having to think about it.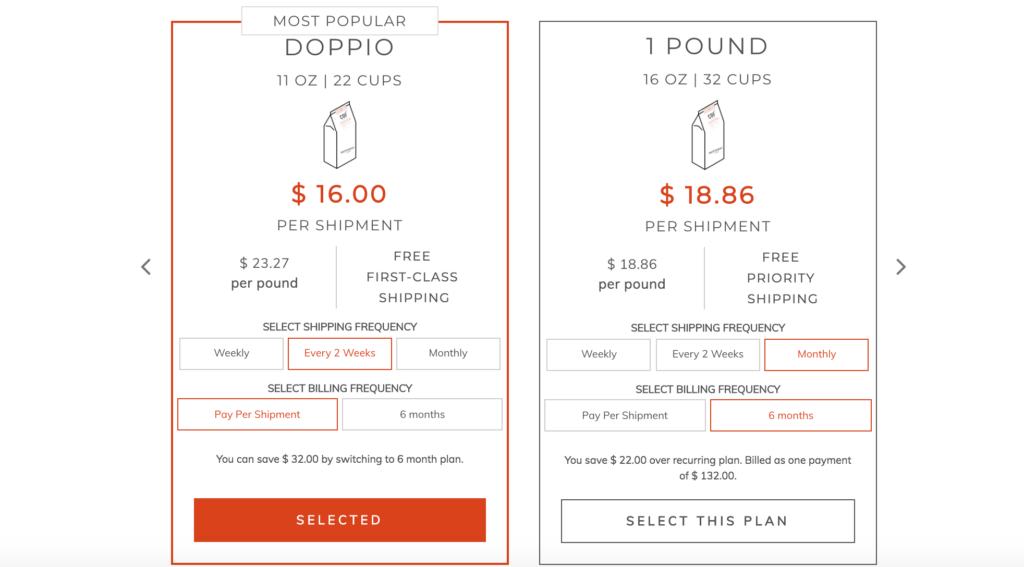 I used to be on a legacy $12 every two week plan for 8oz of coffee, but recently changed to the $16 every two weeks for 11oz as I've increased my coffee consumption and always take extra with us on outdoor adventures.
You can view their pricing here.
Does Single Geared recommend Driftaway?
I absolutely recommend Driftaway. When I started using them three years ago they did not have much technology built and you had to email them to delay an order. You can now do this through their app and skip shipments if you need to (such as if you'll be traveling for a while).
Monday Driftaway deliveries are something I look forward to every two weeks.
Single Geared is an advertising supported website and includes affiliate links. If you click on a product and purchase something from that website, we may be compensated. Learn about our advertising policies here.