Alex Honnold's Most Celebrated Free Solos
Alex Honnold is a beast. The climbing world knows it, and even if you're not a climber you know it because you saw him on 60 Minutes talking about free soloing.
What you might not know about Alex is that he is an extremely humble guy and not larger than life. Compare him with another legend of free soloing, the now-departed Dean Potter (rest in peace), and Alex is a physical mortal.
Here's me standing next to Dean and then standing next to Alex a few years later:
As you can tell, Alex is not larger than life. He's a normal sized guy (with a decent + ape index).
So what are his most celebrated free solos so far (as of November 2017)? They are:
Half Dome in Yosemite Valley, California. June 2017.
Moonlight Buttress, Zion National Park. April 2008.
El Potrero Chico, Mexico. January 2014.
University Wall, Squamish BC. September 2014.
Half Dome (California)
Alex's most recent free solo heard around the world was his June 2017 jaunt up El Capitan, the famed mountain in Yosemite Valley, California. If you've ever been to Yosemite, then you know that El Cap is a climber's mecca and is also an imposing face of beautiful rock. Most climbers take a few days to climb it, but Alex does it in a few hours (he also held the speed record on The Nose with Hans Florine until recently, when it was broken in October 2017).
Alex climbed Freerider, a 5.13 route, in 3 hours and 56 minutes and reportedly finished the final pitch "at a near run."
Here is ABC News's report on the climb:
Moonlight Buttress (Utah)
It's hard to believe that it's been almost a decade now, but Alex free solo'd Moonlight Buttress in Zion National Park in April 2008.
Moonlight Buttress, for those of you who do not know, is a 9 pitch 5.12+ 1,200 climb in Zion National Park in Utah. It's not just a climb, but it's basically a splitter crack all the way up. This means it's great rock where you can essentially lock in your hands as you climb. Crack climbing is a very different style from regular sport climbing, and once you learn it it's a fantastically freeing skill (I'm still working on my form personally).
Here is a 2min video of Moonlight Buttress in all its glory:
My first time ever seeing Moonlight Buttress was when Chris Sharma climbed it in an early Big Up Productions film, I think King Lines which also featured Es Pontas.
El Potrero Chico (Mexico)
One of the things I love about Alex's climbing is that he goes to super interesting places and on interesting expeditions. He loves to push himself to try new things, whether that's a previously un-solo'd big wall or some high alpinism like the Fitz Traverse with Tommy Caldwell.
One of Alex's big climbs that we can all look back at and see that he was training for The Nose was El Sendero Luminiso, which according to Outside Magazine is "a sustained 2,500-foot limestone big-wall route … in El Potrero Chico, Mexico. "
Here's a video of his climb:
University Wall (Squamish)
Alex's fourth major free solo is University Wall in Squamish BC which he climbed in September 2014. He had climbed University Wall with a partner many times before, so he was quite familiar with it before going free.
The great thing about the University Wall climb is that it came shortly after El Potrero Chico, which had a lot of camera coverage. The University Wall though was done with just his friend James Lucas around. No media, no cameras. Just Alex and the wall.
Here is a photo Alex took earlier in the summer of Cedar Wright as the two climbed it together (source):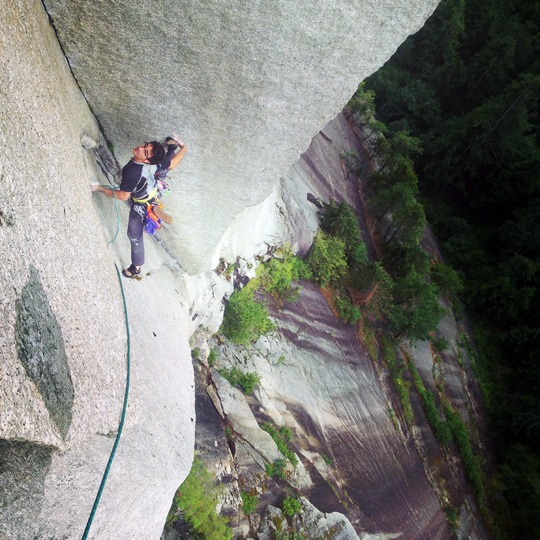 Single Geared is an advertising supported website and includes affiliate links. If you click on a product and purchase something from that website, we may be compensated. Learn about our advertising policies here.