How to build more mental toughness in outdoor sports
I went on a bike ride with a friend recently, the first one I've been on in way too long (at least five months). We rode outside of Morrison, Colorado which you may know as the town closest to the Red Rocks Amphitheater.
I only had a few hours to ride before it became incredibly hot and I had to be back to move my car before it got a ticket. So we set out and started up, and of course took the long way. All of it up.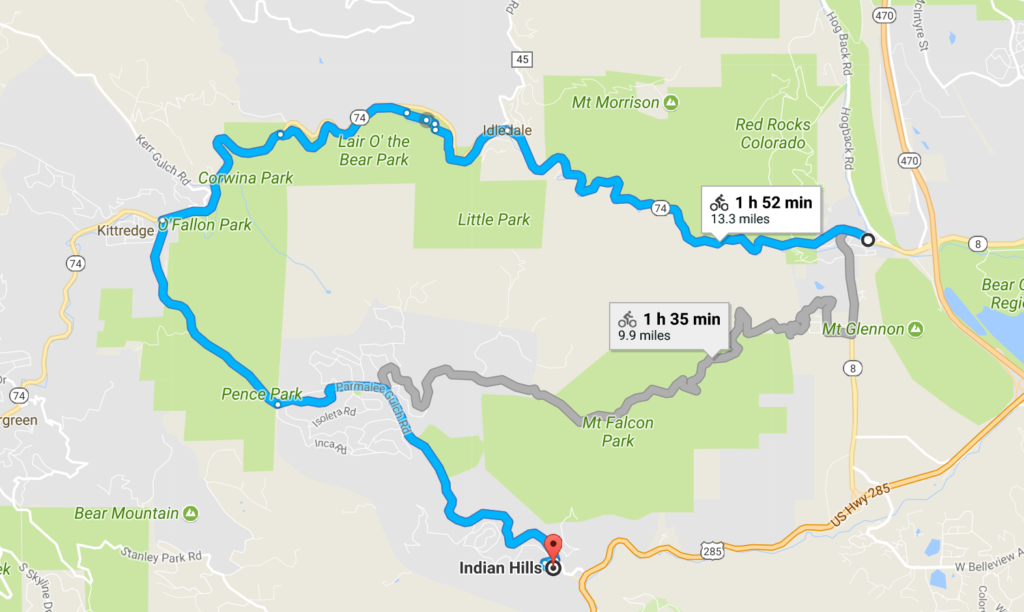 I was riding with a friend who is a much better cyclist than me and has also been more active than me over the last few months. We both moved to Denver since the beginning of this year so we are both still acclimating to the altitude, but that's no excuse. His lungs were hurting too.
I got to the top of the ride up to Indian Hills and decided to turn around. I made it back to my car with an hour to spare before my car needed to be moved.
I gave up.
I let myself down.
Why mental toughness matters in outdoors sports
When you're up in the mountains doing big things, sometimes your mentality coupled with your training is the only thing that keeps you alive.
Yes that's melodramatic for most weekend warriors, but it's also true. If you're not prepared for anything that comes your way, whether mental or physical, you're potentially going to have a bad time.
A group of people say that some people are more oriented towards mental toughness, but as I've observed top performers over the last number of years I've noticed a few things:
The most mentally tough people have trained themselves over years and years to push themselves further than others;
The most mentally tough have some sort of internal drive that pushes them to be better, very similar to Olympic athletes;
The most mentally tough began doing epic things young in life, encouraged by their parents.
They don't just train outdoors though in order to train their minds and bodies, though actually doing things leading up to the final thing you are training for is absolutely the best way to train.
Most of the top performers, though, train their mind specifically.
Jimmy Chin started training in martial arts when he was young, and has passed that on to his kids;
Alex Honnold has strategies he uses leading up to a big climb that help his mind get into the right frame of reference to be successful;
Laird Hamilton views life as an obstacle course, which prepares him for surfing some of the biggest waves in the world.
At the end of the day, you can push your body to its limits. You can train it to do amazing things, but those who do truly spectacular things are those who keep going when the weather turns or their legs start cramping early in a race or when a competitor elbows you illegally.
How to build mental toughness
Why should you take advice on building mental toughness from the guy who gave up today?
Great question. Maybe you shouldn't. I've definitely had better days than today, but I'm obviously still working on being more mentally tough than I currently am.
That said, there are many who have gone before us who can teach us.
Train your body
It's much easier to be strong mentally when your body is strong as well. If you want to be mentally tough in the outdoors, you need to remove any doubt from your mind that your body will be able to handle it.
I'm not a full time outdoorsman or even in the outdoors industry full time. I'm an entrepreneur, and I help businesses find a great marketing agency or consultant to work with. I vet everyone who comes onto my platform for quality of work so that businesses don't have to worry about quality.
Your body should be in the same place. Train it hard and consistently.
Start small with a goal in mind
Many of us are motivated by doing something big and epic some day, like climbing El Capitan in Yosemite, summiting Mont Blanc or Everest, or finishing a marathon or triathlon.
But to get up El Cap or Mont Blanc, you have to have some experience. You can hire a guide (and I'd likely recommend it), but if you want to finish then you need to be in shape.
If you want to climb El Cap, you need to do many things first:
Learn how to put on a climbing harness;
Learn how to belay someone else;
Climb a lot and learn proper technique to climb high grades;
Have enough money to hire a guide, or have a (really) good friend who will go with you;
There's a lot more there, but you get my drift.
You have to walk before you can run.
Learn to enjoy the process
A couple of years ago my wife and I started backcountry skiing. I grew up as an East Coast park rat skiing at a small resort in Virginia. I never really skied powder, except for a few days in West Virginia, until I lived in Switzerland in 2006/2008/2009-2010 and spent a few winters in the Alps.
I always enjoyed the down – I could ski fast and hard all day, but also enjoyed the fact that I could hop on a lift or in a gondola and be back at the top to run another lap.
Backcountry skiing is very different. You drive about as far to get to a backcountry spot as you do to get to a resort, but you also might get lost because there's no parking lot at the best places. You then put on your gear and hike for a long time, often up quite a bit, before you even get to ski. And depending on your legs and your training, you'll only get 1-3 runs in each day, alongside miles of walking/skinning.
I had to learn to enjoy the process, that getting up the mountain can be just as fun and teach you just as much as the down. I have come to appreciate my breath, to appreciate the beauty of moving slowly through the mountains, to appreciate the untouched powder it leads us to.
The process must be enjoyed before you can enjoy the accomplishment of your goal.
This may mean finding friends to do it with, picking a different goal (if you hate what you thought you wanted to do), and realizing that the best things often take a lot of time and patience.
Visualize the attack

Alex Honnold talked about this in his interview with Tim Ferriss:
"When I'm planning on doing something challenging, I spend the time sort of visualizing what the experience will feel like and what the individual sections of it will [feel like]."
Some people meditate, others do yoga, others go for a run. Whatever it takes you to get into that frame of mind to perform at your best, figure out what that is then make a habit of me.
For me, I like to listen to hard music to get me pumped before I get out. You find your way.
Find a mentor
Finally, the best way to get over wanting to give up or being scared is to find someone much more experienced than you to teach you the ropes (maybe even literally).
Similar to having your body in shape to overcome obstacles, your skills need to be up to standard. If you get up high and you have to think through the steps to tie into the anchor safely, you're likely not ready. Practice on the ground while learning from others before you get into a bad situation.
A mentor doesn't have to be someone older than you, but simply someone more experienced than you in the specific thing you are trying to learn.
Many people ask how to find a mentor, but it's actually not that hard. Go to the places where the people who could mentor you hang out. Rock gym, bike shops, mountaineering shops, ski towns.
Be around the type of person you want to become.
Single Geared is an advertising supported website and includes affiliate links. If you click on a product and purchase something from that website, we may be compensated. Learn about our advertising policies here.