2017 Holiday Gift Guide for Outdoors Enthusiasts
Heyo, time for the holidays! If you're trying to shop for a family member or friend like me (hint hint) who loves the outdoors, you may not have a clue what we want. This guide is for you.
We can be pretty hard to shop for, we know. And the quality stuff we love doesn't come cheap usually. But we don't want you to break the bank either!
The good news is that we always need more gear, even if we don't actually need more gear or have space to store it.
So here are our top 10 gifts for outdoors enthusiasts.
Top 10 gifts for outdoors enthusiasts
Nalgene/water bottle (Nalgene/HydroFlask)
Every outdoors person needs to stay hydrated. You might think that they have enough Nalgenes and water bottles, but the truth is we never think we have enough and are always grateful for another.
You get a two-for-one idea here because you can go the more classic route of a Nalgene (BPA free, basically indestructible) or with the new hotness HydroFlask which can be used both for water and for hot liquids.
If you want to go the classic Nalgene route, we recommend the wide mouth classic Tritan Nalgene. Go with the wide mouth instead of the small mouth if your person really is hardcore into the outdoors. The reasoning for this (and trust me because I own a small mouth Nalgene and never use it because it ices up easier in winter and water filtration systems do not work with it. Also, I do not recommend going cheap and getting something like the Camelbak water bottle because they break easier and will not be used as much.
If you want to go a bit fancier and get your person something that both takes cold and hot liquids, go for the HydroFlask. It keeps cold water ice cold all day and hot liquids hot even in the coldest of conditions. The HydroFlask is closer aligned to a Sigg bottle (Swiss made) and may dent, but they are incredibly hard to break as well.
Pocket Rocket (MSR)
If someone on your list is big into backpacking, one of the greatest pieces of gear you could get them is the MSR Pocket Rocket 2 stove. This little stove is incredibly light, coming in at just .4 pounds (seriously) and costing $40.
I have the version before the 2 and it is literally one of my favorite pieces of gear that I own. It's so easy to just throw in, attaches onto any backpacking fuel canister, and is foolproof to use.
Travel toiletries canister (The North Face)
Every traveler or outdoors person needs a good way to keep track of their toiletries. And if they are truly into the outdoors and hardcore about it, they probably have a duffel from The North Face, which is basically indestructible.
If you don't have $100 to drop on a Basecamp duffel from The North Face, consider the next best thing – a toiletry bag that looks like their duffel and is just as indestructible!
This little bag is $33.95 from Moosejaw and can hang in the bathroom or fit easily into a backpack.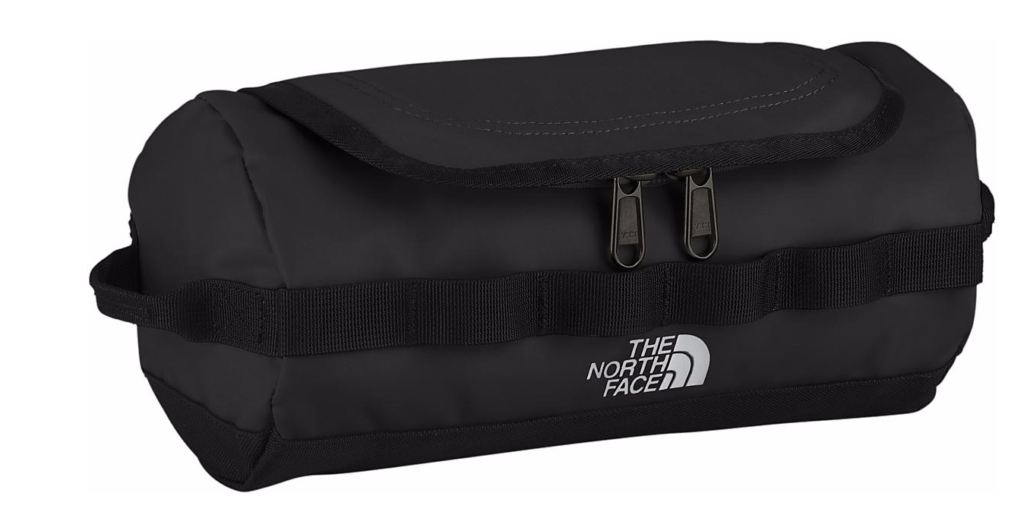 Flask (Stanley)
For the adventure lover who is also a whiskey lover (you might be surprised how often those two overlap), one of the best gifts you can buy is a flask. My favorite is the Stanley hip flask, which holds 8oz of your favorite spirits. It's a sure winner for those days after a long hike on the trail or for when you're changing from ski mode to going to dinner mode after a day out skiing.
Always drink responsibly!
Travel mug (Yeti)
According to the description, this 14oz Rambler mug from Yeti is "the toughest, most over-engineered camp mug out there" and it's true, which is part of what makes this mug so awesome.
It's made for larger hands, has a handle, is machine washable, has a double vacuum seal to keep cold things cold and hot things hot, and will retain its bright colors because of its Duracoat coating.
It sells for $24.99, so it's a great deal!
Sub7 Hammock (Eno)
Hammocks are hot right now, and if someone on your list is a big backpacker who loves to pack light, one of the best gifts you can give them is the Eno Sub7 Hammock. You can read our full review here,  but the too long, didn't read version is that this hammock is light, packs down small, and is fantastically comfortable after a day of hiking and setting up camp, or just lounging between some trees in your back yard.
The Eno Sub7 hammock retails for around $59, though you can find deals.
Cooler (Yeti)
This is by far the most expensive gift on this list, but if you buy it for your loved one then you'll be the favorite parent/sibling/spouse/aunt/uncle for at least the next year.
In fact, this is the gift that I personally want the most off this entire list. Ignore the fact that I have most of the other things here already!
It's around $300, but has all of these qualities:
The YETI Hopper 30 is the first 100% leakproof, portable cooler that's built for the long haul and can keep ice for days

Features a DryHide Shell that is puncture resistant so it will stand up to an abundance of abuse in the field

HydroLok Zipper (a design borrowed from HazMat suits) is completely leakproof, eliminating spills and locking in cold

The Hopper 30 can hold 24 cans (with the suggested 2:1 ice-to-contents ratio), six footlong subs, or four tubs of ice cream

The Hopper 30 dimensions are 22 ½ in long x 12 in wide x 16 ½ in high with an empty weight of 6 lbs
Trucker hat (Patagonia)
Everyone going outdoors needs a good hat, and this is one of the most popular. If your person doesn't have this hat already, then they'll definitely appreciate it.
Patagonia's hats have become ubiquitous in the outdoors over the last few years because they look good, they fit well, they wear well, and well, it's Patagucci.
Headlamp (Petzl)
If your person is just getting into the outdoors and you're looking for an affordable yet uber reliable headlamp to buy them, you can't go wrong with the Petzl Tikka Headlamp.
In fact, this is the headlamp that my wife has had for years and has been fantastic for her through trips through Alaska, Glacier National Park, the Sierras, the Rockies, and more.
Swiss Army Knife (Victorinox)
Any serious outdoors person needs two knives, a lockblade single knife and a Swiss Army Knife. After living in Switzerland for two years and owning multiple Swiss Army Knives through the years, I can tell you that this is a must-have whether you are backpacking, fishing, building a fire, or just opening a bottle of wine at a picnic. You'll never be without a wine opener!
The Victorinox Sportsman Swiss Army Knife is the right knife for almost any occasion as it has a large knife, a flathead screw driver, wine key, hole punch, and a bottle opener. There are bigger Swiss Army Knives from Victorinox of course, but this is the classic and you really don't need more especially if you already have a multitool.
Single Geared is an advertising supported website and includes affiliate links. If you click on a product and purchase something from that website, we may be compensated. Learn about our advertising policies here.