Eno Sub7 Hammock Review
Hammocks are hot. If you love the outdoors you probably own one, and if you don't then you are jealous of all your friends who own them.
Look no further. I own the Eno Sub7 hammock and absolutely love it.
Here's my review.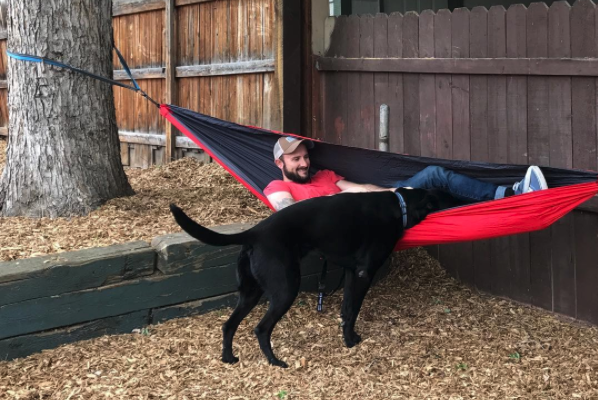 Durability
I've had the ENO Sub7 Hammock for 2 years now and taken it on multiple adventures. Thus far, I've had zero issues with it falling apart even though the carabiners on the end are a heavy plastic instead of metal. Plastic isn't necessarily lighter than metal, but it is cheaper which helps keep the initial cost of the product down.
If you're concerned about these carabiners, then I'd recommend you pick up some lightweight yet cheap carabiners like these over at Backcountry.
Just remember: if you are using carabiners in a way that puts stress on them, such as with a hammock or a slackline, then you should not use them for rock climbing as their integrity for rock climbing could be compromised. They're fine to use for something like hammocking or slacklining because you're not literally putting your life in their hands.
Be safe!
Packability
The ENO Sub7 hammock comes with its own pack bag attached to the hammock, so you never lose it. It packs down small enough to fit into a day pack, though it plus the slings you have to carry and that six pack you want to enjoy at your destination will take up a fair amount of space.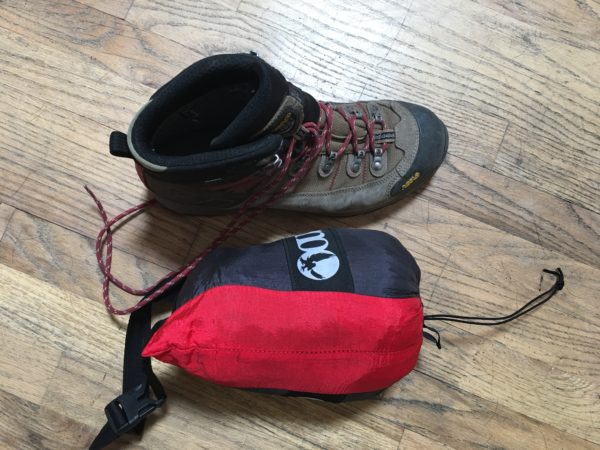 Next to a size 10.5 hiking boot for perspective.
How to set it up
To set it up, you'll need a few things:
2-3 Slings;
Two trees or solid anchors;
Setting up your hammock is quite simple:
Find your two trees or anchor points;
Attach a sling (or two together) to each side of the hammock;
Throw one sling around the tree and attach back into the carabiner;
Do the same on the other side;
Enjoy
Photos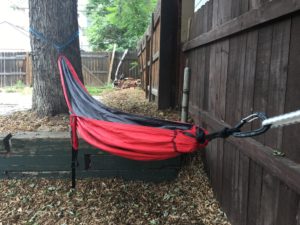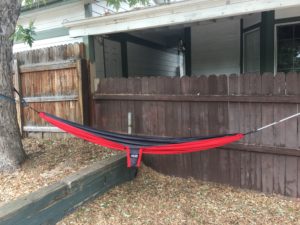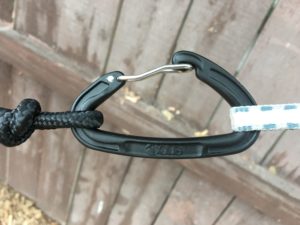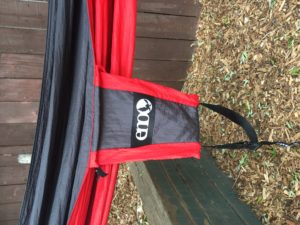 Details
Aluminum wiregate carabiners included
Item #EGN000V
Weight: 6.5 ounces
Price
The ENO Sub7 Hammock can be found for $59.95 at Amazon, and occasionally will be on sale elsewhere as well.
ENO Sub7 Hammock
Average rating:
0 reviews
Single Geared is an advertising supported website and includes affiliate links. If you click on a product and purchase something from that website, we may be compensated. Learn about our advertising policies here.