Berthoud Pass Hidden Knoll X Bowls Spring Skiing – Trip Report
It has been a while since I wrote a trip report on this site, mostly because I've been battling a herniated L5/S1 disc in my back since February of 2018. I've had steroids, Prednisone, MRIs, and physical therapy all over the last few months as I've tried to feel better so that I can get back out into the mountains.
Over the last month or so as I've begun seeing a very good physical therapist regularly, I've been able to move with almost no pain and have gradually been able to increase my activity again. And today, I was able to go skiing.
Yes, it's the beginning of June but Wife and I decided to head up over Berthoud Pass to ski a line that we scoped a week ago while hiking up there with a friend.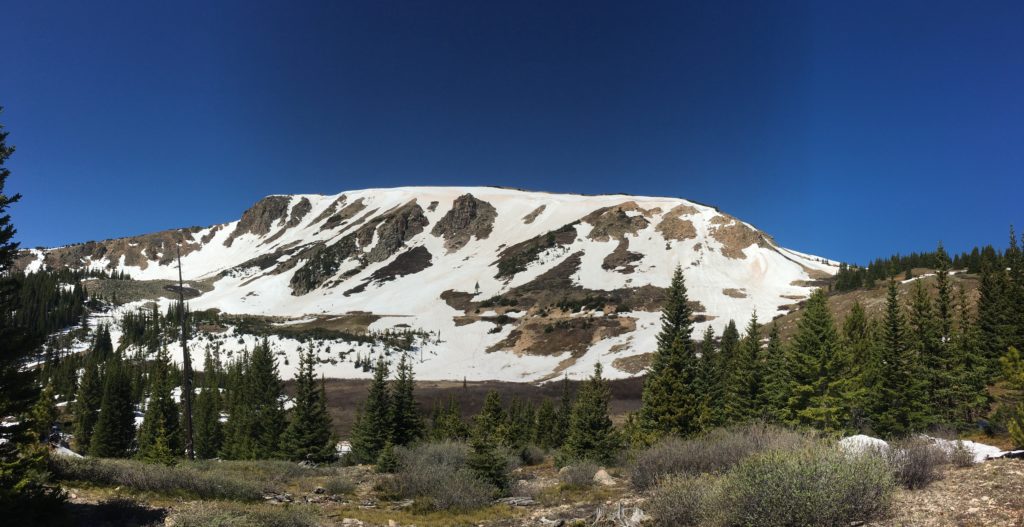 This area is called Hidden Knoll because it's hidden from view until you're almost a mile up the trail and to the Broome Hut, part of the 10th Mountain Huts system.
As you look at the image above, we wanted to hit the 4th skiable area from the left which is apparently called the X Bowls (info on all the chutes and bowls here). To its left is Z Chute and to its right is Moonlight Bowl.
How to access
Since it's the beginning of June and we've had many warm days already in Colorado this year, things are a bit melty. Thus, we put our skis on our packs and hiked up to the Broome Hut. then on around the right side and put on our skins about 200 meters up the trail.
After picking our way through some brush, we began to skin up the right side. There is a huge bowl back there that all seems skiable, though I am sure is likely to slide in the deep of winter when the snow has been strong. The aspect is not super steep, but it's completely wide open and I've heard that the whole bowl will slide from time to time. Best avoided in those conditions of course!
We began to skin up but quickly reached a relatively steep (25 degree-ish) slope, and with the slushy snow we were sliding all over. Both of us caught some loose snow and started to slide, so we decided to take off our skis and bootpack up to the backside of the ridge where we were able to put back on our skis.
Dropping In and Skiing
I forgot to take any photos at the top, but it's a bit gnarly to get into the bowl and the chutes if you don't know where you are going.
From the top, we saw the big rock outcropping in the middle of the photo above. That was our guiding point.
I took the lead and skied down to the back of that, then to skier's left to work around the cornice and into the bowl. From there, it was blissful spring corn skiing conditions all the way down.
There have been some very real melt/freeze cycles occurring, so the snow nearer to the Ditch was a bit choppier and required some picking through lest you hit an unexpected mound of snow and lose everything.
Photos




Here's an illustrated and labeled map of the area, thanks to Front Range Skimo: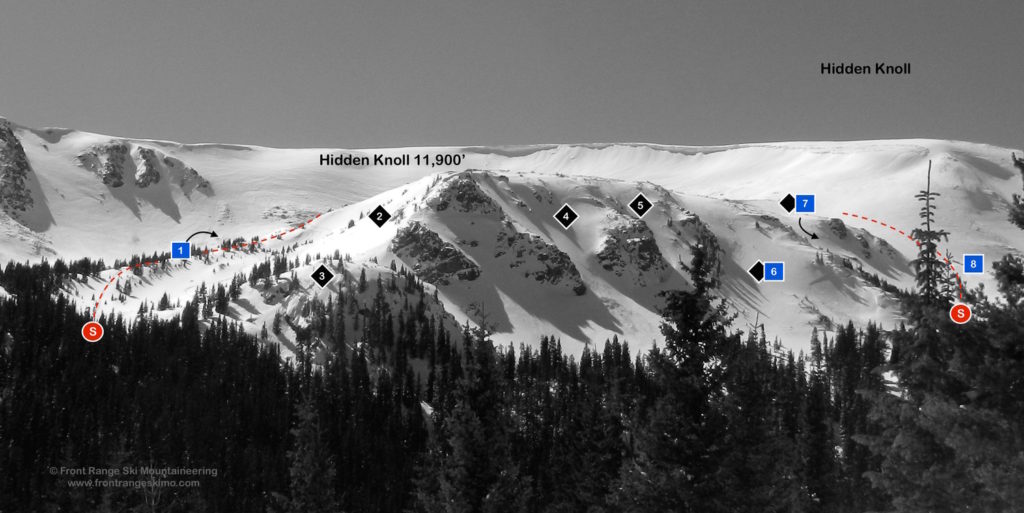 It was a great day out, great to be back on skis, and the weather was perfect.
I highly recommend the X Bowls, and next time I want to try Z chute and some of the others.
Single Geared is an advertising supported website and includes affiliate links. If you click on a product and purchase something from that website, we may be compensated. Learn about our advertising policies here.