How to layer properly in the backcountry
I have always had a passion for the outdoors. Ever since I was small, I loved being outside, exploring every nook and cranny of the woods behind my house or getting lost in the backwoods of Little Creek, VA with my twin brother and best friends. That passion boiled over into my college years where I studied Parks, Recreation, and Tourism as Radford University. With classes having names like "Outdoor living skills", I knew I was in the right spot.
Unfortunately, I learned very quickly that my understanding of the outdoors was not nearly what I thought it was. Our final for one of our classes included a weekend backpacking trip through the Appalachian Mountains and I was not prepared at all gear wise. I turned in my gear list to my professor who had a nice laugh at what I thought was a pretty decent list of clothing and equipment. That weekend I learned that Carhartt pants, and cotton layers were not designed to keep you warm, dry, or happy. The same goes for steel toed "hiking" boots. Outdoor enthusiast please don't judge my once ignorant self.
From that point forward, I have been very picky about how I layer up for different situations in the wilderness.
I guided backpacking trips in Colorado for 2 years in Rocky Mountain National Park and the surrounding areas, and because of some of the things I learned from that trip, not only was I able endure more extreme situations, but enjoy and be present as a guide during adverse conditions. What I am going to cover in this post is what I like to refer to as "the system", and some of the suggestions I have shared with others to keep them warm, dry, and happy while adventuring in the wilderness.
This system applies to any outdoor activity!
Basic Overview:
When I talk about "The System", I am referring to the basic principle of layering your clothing so that you can stay regulated while in the backcountry. The easiest way to explain it is as follows:
Base Layer (wicking: synthetic, wool, etc.)
Mid Layer (Insulating: fleece, down, synthetic)
Shell (wind/waterproof)
The combination of these different types of layers will depend on the type of activity you are engaging in and how your body naturally regulates itself.
For example; when I am carrying a 60+ pound pack and covering 10+ miles, in around 20 degree temps I would be in moisture wicking base layers, a synthetic long sleeve top, and shorts. The amount of heat my body produced during stretches was so much that I would end up sweating very quickly, that would have increased the potential for hypothermia and I am not about that life.
On warmer days where I am in the sun all day long; thin, wicking layers are essential.
Here are some examples of base layers and some of my recommendations:
Base Layers
This layer is possibly the most important in the system. It's your first line of defense for wicking moisture in both hot and cold situations. Keeping moisture off your skin is key with this layer. Ideal fabrics include wool and fleece.
Some of my go to items have been the Ex Officio Give-N-Go Boxer brief, or the Patagonia Capilene Lightweight Performance boxers for down low.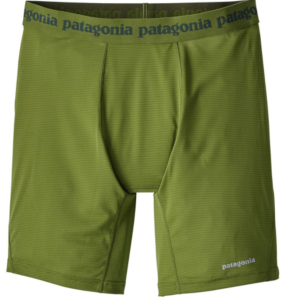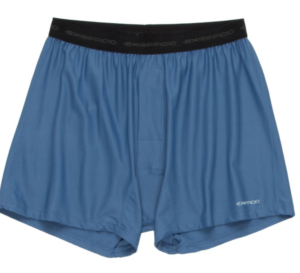 I have a couple of preferences for my tops as well. I have a couple of Nike Dry-fit t-shirts that I alternate between and if I need a long sleeve layer I love the Patagonia R-1 (which can double as a mid-layer depending on the situation) and the Smartwool Merino 250 Baselayer ¼-zip.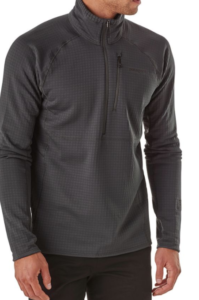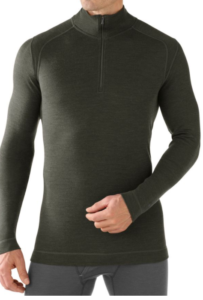 The reason you want to stay away from cotton as your first layer is that it actually soaks up moisture, takes significantly longer to dry, and has no insulating properties. A nice cotton shirt may be comfortable and breathable but when you need to keep your body regulated in hot or cold situations, then cotton is not the ticket here.
Mid Layers
Mid layers tend to be the most popular in the line-up. A good mid-layer can be used in many different situations from every day use to the backcountry. The idea here is insulation. You want to trap in as much body heat as possible and a nice down or synthetic/polyfill jacket or vest will do the trick here. There are pros and cons to both, but I prefer down for warmth, less weight, and comfortability. We will be adding some reviews in the future on the differences between the two!
I have had the Patagonia Men's Down Sweater for about 2 years and this is my favorite coat I own. It keeps me warm in a vast range of temperatures; it's light, and it looks damn good. I have also had the Patagonia Down Sweater Vest for about 5 years now and I honestly wear this as soon from fall to spring. These are two of the best layers I own by far. Some companies that offer some incredible (and ethically made) down options are Patagonia, Marmot, Rab, The North Face, and Arcteryx
Some good synthetic down options are the:

Shells
If you are in the elements for an entire day or longer, you are going to want to consider a shell. This Is your outer layer that is going to protect you from the elements and is going to lock in your body heat. Mostly found in winter sports, there are a number of different types of shells like a rain coat, soft shells, parkas, and even "hard"/storm shells. These are not typically as breathable as a mid or base layer, and your go to items are going to include a combination of waterproof and wind stopping capabilities. I typically have something like this readily available in my pack while backpacking or when fly fishing in not so ideal weather. Or its my outermost layer when snowboarding.
Here are examples of some of the best shells out right now:

Conclusion
If you follow these simple guidelines, I promise you will stay warmer, dryer, and much happier in the backcountry. Obviously you will want to adapt these principles to whatever situation you are in, but this is a tried and true system that will not fail you!
Single Geared is an advertising supported website and includes affiliate links. If you click on a product and purchase something from that website, we may be compensated. Learn about our advertising policies here.