Ultimate Guide to Buying Ski Goggles
If you're heading out for a day skiing or snowboarding in the mountains, you need a good pair of goggles to protect your eyes and help you see well throughout the day.
This article is for those of you who are just getting into skiing/snowboarding and don't know where to start with buying a good pair of goggles. Maybe you've had a cheap pair that you bought at the ski shop before you went the first time, but now you've realized that those don't cut it for more serious escapades into the mountains. Plus, you want to look a bit cooler than Jerry: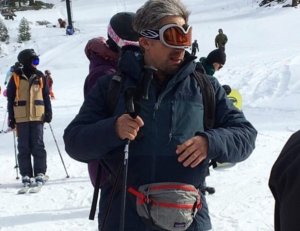 If you're looking to buy a great pair of ski goggles, you need to:
Take into account your needs (low light, sun, powder);
Learn more about lens types;
Find one that fits your helmet;
Decide on your budget;
Find the style you like;
Buy one that Single Geared recommends!
Your needs
The first thing you need to do before you start shopping is to think about the type of weather you will most often be enjoying the outdoors in.
If you ski on the East Coast, then you will likely experience variable weather including types of sky (overcast and sunny) and temperature (warm to bitterly cold).
If you ski in the Rockies (where Single Geared is based) and on west to the Uintas of Utah and Sierras of California, you'll be at altitude and likely have more clear than overcast days but can occasionally deal with flat light as well.
We should note that no one pair of goggles or lenses will be perfect for every day and every type of light. Some days, such as flat light days, you would probably be better off staying inside near a warm fire and waiting for better weather. But if you are on your only trip of the year and already paid for that day, there are some ways to get around it.
Lens colors
There are many different types of lenses and colors to choose from that you are probably overwhelmed. I know I was when I first started skiing, and I still am to this day. Buying new ski goggles is one of the hardest things I do every few seasons.
If you are looking to buy a pair of higher-end ski goggles, you should keep in mind that many of them have interchangeable lenses. This means that you can buy extra lenses in different shades and colors so that you can swap them out depending on the weather of the day.
Here are the lens colors you should use depending on the type of light you are in.
Sunny – black/dark grey or brown
Flat light – clear or yellow or pink (pink also works in medium light)
Overcast – amber/orange lenses (come stock on most goggles as they are the most versatile)
Snowing – green (to enhance details)
Fits your helmet
If you ski/ride with a helmet (AND YOU SHOULD), then you need to find a pair of goggles that fits your helmet well. Most helmets come with a clasp on the back that keeps your goggles on your helmet in the event that you yard sale across the slope.
There's no better way to look like a beginner than being what is commonly called a "gaper", where your goggles and helmet (or beanie, which also shows you're not a serious skier) have a huge gap between them: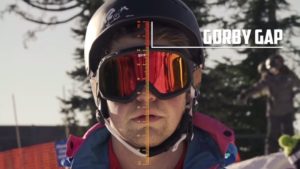 Budget
Snow goggles can run you anywhere from $20 to over $500. You can even buy a pair of ski goggles from Gucci (UK).
Most high-end ski goggles that will last you many seasons, such as Oakleys and Spys, are in the $100-$200 range with some on both the low and high end.
Think of goggles as an investment, not an expense. If you take care of them, they'll last you for many many seasons.
Style
Goggle styles change from year to year, as every product does, but in 2017/2018 the style seems to be no edges around the lenses, which helps with field of vision improvements: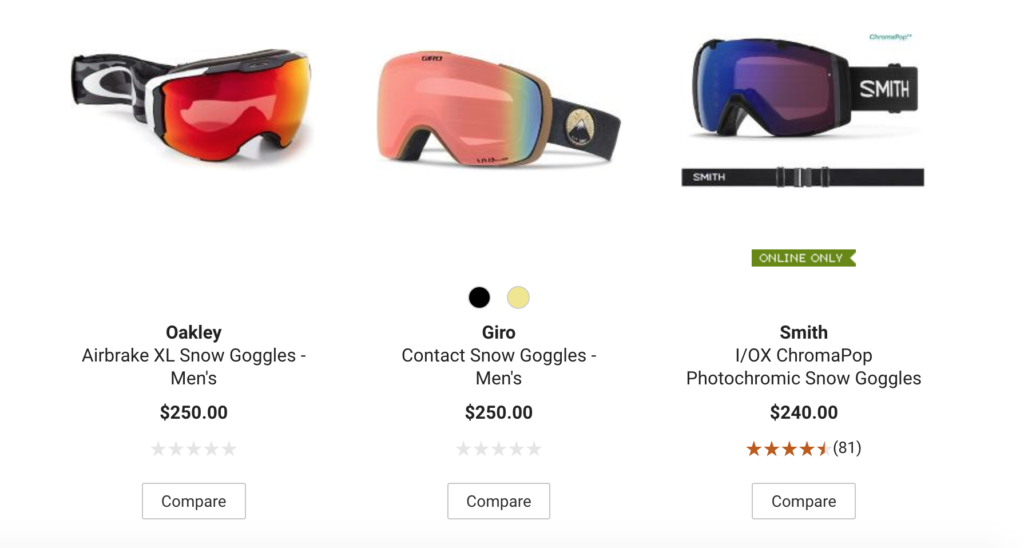 There are some iconic styles though, like the Oakley A-Frame, that stay in style year after year and won't break the bank (they're around $120):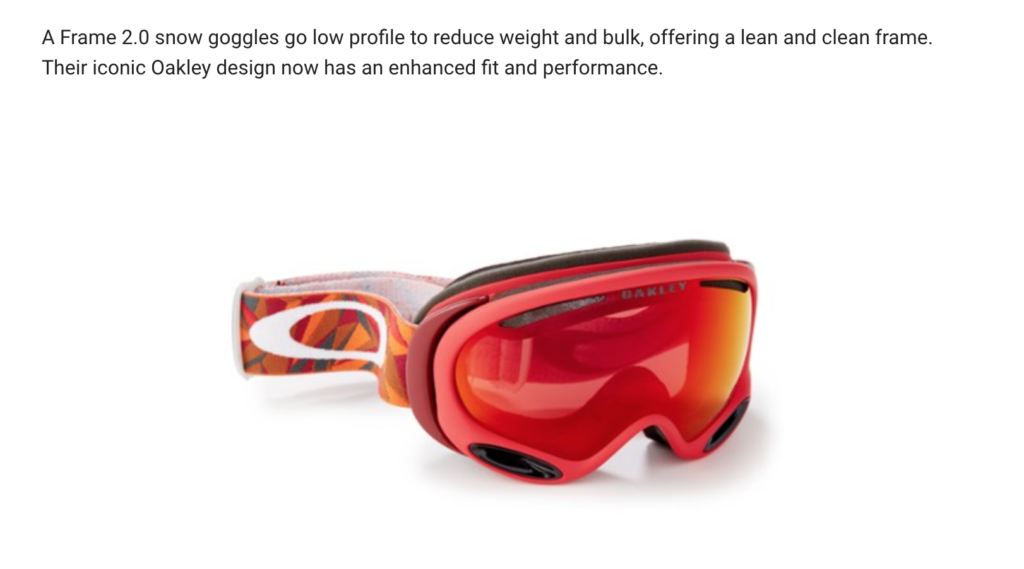 Single Geared recommends…
If you're ready to buy your first pair of ski goggles, or upgrade your current set because they are showing their age, these are the goggles we recommend based on type of light (style is a personal choice).
Best goggles for sunny days
Our pick for the best pair of goggles for sunny days is the Smith I/O goggles. They have easily interchangeable lenses but their stock lenses are great for sunny days.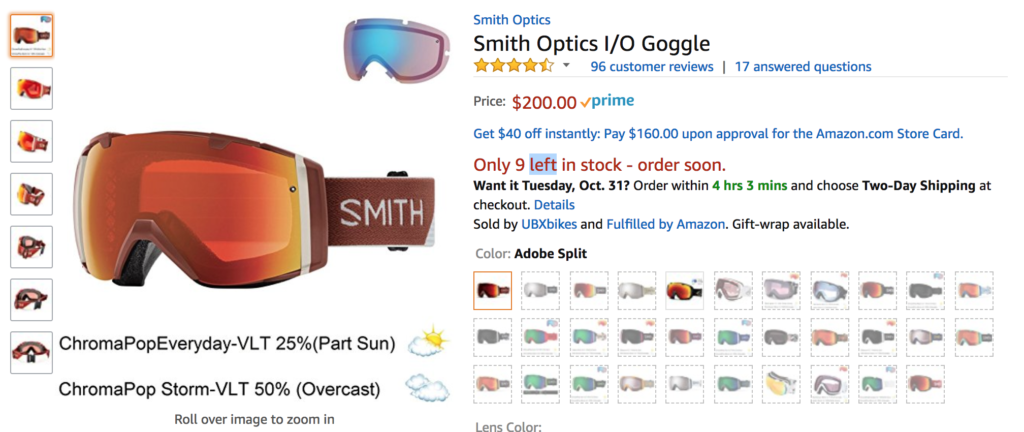 Best goggles for flat light
Our choice for flat light days (remember: yellow lenses) is the classic Oakley A-frame 2.0 goggle. It's been around for a long time and has so many interchangeable lenses, you simply can't go wrong.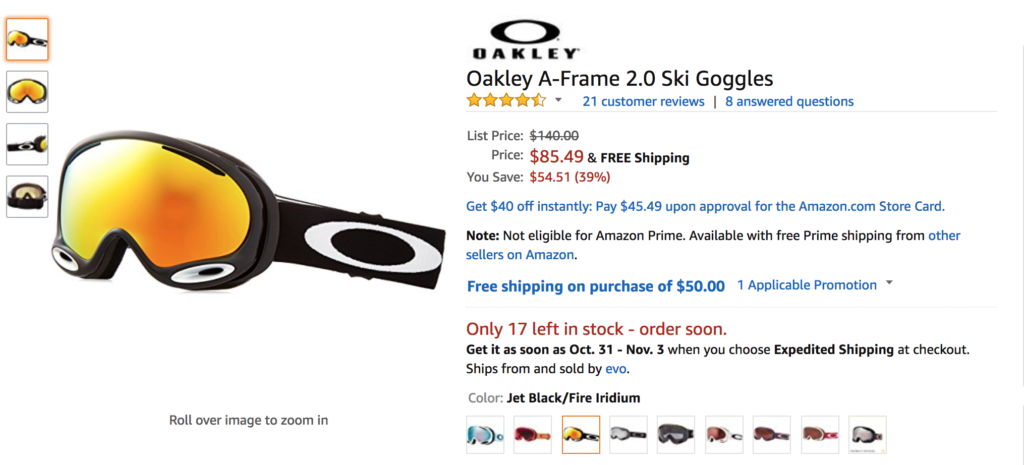 Best goggles for overcast weather
Our choice for the overcast days we all invariably must endure is split. We recommend either the Dragon D1 OTG or the Electric EG2 goggles, depending on your price point sensitivity.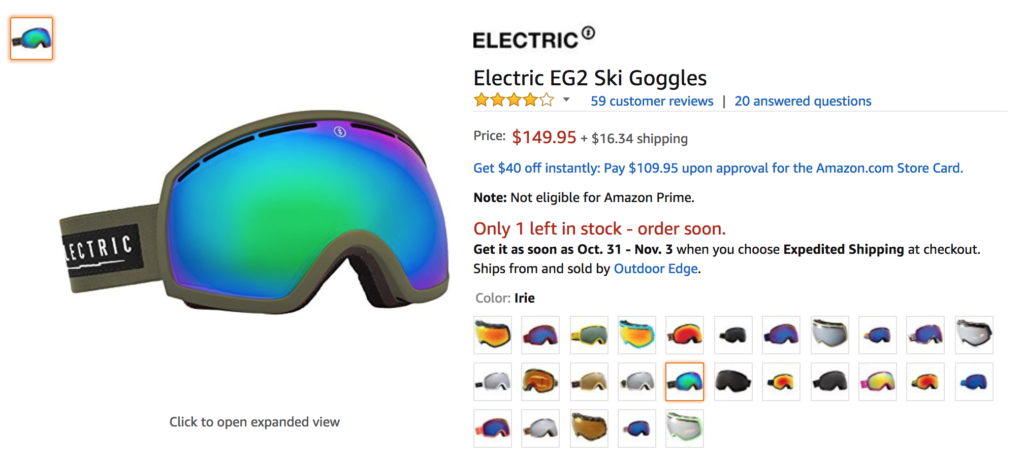 Best goggles for snowy days
Our choice for the best snowy day goggles is the Smith I/OX goggles with blue lenses. Yes, they are very similar to the sunny day goggles, except with different lenses. They're just an amazing goggle!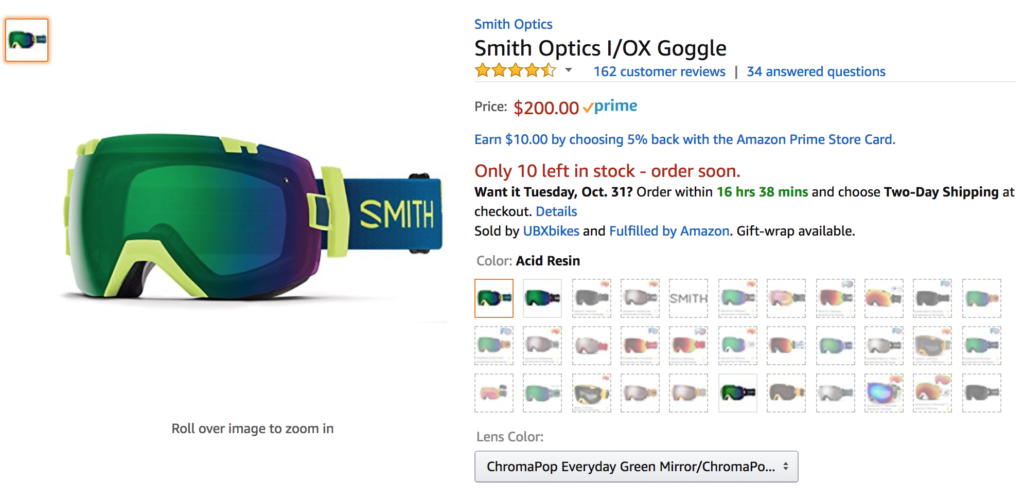 ---
Happy shopping! We'd love to hear what you're riding this year.
Single Geared is an advertising supported website and includes affiliate links. If you click on a product and purchase something from that website, we may be compensated. Learn about our advertising policies here.