Redington Prowler Fly Fishing Boot Review
So, in the world of fly fishing there are so many pieces of gear to consider from your rod set up, fly selection, waders, carrying systems, etc. One of the most important pieces of gear you need to consider is your footwear. You are going to be on your feet for longer than you expect, and in most situations, you are going to have at least a minimal hike either to the river, or going to and from your secret spot that no one knows about. Once I became a guide, the first two items my mentor told me to invest in were my waders and boots. I looked at many different options from Simms, Patagonia, Korkers, amongst others but I really liked what Redington had to offer.
The Prowler boots offer excellent performance and capability for a great price. Fun fact: a lot of guides here in Colorado consider the Prowler Boot a "go to," for both themselves and their clients. One of the things that I learned in my years as a backpacking guide was to protect your feet. Those boots need to keep your feet dry, warm, and eliminate as much pain as possible. The Prowler boot does all of that and they look badass as well.
Overview
There are so many great things I could say about these boots. I will start with how incredibly comfortable they are. They are lightweight, durable, grippy, and keep my feet nice and toasty. One of the things I like most is how lite they are. My last boots were clunky and heavy and did not drain well.
These do everything those did not do, and because of that, I don't feel like I'm dragging around sopping wet bags on my feet. They have a wider sole than your average fly fishing boot and their super grippy walnut leather keeps you confident when wading across slippery rocks. I have never felt unsure of my footing with these on. They are stud compatible, and come with a felt option as well if you feel like you need that extra grip.
They also dry incredibly well. The synthetic material on the outer layer and the mesh interior are a perfect combo for drainage and breathability. The Redington site says, "these boots are built for long days in any river condition imaginable" I agree whole heartedly. They come in at around $150 so they are a great price point for a top tier offering from Redington!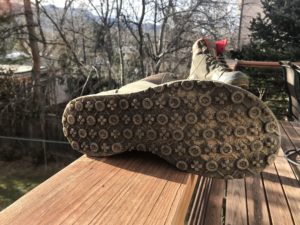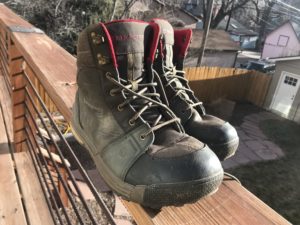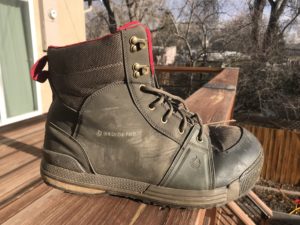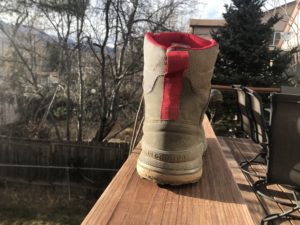 Comfort
Super comfy. The Polyurethane midsole is designed to be lightweight and comfortable. Honestly, they feel like my running shoes. I have no problem having these babies on my feet all day long. Other boots have left my back and knees sore at the end of the day, even after a half day, but with these I rarely feel that sort of pain. The padded ankle support is nice as well.
Durability
The synthetic upper and molded rubber overlays throughout really up the strength of these boots. I ripped the side out of my old boots just by slipping off a rock and caught them on a sharp edge. That tear was on the side right behind my toe and I was pleasantly surprised to see some extra reinforcement right in that same spot.  Toughness of your boots is essential especially when you need to put them through the paces as a guide. In my opinion, if your feet are happy, then you can enjoy nettin' piggies much more!
Style
These are the best-looking boots I have seen in a while. Now let's be honest, most of us consider on some level how cool we look with our gear set up, and these take the cake. Their modern styling really stands out among other options out there right now. They also look badass when paired with any of Redington's two toned waders as well.
Redington Official description:
The new men's Prowler Wading Boots are our premier wading boot offering. They offer exceptional performance and durability in a fresh, modern aesthetic. With molded rubber rands, wide soles, and quick-drying and quick-draining synthetic materials, these boots are built for long days in any river condition imaginable.
Molded rubber overlays for durability
Molded Polyurethane midsole, strong yet lightweight
Wide sole- expanded surface sole for stability
Padded collar for ankle support
Mesh lined interior and drain holes for quick drainage
Molded, non-corrosive metal hardware
Available in both sticky walnut rubber and felt sole options
Stud compatible
Approximate size 10 weight: 3.3lbs/52.8oz
Would Single Geared recommend the Redington Prowler boot?
On many levels yes. If someone asked me the best boots to buy I would point them in the direction of the Redington Prowler boots.
Not only are they at a great price point; they are the perfect addition to your set up and will last you a really long time and keep those feet happy in the process.
Single Geared is an advertising supported website and includes affiliate links. If you click on a product and purchase something from that website, we may be compensated. Learn about our advertising policies here.