Meru Documentary Film Trailer with Jimmy Chin, Conrad Anker, Renan Ozturk
The film Meru is one of climbing's great masterpieces. Not only is it cinematographically stunning and professionally done (would you expect anything less from Jimmy Chin?), it is an amazing story of three friends who set out to conquer one's lifelong dream, overcome every kind of adversity imagineable, maybe take a few somewhat stupid risks, and end up forging lifetime friendships and an unforgettable experience.
Meru is an unbelievable film. As someone who looks up to Jimmy, Conrad, and Renan as the best of the best, the guys out there really living their dream at the top of their game, I get goosebumps every time I watch it.
Meru is in the rotation of movies that I watch every time that I need to get psyched for something big. It's alongside the greats of King Lines and Into Thin Air, two other fantastic stories that keep you riveted and one the edge of your seat. And well, King Lines is just fun.
Single Geared founder John with Conrad Anker (on the left, Alex Honnold on the right, at Sports Basement Presidio San Francisco):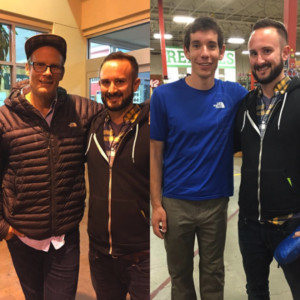 Single Geared is an advertising supported website and includes affiliate links. If you click on a product and purchase something from that website, we may be compensated. Learn about our advertising policies here.